Cool Summer Air, Sipping Coffee, Tour De France – Breck Bike Week!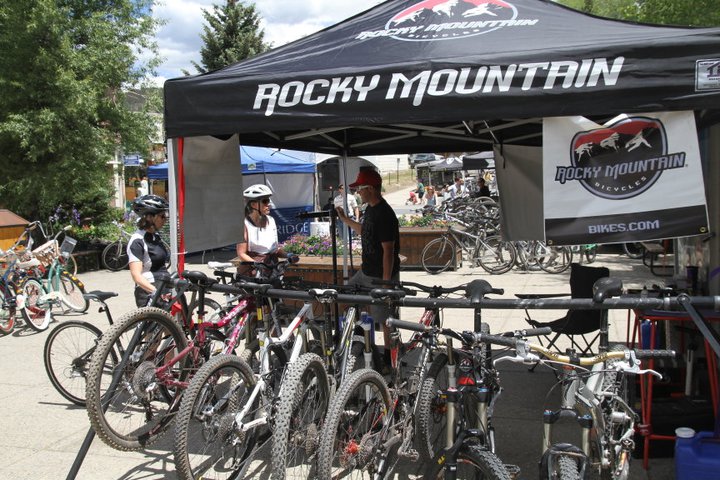 Where else can you start the day relaxing outside with a cup of coffee in hand checking out the Tour? Breckenridge baby! Breck Bike Week is in full swing and this event is one not to miss! Skills Clinics, Trail Maintenance, Discussions, Rides, Yoga and More! The next three days have a ton to offer and this is not just for Mountain Bikers.
I had the opportunity to participate in a group ride with the Mayor of Breckenridge John Warner and Colorado Tourism Director Al White. Alongside the beauty of the town they discussed the impact of biking on Tourism and there is no doubt that the sport is a revenue generator in this community. In 2009 the League of American Cyclists recognized Breckenridge as an official Bike Friendly Town by achieving a silver level BFC designation.
Bike lanes and shared lanes are marked with striping throughout the community of Breckenridge. On our tour Mayor Warner pointed out bicycling signage and streets with bicycle accommodations. He also pointed out access to single-track trails and bike paths, and discussed how the Bike to Work Day promotion is a 365 day passion for his town council members.  We rode through the towns Arts District and got a history lesson from the Breckenridge Heritage Alliance along the way.
Bicycles are a welcomed sight in this town. Not only are they a mode of transportation, they are a way of life here in the alpine community of Breckenridge. So come, bring your bike and have some fun with Breck Bike Week! A plethora of events are ready for your participation. Including a Radical Game of Poker on Staurday that you will not want to miss!! 
Carver's Poker Ride takes place at 10am to­morrow.  The 10 or 20 mile ride has desig­nated checkpoints where you will earn one playing card.  Receive your final playing card at the after party at Quandary Grille at 1pm and you'll be eligible for prizes.  There's a Go Fish Ride for the kids too!  To sign up, drop in at Carvers at 203 North Main, stop by Breck Bike Week Headquarters (Blue River Plaza)  or click here to register.
Take a look below: 
Friday 7/8/2011
Volunteer Trail Maintenance: 9:00 a.m. – 12:00 p.m. 1/2 day outing to maintain and improve conditions on the Town Trails. Make a difference you can see and ride!
Wildflower Ride: 9:30 a.m. Pedal out in search of wildflowers at their peak with the local experts. All levels of riders welcome. Call 970.453.3875 or visit http://www.cdlt.org/ for more information.
Women's MTB Skills Clinic: 10:00 a.m. – 1:00 p.m. Mountain bike skills workshop designed by women, for women. Riders of all ages and skill levels are welcome. Meet your guides from Babes in the Backcountry at the Expo in Blue River Plaza. Reserve your spot by preregistering at http://www.babesinthebackcountry.com/ or call 970.453.4060. $35 suggested donation. Drop ins welcome.
IMBA discussion: "The Power of Mountain Biking in Your Community": 1:00 p.m. Come listen to and discuss the ways in which this sport benefits our community and how you can be involved.
Shimano Youth Series: 5:30 p.m. All-for-fun kids race at the pump track at the Stephen C. West Ice Arena. Open to children ages 3 to 12 (helmet mandatory, and please, no training wheels).
Saturday 7/9/2011
Carver's Poker Ride: 10:00 a.m. – 1:00 p.m. Hit the dirt on an all-for-fun, 10 or 20 mile ride marked ride highlighting the best singletrack in town. Arrival at each of the designated checkpoints earns you one playing card. Bring all your cards to the after party to be eligible for cool prizes, and food and beer specials. Best poker hand wins big! (All riders must register at Carvers, the Expo or online at www.BreckPokerRide.com).
Go Fish Ride: 10:00 a.m. – 1:00 p.m. Affectionately named, this is the kids' version of the Poker Ride. Little ones and their parents will take to some kid-friendly singletrack to collect playing cards along the way. At the end, kids will play a round of Go Fish with another rider and everybody wins a prize. Come to the After Party at Quandary to celebrate. (All riders must register at Carvers, the Expo or online at www.BreckPokerRide.com).
Carver's Poker Ride / Go Fish Ride AFTER PARTY: 1:00 – 3:00 p.m. Head down to Quandary Grille to collect your 5th poker card and celebrate with your fellow riders/gamblers. Present your final poker hand for a free beer, then stick around for awards, prizes, and food and drink specials.
Sunday 7/10/2011
Yoga for Bikers: 8:30 a.m. – 9:45 a.m. Increase your riding efficiency and bike handling skills through mindful yoga geared towards cyclists. Breck Bike Week participants get in FREE! For more details: www.metayogastudios.com or 970.547.9642
Mountain Bike Ride With the Mayor: 10:00 a.m. Enjoy a scenic and informative tour of historic sites located on town trails with Breckenridge's Mayor, John Warner and the Breckenridge Heritage Alliance. Gain perspective on preservation projects and behind the scenes advocacy.
Road Ride: 10:00 a.m. Meet other roadies for a scenic, go-at-your-own-pace ride thoughout the area.
Prime, Paint and Pimp your Helmet: 11:30 a.m. – 1:30 p.m. Bring your bike helmet and join professional illustrator and painter Lisa Rivard for "Pimp your Helmet". Using acrylic paint Lisa will assist participants in creating bold designs that will customize your bike helmet. Fuqua Livery Stable, 110 E. Washington Ave. $10 suggested donation.
Ripstoke Trials Show: 2:00 p.m. Athletes use technical skills to finesse their bicycles over seemingly impossible obstacles at the Riverwalk Center. Think aerial wheelies, rearwheel- balancing maneuvers and six-foot drops to flat land. $5.
* All events are subject to change. For more information on the Breck Bike Week, Like us on Facebook, call 970.668.8900 or visit the Breck Bike Week Concierge at the Expo (Blue River Plaza, 201 S. Main St.)
.