Getting Outside: Family Hiking on The Colorado National Monument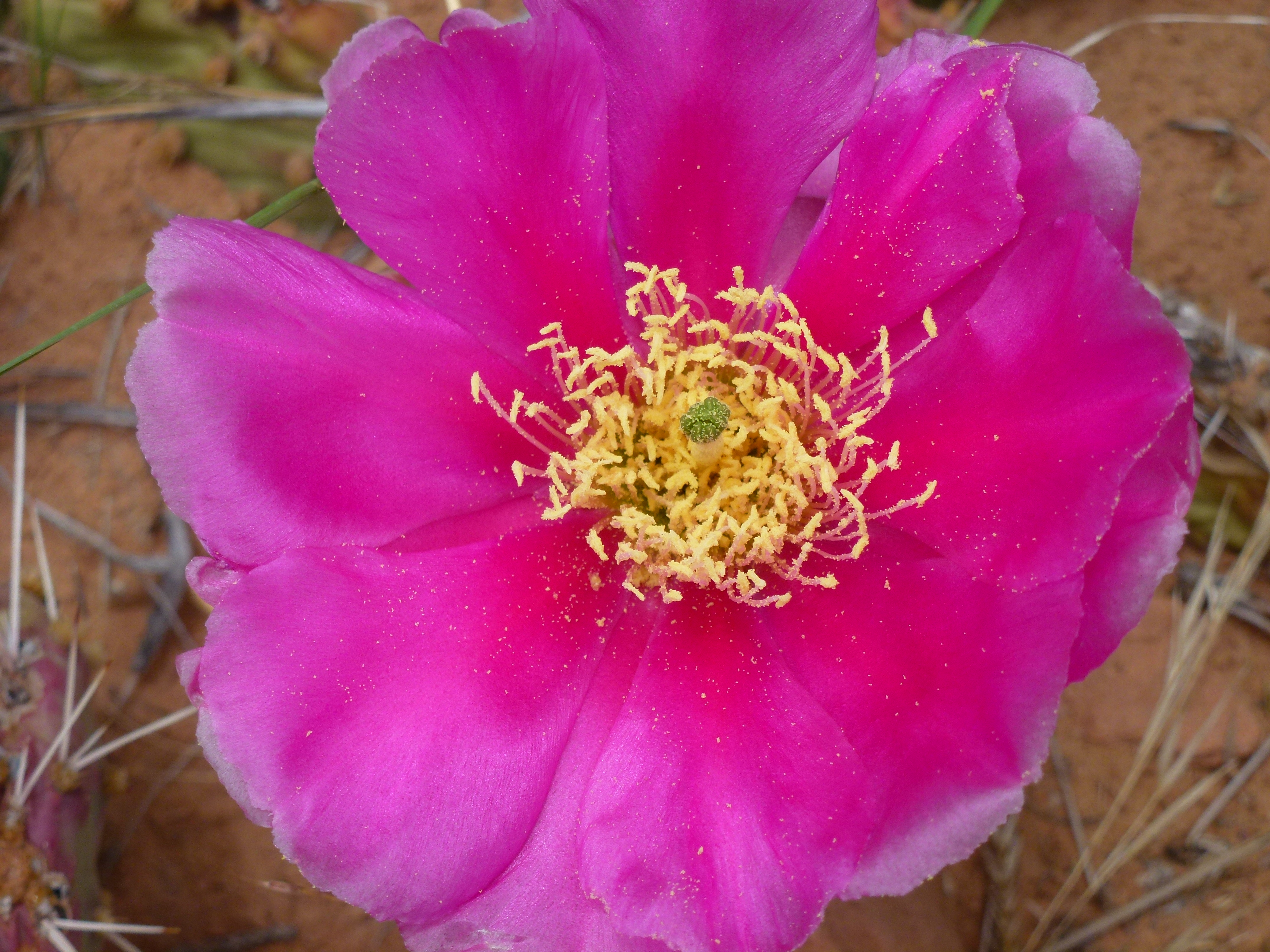 My niece was visiting us last week. She lives in the Denver area and we live on Colorado's Western Slope. She is 8 years old, full of energy and loves to be outdoors. So do I.
So on a cool Saturday, despite the threat of rain, my mom and I took her hiking on the Colorado National Monument. Here is our report from the Devil's Kitchen Trail.
1. Lots of Prickly Pear Blossoms. As the mother of boys, I am used to spotting lizards, oohing and ahhing over cool rocks, and recognizing unique shapes and uses for twigs and sticks. My niece pointed out the varying colors of the cactus blooms….and spotted lizards. Sticks and rocks, not so much.
2. Plenty of Room to Run. And run she did. She ran, she balanced, she climbed and she skipped. An open trail, a pleasant day and nothing to do but enjoy being alive in the splendor of nature.
3. Time to Practice Trail Boss Skills. My niece is a second child, the second daughter to boot. We let her choose the trail, lead the way, read the signs and set the pace. We pointed out the cairns marking the trail and she became our official cairn-spotter. She was our trail boss.
While hiking with her, I was reminded of an article I recently read entitled "Leave No Child Inside." Concerned about the trend of more and more kids spending their summers indoors with TV and computers, a consortium of outdoor agencies and groups in the Chicago-area are urging families to turn off the technology and get outside. Stating what should be obvious, one of the organizers put it thus: "(Children) are excited to be outdoors."
Yes, I can vouch for that. No matter where you live, children are excited to be outdoors. After nine months of school, some time in the sunshine, lying in the grass, hiking on a trail or chasing butterflies is exactly what our kids need. Here in Colorado, along the Front Range, the Eastern Plains and the Western Slope, we are blessed. The great outdoors is ours in abundance. I believe this is true, no matter where one lives. It's just a matter of opening the door and walking outside.
When You Go…..
2011 is a great year to get out and visit the Colorado National Monument. Located approximately 250 miles west of Denver on I-70, the Monument (as it is affectionately known) is celebrating its 100th Anniversary as a unit of the National Park System with fireworks, special events and new displays in the Visitors' Center.
Hiking: Comprised of 32 square miles of breathtaking red rock canyons and monoliths between Grand Junction and Fruita, Colorado National Monument has miles and miles of hiking trail on established and backcountry routes.
My niece, my mom and I chose the Devil's Kitchen trail for our adventure. 1 and 1/2 miles long, the trail begins on sandy, clearly marked trail and after about 1/2-mile transitions to steps cut into the sandstone and slickrock.
Climbing and switchbacking across slickrock, the trail offers enough adventure to keep kids engaged and terminates in the Devil's Kitchen, a sandstone "room" several hundred feet above the valley below. With rocks to climb and ledges to peer over, kids can keep themselves busy in the Kitchen for hours. In the spring, gnats can be a problem if you stop moving, so we spent only about 15 minutes, resting and exploring the alcove.
In addition to hiking, the Monument is a great destination for rock climbing, roadbiking and camping.
Fourth of July: Each July 4th, Mesa County Search and Rescue leads a popular climb for newbies and old hands alike, to the top of Independence Monument to raise an American flag for the day.
This year, as part of the park's Centennial celebration rangers will be on hand at the Monument Canyon viewpoint to answer questions and a brass quintet will perform patriotic music during the flag raising from 9:30-10:30 a.m.
Camping: Camping is available at the Saddlehorn Campground, along the upper rim of the canyons within the pinyon and juniper forest. There are no hookups, but there are flush toilets and running water in the bathrooms, which in my opinion, changes the experience from camping to glamping. Sites are available on a first-come, first-served basis.
Finally, if you've ever wondered why some National Park sites are called Parks and some are called Monuments, here's your answer: Parks require the approval of Congress. Monuments do not.
In 1911, with sentiment in Congress running against conservation, the Colorado delegation didn't think they had the votes to create a national park.  So, in May 1911, President Taft preserved this glorious slice of canyon country on the edge of the Colorado Plateau with the stroke of his pen.
"Park" or "Monument", the name doesn't matter. Colorado National Monument is worth a visit. Whether for a 1-1/2 mile family hike to a fanciful "kitchen" or to ascend Independence Monument on the 4th of July, get out there. Leave no child indoors….and for that matter, no adult either.
Enjoy!
© 2011, The Brave Ski Mom. All rights reserved. Republication, in part or entirety, requires a link back to this original post.