Colorado Red Wines – Holiday Suggestions: Sutcliffe Vineyards

Deep, rich shades of red: Colorado is named after its auburn landscape, but its fast becoming known for Colorado red wines (and white) pouring from its vineyards. More than 65 million liters of wine are sold in the state annually, and each year a growing portion of those are home grown in the Centennial State. 
Today more than 120 grape growers tend to vineyards tucked among foothills and valleys some 4,000 to 7,000 feet above sea level.  The 1,000 acres of vineyards in Colorado are some of the highest in the World and they are said to be similar to European wine regions; they have more alkaline, and are not as acidic as California soils. Each year they produce about 140,000 cases equaling about $28 million in sales.
Governor George Crawford – who founded Grand Junction in 1881 – was the first to recognize Colorado's potential as a wine-growing state, so he planted some 60 acres of grapes on Rapid Creek above Palisade, thereby establishing the first winery in 1899. Now each fall, more than 5,500 wine enthusiasts descend upon the same grounds for the annual Colorado Mountain Wine Fest.
If you haven't tried a homegrown wine lately, we're telling you it's time to taste.  But don't take our word for it. MTN Town recently caught up with Anne Dowling, a certified sommelier and owner of Ridge Street Wine in Breckenridge, who also happens to be a retired professional mogul skier.
As Dowling explains, Colorado's wine industry is still very much at the ripening stage. Many of the vines here were planted in just the past 20 to 30 years.
"Young vines are like a young soccer team," says Dowling. "They show a lot of promise, but they can also tend to be unpredictable and all over the place."
Regardless, Colorado vines are maturing, and winemakers are blending traditional knowledge with pioneering new techniques to extract the full flavor and character of high country grapes.  The results are wines that are receiving high praise from industry experts, and in turn, are gaining a growing presence on the national and international market.  Here's a look at some of the Colorado wines (and labels) we'd recommend setting on the holiday table.
Todays Suggestion:
Sutcliffe Vineyards –
Cortez, Colorado
www.sutcliffewines.com
Elevation: 6,191 feet
2011 Cabernet Franc
Alcohol by Volume: 14.4%
Grapes sourced from Christianson Vineyards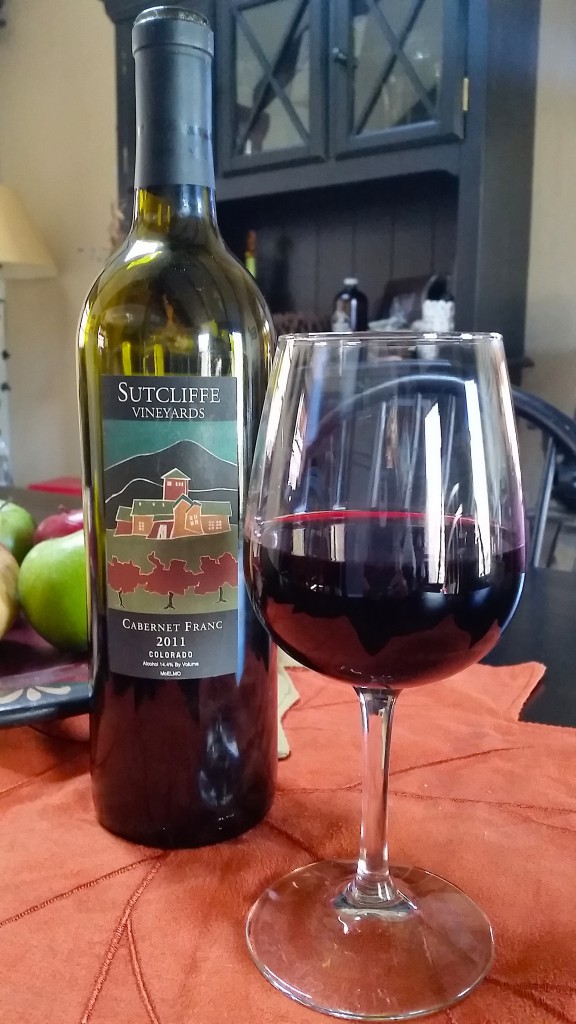 About 36 acres of grapes prosper on Battlerock Ranch, home of Sutcliffe Vineyards located at the foot of Sleeping Ute Mountain in Southwestern Colorado. This boutique winery was founded by John Sutcliffe, a noted restaurateur and one-time professional polo player who came to the U.S. in 1968 after serving five years in the British Army. Sutcliffe bought the ranch in 1992, the first vines were planted in 1995, and the first vintage wine was released in 2001.
Sutcliffe sent MTN Town a taste of its 2011 Cabernet Franc, a grape similar to Cabernet Sauvignon, but one that ripens earlier and tends to thrive in cooler climates. Sutcliffe often sources grapes from other local vineyards, a common practice among boutique wineries that offer a several wine varieties and styles. Sutcliffe's 2011 Cabernet Franc was  produced primarily from grapes sourced from Christianson Vineyards in Palisade and received a 90 point rating by Wine Enthusiast magazine (Oct. 2014 issue).
The wine was aged in French oak barrels for 23 months and then bottled-aged for another six months. The result says Dowling, is a wine that has a delicious French Oak nose with hints of vanilla, is not overly fruit-forward, and is silky on the palette. We love it!
~Troy Hawks, MTN Town Magazine – We are Colorado's Mountain Town Magazine
MTN Town Magazine Copyright © 2015 MTN Town Magazine all rights reserved.