Climb to Glory – A History of the 10th Mountain Division, Camp Hale and It's Impact on Today's Ski Industry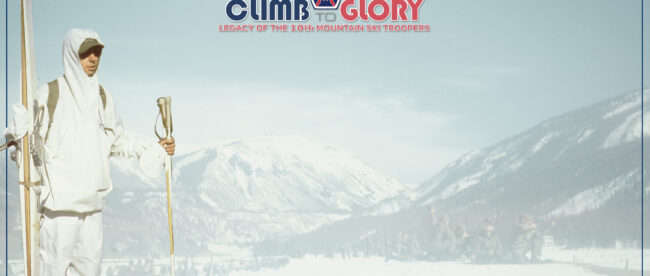 Climb to Glory – Documenting Camp Hale and the Fathers and Mothers of the Modern Ski Industry
Editors Note: Chris Anthony Continues to Document the history of the 10th Mountain Division with his films and his latest release Mission Mt. Mangart is another spectacular tribute to our country and the men and women who served then and now. Head to his social media link: https://www.facebook.com/MissionMtMangart/ or our Events Calendar for viewing dates and locations: www.mtntownmagazine.com/events-calendar
by Chris Anthony
A plant's roots can tell us so much about the history of that plant, including how it has adapted to survive in its environment. The same is true for human history. Buried away like the roots of a plant in the pages of books, old films, and photos, is the history of the human race waiting to divulge itself.
Several years ago I tackled a personal goal, which had been on my bucket list for years. I just needed the right combination of relationships to come together for it to come to life. Recently the synergy clicked and my goal of sharing a moment of human history fell into place and my film Climb to Glory was born.
The partnerships arrived from those that found importance in what I was doing. These supporters pushed me to put forth actions instead of words. With major support from the Colorado Ski & Snowboard Museum, Warren Miller Entertainment, and financial grants from a couple of foundations, a documentary film project sprang to life.
The period of our history I wanted to focus on has had a direct effect on where our ski industry is today. They were a population of men, as well as women, that came into existence between the years of 1941 – 1945 by an executive order from the President himself.
I wanted to show gratitude and pay tribute to these men of our past while engaging the future. Thus came to be our project of documenting this group of men known as the 10th Mountain Division.
This fall my segment for the annual Warren Miller film titled "FLOW STATE" will pay tribute to the men of the 10th Mountain Division and Camp Hale. This will be followed by a longer more detailed documentary of the 10th. In all, two projects are being created.
I'm proud to be an American and am really intrigued by our skiing heritage. The story of its evolution is parallel with the industrial boom in our country, post-World War II. This is a time when America prospered and leisure time activities became an industry of their own.
Who was the 10th Mountain Division?
Many Coloradoans are aware of the 10th logo or have seen its affiliation with numerous entities such as license plates, restaurants, highways, the hut system – but not many know why.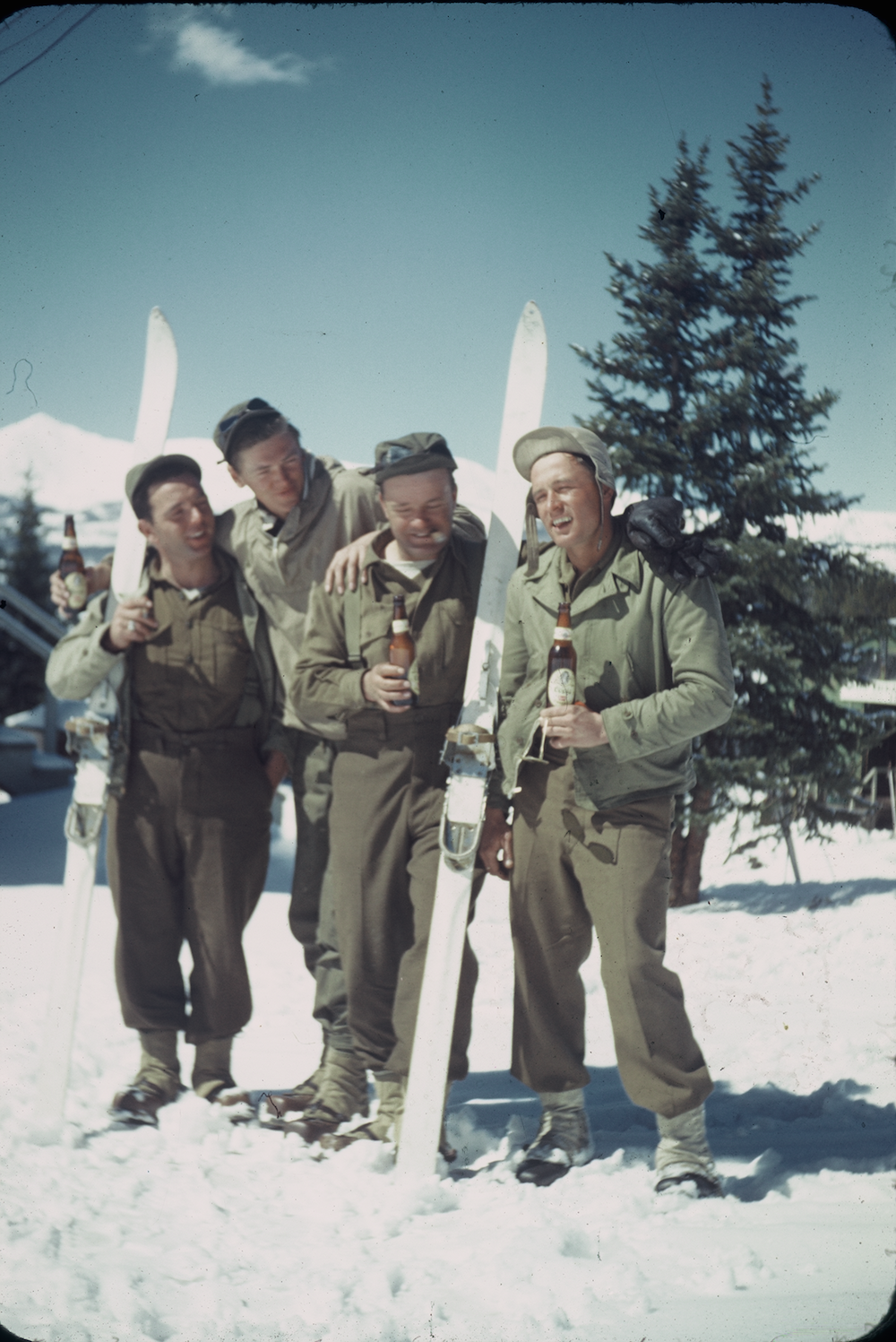 A snap shot of the 10th Mountain Division and their inspiration:
In November 1939, the Soviet Union invaded Finland. Finnish soldiers on skis annihilated two tank divisions, humiliating the Russians. Charles Minot (Minnie) Dole, the president of the National Ski Patrol saw this as a perfect example of why the U.S. Army needed mountain troops. Dole spent months lobbying the War Department to train troops in mountain and winter warfare. In September 1940, Dole was able to present his case to General George C. Marshall, the Army Chief of Staff serving under the 32nd President, Franklin D. Roosevelt.
On December 8, 1941, the Army activated its first mountain unit, the 87th Mountain Infantry Battalion (which later became an entire regiment) at Fort Lewis, Washington. The unit was dubbed "Minnie's Ski Troops" in honor of Dole.
The 87th trained on Mount Rainer's 14,408-foot peak. The National Ski Patrol took on the unique role of recruiting for the 87th Infantry Regiment and later the 10th Mountain Division. Thus born was the "10th Mountain Division" in Colorado.
This unique organization came into existence on July 13, 1943, at an army base built in the Colorado Rockies known as "Camp Hale". The Division trained at 9,200 feet above sea level and honed the skills of its soldiers to fight and survive under the most brutal mountain conditions. They were deemed "The Ski Troopers."
The 10th Mountain Division entered combat on January 28, 1945 in the North Apennine Mountains of Italy. The division faced German troops positioned along the five-mile-long Monte Belvedere-Monte Della Torraccia ridge. Other Army divisions had attempted to secure Mount Belvedere three times, even holding it temporarily, but none had succeeded.
To get Mount Belvedere secured, the ski troopers had to take a ridgeline to the west known to the Americans as Riva Ridge (Vail Mountain named a ski run "Riva Ridge" in honor of this battle.) The Germans on Riva Ridge protected the approaches to Mount Belvedere. The assault on Riva Ridge was the task of the 1st Battalion and F Company, 2nd Battalion, 86th Mountain Infantry. After much scouting, it was decided the assault would be at night, a 1,500-vertical ascent. The Germans considered the ridge to be impossible to scale and manned it with only one battalion of mountain troops. The attack by the 86th (the 10th) on February 18, 1945, was a complete success and an unwelcome surprise to the Germans.
Turning Skiers Into Soldiers
Camp Hale was built in 1942, and decommissioned in 1945. It took seven months to build, hosted 8,000 ski troops and eventually grew to a population of 14,000 men and women.
The camp was built alongside a portion of the Rio Grande Railway at the Pando Valley.
Ironically, as I wrote this article in the summer of 2012, a railroad tunnel from the original Rio Grande railway built in 1890 was discovered when a portion of the 10th Mountain Memorial Highway collapsed in upon itself. The old wood beams of the tunnel had rotted away. A 35 foot-wide, 100 foot-deep hole swallowed the road and revealed the old track that was the inspiration for placing "Camp Hale" geographically at that spot. History buried, history revealed.
In 1942 the Army Corp of Engineers altered the river that ran through the Pando valley, as well as changed the location of the road between Leadville and Minturn. This occurred twenty years before Vail Ski Mountain was envisioned by 10th Mountain veterans Pete Seibert, Bob Parker & Ben Duke.
Camp Hale included mess halls, infirmaries, a ski shop, administrative offices, a movie theater, and stables for livestock. The troops built their own ski area a couple of miles further up the road. Hundreds of white-painted barracks housing 15,000 soldiers ran like a grid across the valley floor.
Training in Camp Hale introduced many to the Rocky Mountains, and while fueling their love of the sport, it also accelerated the engineering of equipment and clothing, and transportation on snow. At Cooper Hill (Ski Cooper), where the men would train, the Army built what was the world's longest rope tow at the time to take the ski trooper upslope for ski maneuvers back down.
The military base had an almost "romantic" feel about it, and the recruitment effort was boosted through film, emotionally inspired photos, and music. The image of skiing was additionally enhanced in the film "Sun Valley Serenade" screened in 1942, featuring the Glen Miller Orchestra and a darling Olympic ice skater: Sonja Henie. Later, two war-time films were shot at Camp Hale featuring the white clothed ski troopers, "Mountain Fighters" in 1943 and "I Love a Soldier" in 1944.
The Ski Trooper was featured on covers of national magazines and on popular radio shows. Although the effort brought in recruits to add to the 86th and 85th regiments, recruiters realized not enough skiers existed to fill the new ranks, therefore efforts were made to bring in rugged outdoorsmen of all types with the compelling slogan "The 10th Mountain Division. Additionally, 200 women from the Women's Army Corps were enlisted for administrative support.
In 1945, four months before the atomic bomb drop and ended World War Two, the 10th Mountain Division was activated and sent to Italy. Victorious on several significant fronts, the 10th chased the Germans out from several strongholds, although at the same time during those four months they took on the most casualties of any division in the United States military.
A Plethora of Legacies – Founders of the Modern-Day Ski and Outdoor Industry
Post-war, the 10th Mountain Division continued to make headway with large impacts on the outdoor industry and more important advancement of the ski industry into the future. Many of the veterans brought their love of the outdoors and the mountains back to places such as Colorado. Following the war, many 10th Mountain veterans managed or directed ski schools at sixty-two ski areas, while an estimated 2,000 became full or part-time ski instructors.
Men such as Friedle Pfeiffer dreamed of building a mountain utopia in Colorado much like the village of St. Anton where he grew up. The skiing would be the heart and soul of the dream resort. During training maneuvers in Camp Hale, Pfeiffer was part of a small group from the third platoon that hiked through the snow to Aspen, Colorado. Pfeiffer, along with Percy Rideout, hiked up Ajax and visualized where ski trails could be cut. He vowed he would return after the war and turn Aspen into a recreational ski mountain and five months after Hitler surrendered in May, Pfeiffer returned state-side and did just that. December 1945 was the unofficial opening of Aspen Ski Mountain; Pfieffer, along with veterans Rideout and John Litchfield also created the ski school.
In 1953, Jim Winthers, a veteran of the 10th Mountain Division and ski-school director at the Donner Ski Ranch in Northern California, met with a couple of old friends who each had had a leg amputated during WWII. Using techniques he had learned in Europe while on a ski vacation, Winthers taught his friends how to ski on one leg, and soon opened up the Donner ski school to amputees.
In 1946, 10th Mountain veteran Larry Jump was added as a representative of his special forces training. Highly educated, with a passion for the mountains and skiing, Jump was part of the Dartmouth Ski Team. During his time in Camp Hale he fell in love with Colorado. He returned to create Arapahoe Basin LLC and later developed a ski area with his wife and investor Marjorie Brown. Jump, along with partners Pamagalski, also helped develop the standard design for the beginner slope for ski areas all over the country.
William Jay "Bill" Bowerman (February 19, 1911 – December 24, 1999) was an American track and field coach and co-founder of Nike, Inc. Over his career, he trained 31 Olympic athletes, 51 All-Americans, 12 American record-holders, 24 NCAA champions and 16 sub-4 minute milers.
Bowerman joined the United States Army as a 2nd Lieutenant in the days following the Pearl Harbor attack. He was assigned to Fort Lawton in Washington and served a year there before being assigned to the 86th Mountain Infantry Regiment at Camp Hale in Leadville, Colorado. Along with the 87th Mountain Infantry Regiment, his regiment would become the 10th Mountain Division.
Bowerman's duty entailed organizing the troops' supplies and maintaining the mules used to carry the supplies in the mountains. On December 23, 1944, the division arrived in Naples, Italy and soon moved north to the mountains of northern Italy. During his tour of duty, Bowerman was promoted to commander of the 86th Regiment's First Battalion at the rank of Major. Bowerman negotiated a stand-down of German forces near the Brenner Pass in the days before the surrender of the German army in all of Italy. For his service, Bowerman received four Bronze Star Medals, a Good Conduct Medal, and a Silver Star. He was honorably discharged in October 1945.
10th Mountain veteran Pete Seibert was injured from mortar fire in 1945. Shrapnel went through his helmet. Fragments almost severed his left arm and destroyed his right kneecap. He also suffered a broken femur. He was told he would never ski again. He spent 17 of his 39 total months in the army in the hospital, but later went on to win the Roch Cup in 1947. In 1962 with fellow 10th Mountain alumni Bob Parker, Ben Duke, William Brown, and Dick Wilson opened Vail Ski Mountain.
People like 10th Mountain veteran Steve Knowlton also exemplified love for the sport. He returned from the war and worked manual labor on Aspen trying to get it ready for business while saving his money and training for the 1948 Olympic Team, in which he eventually competed.
An Impact of Great Proportions
The impact of the 10th on the ski industry was huge and I'm only touching on a bit of it. Some of the immediate effects included the unloading of all the surplus equipment to the public following the war, including 100,000 pairs of skis, boots, bindings and poles. This provided an affordable opportunity for a massive amount of the population to jump into the sport. It also opened up opportunities to produce some high-end gear; for example, this is how the HEAD Standard came to be.
During this project, history became relevant to me because I found something with which I felt a personal connection to. This opportunity led me to research a moment in time about a generation of Americans who made a major impact on the growth of our nation. Dreams became reality, led by the greatest generation. They were not scared to take risks. They just did what they felt was right and found a way to reach their vision.
The director of cinematography for Climb to Glory, Chris Patterson, came prepared. From collectors, he had located all of the original gear right down to goggles, skis, and boots. He even brought an antique hand-wound camera to film portions of the footage. The result was a very special film, you can see the Trailer below:
It's hard to believe that skiing has inspired my intrigue in American history, but it has. My elementary school teacher would be proud of me. Maybe I can finally earn that gold star that eluded me in history class. Or better yet, perhaps this documentary will inspire some or all of our current students to earn a gold star.
Chris Anthony Continues to Document the history of the 10th Mountain Division with his films and his latest release Mission MT Mangart is another spectacular tribute to our country and the men and women who served then and now.
Chris Anthony, a Big Mountain skier is a Colorado native and longtime Vail resident. For a good portion of his life, Chris competed at an international level, including World Cup, as well as traveled as an athlete and on-screen personality with the Warren Miller Film Team. Chris has filmed with the legendary action sports production company for 23 years and continues to do so currently. His feats are displayed in the annual Warren Miller feature film as well as numerous television programs and documentaries such as "Warren Miller Global Adventures." Chris is a former Alaskan Extreme Skiing Champion, a veteran of 9 World Extreme Skiing Championships, and US Heli Ski Association Level 3 Mechanized Ski Guide.
Between film shoots and sponsor appearances Chris manages specialized ski programs under his non-profit Youth Initiative Program an company "Chris Anthony Adventures" in Alaska, Italy and Colorado. Additionally, Chris co- hosts the "Camp of the Superstars" every August in Portillo, Chile. Chris is available for speaking engagements, to learn more about Chris head to his website: www. chrisanthony.com.
Read more about our mountain town communities: www.mtntownmagazine.com/magazine
Story Sponsored by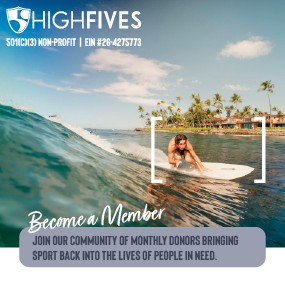 ---
MTN Town Media Productions | Celebrating the Colorado mountain lifestyle
Copyright 2022 MTN Town Media Productions all rights reserved.