Chris Anthony and Light Bohrd Illuminate Chris Anthony's Youth Initiative Project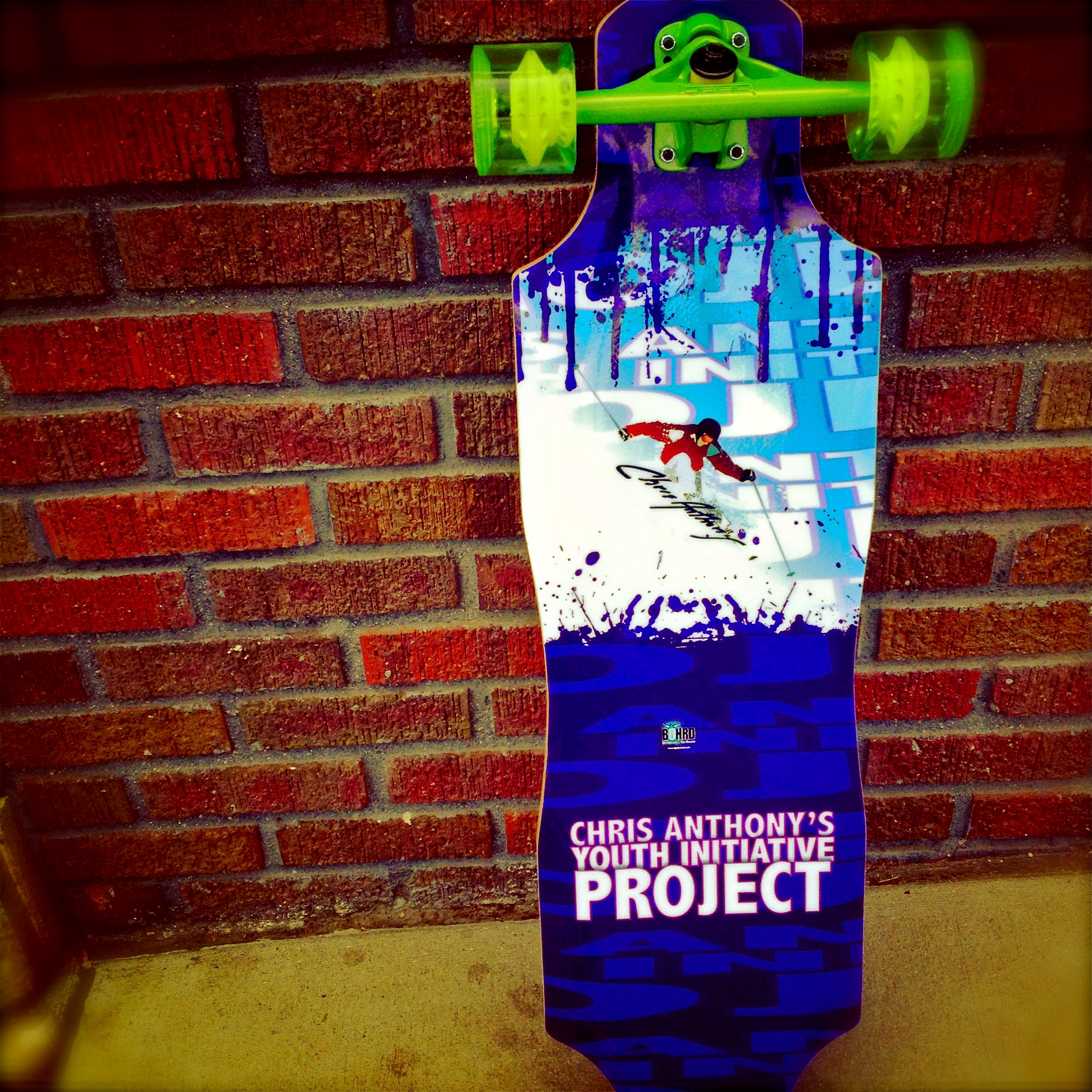 Today, Chris Anthony Warren Miller athlete, freeskier and devoted philanthropist announced a partnership between his Colorado nonprofit, the Chris Anthony Youth Initiative Project, and Light Bohrd a premium, hand-crafted board sport manufacturer that specializes in LED illuminated skateboards, snowboards, helmets and longboards. The exclusive relationship between Anthony and Light Bohrd will support Anthony's Youth Initiative, geared toward reaching fourth and fifth graders across Colorado and educating them on developing – and making steps towards accomplishing – their life goals. Light Bohrd has created a signature longboard design and graphic for the Urban Commuter, featuring embedded head and tail lights, for which 20 percent of proceeds will directly benefit the nonprofit. Light Bohrd will debut these boards in Colorado, which are now available for purchase at BOARDLife, located in Denver's LoHi neighborhood at 2000 W 20th Ave. in Denver.
 "We are thrilled to have the opportunity to partner with an individual who has such an inspiring vision for younger generations," said Jen Forgey, vice president of sales for Light Bohrd. "We're excited to launch in Colorado, and even more so, to mark our entry with a partnership that will support such a deserving nonprofit." Light Bohrd is a totally new concept bringing not only top quality engineering and design, but also innovative light-up graphics to the board sport world. We're hand-crafting premium boards and helmets from the highest quality materials, featuring illuminated graphics designed to show off your style and turn heads. Built from beginning to end at our independent shop in Austin, Light Bohrd is taking the scene by storm. If it's time to step up your game, it's time to step on a Light Bohrd. For more information visit http://www.lightbohrd.com/. 
Launched in 2009, the Chris Anthony Youth Initiative Project encourages fourth, fifth and sixth graders across Colorado to set goals, chase their dreams and work hard to achieve them, so that ultimately, they become productive citizens. His multi-media presentations take the audience on a cultural journey around the planet, utilizing his exploits with the Warren Miller Film Team. Prior to launching the Youth Initiative Project, Anthony traveled throughout the state delivering a similar message on behalf of Colorado Ski Country. Once funding for the program was cut, Anthony created his own initiative to continue this outreach.
"Fourth, Fifth and Sixth graders are at the age when they really become dynamic about who they are and enthusiastic about life as independent people; they are not intimidated by the world and they are excited to begin creating their life dreams," said Anthony. "Sometimes all they need is a little encouragement, and the simple message from my time with them can really inspire them: If you can dream it, then set a goal for yourself and reach it."
A school visit lasts approximately one class period and includes a short video, interactive questions, a motivational message and wraps up with a Q&A session. Upon arriving at a school, Anthony immediately relates with the children by pointing out the fact that he, just like their teachers, were once just as young as them. He uses a map to have the children point out countries like Kazakhstan, Ecuador and China, giving them small bits of information and personal anecdotes from his travels to each destination, sparking discussion on cultural and economic issues. Additionally, a film is showcased that features Anthony's travels with the Warren Miller film team over the past 24 years. He then opens the floor to the children for questions.
"The questions usually have nothing to do with the action sports in the video, but are more like 'what was the craziest thing you've ever eaten in another country?', or 'how did you become a professional skier and get to see travel to all of these cool places?' I love it," says Anthony.
Chris Anthony was born and raised in Colorado. He has competed as a professional skier at both local and international levels, and has been honored for his accomplishments as an athlete as well as for a number of awareness initiatives. Anthony has dedicated much of his adult life to active lifestyle awareness, as well as motivational youth presentations through his Youth Initiative, earning awards such as Colorado Ski Country spokesperson of the year. For more information on Chris Anthony, as well as the Youth Initiative Project, visit www.chrisanthony.com.
Would you like to book Chris for an appearance? School visits are available in 2013 for September, October and November. To book Chris Anthony for a visit to your school or organization, contact Kelly at skidynamic@hotmail.com.
Click the links above to buy a board! Forget the kids…I think I want one too!
~MTN Town Magazine
Photo Credits: Chris Anthony
MtnTownViews.com is MTN Town Magazine's daily journal blogging about Colorado's mountain towns and resorts. Like them on Facebook and Follow on Twitter. Click the cover to read the Winter 2012-13 Issue.
© 2013 MTN Town Magazine. All rights reserved. Republication, in part or entirety, requires permission.