Champagne Powder® Piles Up In Steamboat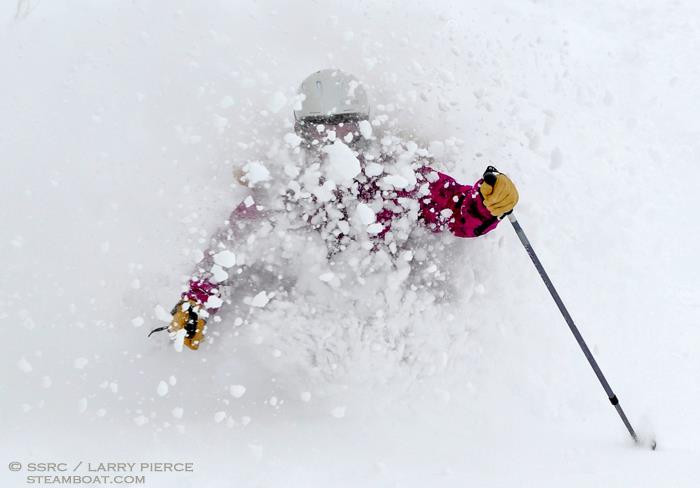 This is what I was waiting for! I came to Steamboat to attend college but the whole idea was so I could ski everyday of the season. I was really starting to get down with the endless days of warm weather and sunny skies. That all changed this past week. Snow started dumping last week and by the time the storm cleared we had over 18″ of fresh!
Burgess Creek opened and I was psyched to be able to get up there! Every turn was a face-shot. Needless to say it was sweet and evryone was psyched!
Apparently the next weather system will move into the area Friday under a northwesterly flow with additional snow this weekend and then another;  snow system Sunday into Monday.
I saw a press release  that mountain crews are focused on opening 4 Points chairlift today and Storm Peak Express on Thursday. The resort will have nearly 30 trails and 5 lifts with more terrain and lifts coming soon. Here is the anticipated mountain openings  for the next two days:
· Tomorrow, December 12th: 4 Points chairlift with all or portions of Rainbow, Sunset, Hurricane, Nelson's Run, and Twister
· Thursday, December 13: Storm Peak Express with Top-to-Bottom terrain including Buddy's Run, Storm Peak Face, Cyclone, Meadow Lane and Calf Roper
Although the season was slow to start it's really getting Good fast! Stay tuned for more updates from Steamboat!
~Rossi
Photo Credits:  The featured image is from Steamboat Ski Resort's Larry Pierce.  I did not want to take the time to take photos, the snow was too good. The Burgess Creek image is mine, Nick Resignolo.
MtnTownViews.com is MTN Town Magazine's daily journal blogging about Colorado's mountain towns. Like them on Facebook and Follow on Twitter.
© 2012, MTN Town Magazine. All rights reserved. Republication, in part or entirety, requires permission.