Bud Light Big Air Starts Friday in Snowmass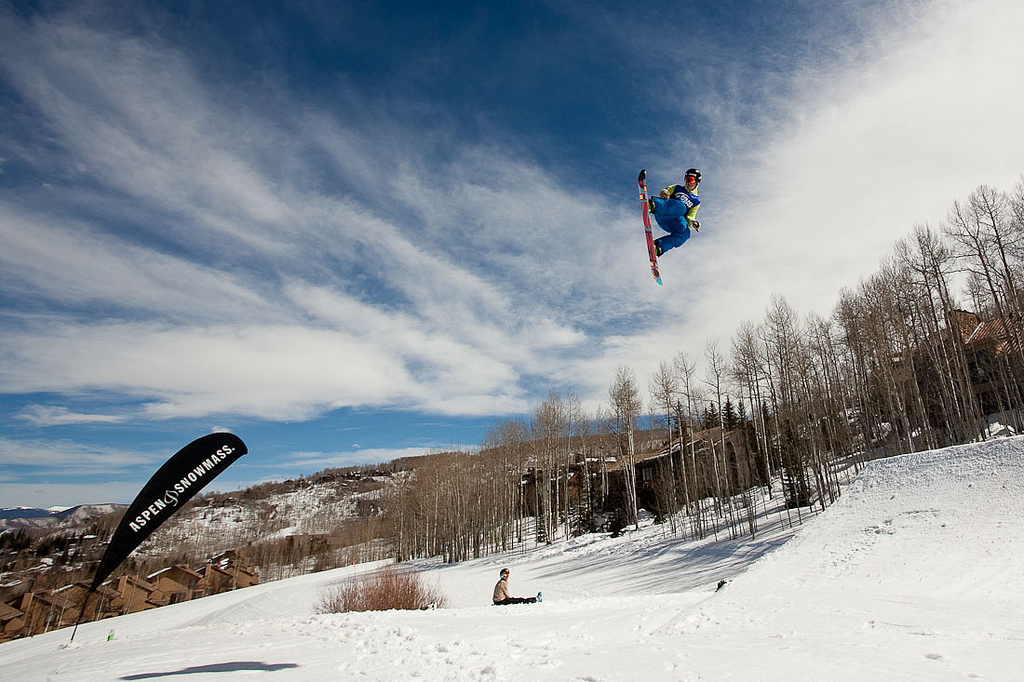 They'll be flying at Snowmass on Friday and the public is invited to give it a try.  In its 11th Year Aspen/Snowmass will host Bud Light Big Air Fridays on Fanny Hill in Snowmass Friday, February 8, and 15 and March 1, 8, 15, 22 and 29 and April 5 from 2:00-2:45 p.m. The competition will be hosted at Buttermilk on February 22 in conjunction with the Aspen/Snowmass Freeskiing Open.
Spectators will witness a variety of high-flying antics displayed by the best new school fliers in the area, as skiers and snowboarders launch from the big air jump on Fanny Hill. Practice is from 1:00-1:45 p.m. followed by the official competition from 2:00-2:45 p.m.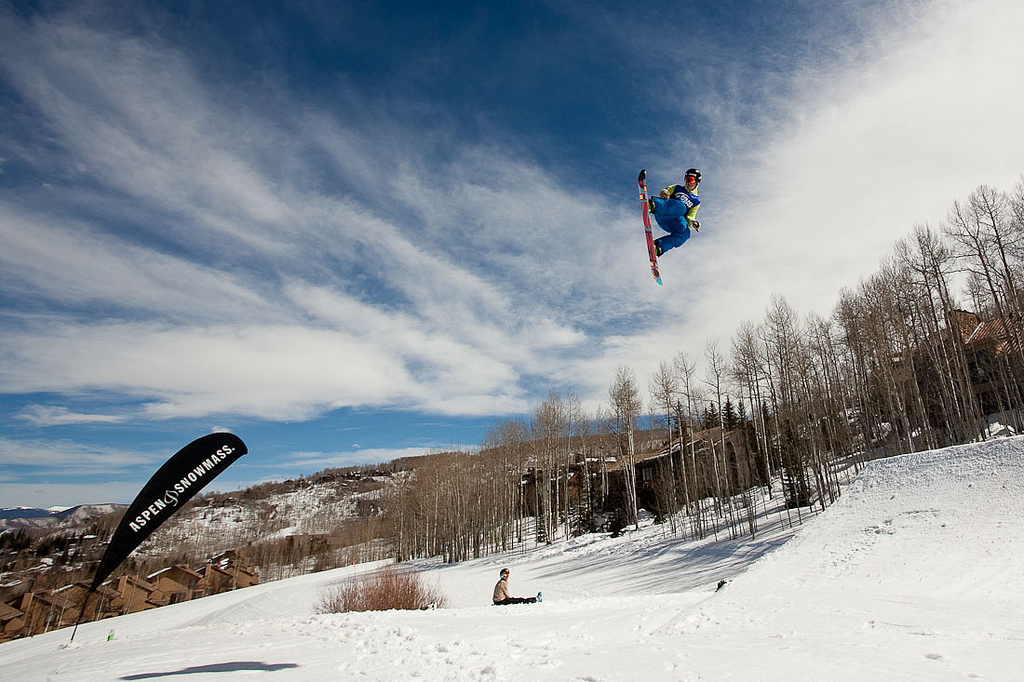 Don't miss the Little Air competition, inviting kids of all ages to come out and compete for giveaways on a mini-jump just after Big Air Fridays. Bud Light Big Air Fridays runs every Friday from February 8 through April 5 at 2 p.m. Stick around Snowmass after the competition for plenty of food and drink specials in Base Village.
"We are really excited to bring back Bud Light Big Air Fridays for its eleventh year," said Cat Leonaitis, Event Marketing, Aspen Skiing Company. "It's great to see the progression of the event and the caliber of riding we see each week."
The competition is a forty-five minute jam session beginning at 2 p.m. Judges choose four skiers and four snowboarders from the jam session to continue on to the finals. Judges will choose the athletes based on over-all impression. The finalists will have one jump and then be placed according to best-trick.
Registration is open to the public from 1:00 – 1:45 p.m. on the day of the event and the entry fee is $20. Registration is at a tent on Fanny Hill at the base of the big air jump. All competitors are required to wear a helmet and complete a waiver (if you are under 18 years old you must have a parent or guardian complete the waiver). Must be at least 13 years old to compete.
Schedule of Events for the Bud Light Big Air Fridays
1:00 p.m. – 1:45 p.m. Competitor registration at the registration tent on Fanny Hill
1:00 p.m. – 1:45 p.m. Course is open for practice to registered competitors with bibs
2:00 p.m. – 2:45 p.m. Bud Light Big Air Jam Session Competition on Fanny Hill
2:45 p.m. – 3:00 p.m. Bud Light Big Air Finals
3:00 p.m. – 3:15 p.m. Little Air Competition
Are you game for some air? See you there!
~MTN Town Magazine
Photo Credits:  Jeremy Swanson – Aspen/Snowmass
MtnTownViews.com is MTN Town Magazine's daily journal blogging about Colorado's mountain towns and resorts. Like them on Facebook and Follow on Twitter. Click the cover to read the Winter 2012-13 Issue.
© 2013, MTN Town Magazine. All rights reserved. Republication, in part or entirety, requires permission.