Black Diamond Verdict 2013 – MagpieGearReview.com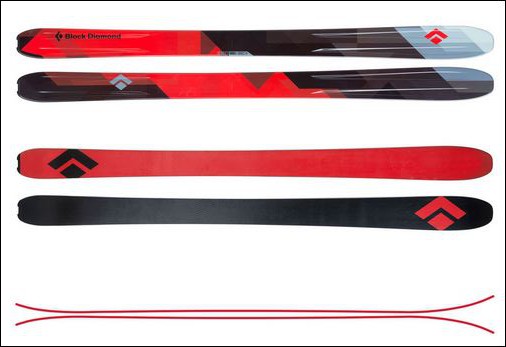 Our friends at MagpieGearReview.com are creating honest reviews and editorials that we are pleased to be able to share with our readers. Their reviews are excellent in-depth sources of information. They would like you to know that they are presenting personal opinions, philosophies and experiences and do not claim to be the ultimate outdoorsmen or athletes. An additional FYI, Magpie Gear Review and MTN Town Magazine is not responsible for what you do. Even if we give advice it is not guaranteed and you are responsible for your own actions.
With the ski areas closing and allot more serious back country exploits going on we thought a review on the Black Diamond Verdict was a perfect start to the spring season.
When you say Black Diamond, most people would think you are talking about Cams or Nuts for climbing vertical rock. However, their ski line has been changing for the last 10 years and only improving. The Verdict is the most versatile ski in their line up. It was designed to shred through just about every condition you will find out there.  Whether you're finding the white room, ripping around fresh corduroy, or pond skimming in the spring, these bad boys will perform great. This ski has tip and tail rocker, and has plenty of camber under foot. You will be floating on powder one day and knifing through soft-chop the next. However, if you find yourself on a spring day when the snow does not soften up, you might have some trouble. The tip rocker puts the tip so high off the snow that it takes a while for the front of the ski to engage. However, once the tip does catch, the ski will eventually come around. In all honestly though, who really wants to go ski on hard snow! Unless you are a from the East Coast and ski boilerplate snow 90% of the time (weirdo), then the Verdict is great for all seasons and all terrain.
In 2012 Black Diamond changed the ski significantly from what I have heard. I have the 2013 model and Black Diamond has stuck pretty close to this model for the last 3 years. One big design change Black Diamond made from the 2012 to 2013 model: they added a 3D metal sandwich structure around its wood core, and added ABS tapered sidewalls. This stiffens up the ski, gives it better edging ability, and ultimately makes it easy to throw down sick arcs.  The only problem with the new 3D metal sandwich design is that snow sticks to the uneven top sheet sometimes.  I hate to boast, but the Verdict received awards from Backcountry Magazine and Skiing Magazine in 2014. I don't know who tested the skis for the magazine companies, but I would have to agree with them; I really love these skis.
Category: Freeride and Touring
Riding Level: Intermediate-Expert
Lengths Tested: 180cm
Dimensions: 132/100/119
Available Lengths: 164, 172, 180, 188
Approx. Weight: 8lb 10oz, 9lb 1oz, 9lb 8oz, 10lbs
Turning Radius/Sidecut: 19m, 20m, 21m, 22m
Camber Profile: Tip and Tail Rocker
Tip Rise: 300mm
Tail Rise: 240cm
Days: 100+
Conditions: Everything
Rider: Conor (5ft. 10in. 157lbs)
Boots: Rossignol Hero World Cup ZA flex & Black Diamond Prime 130 flex
Bindings: Fritschi Diamir Freeride Pro
Mounting Point: Recommended Line
Manufactured In: China
How did you get the gear: Previous Sponsorship
Overall Feel:
I grew up with a relative that worked for Rossignol. This gave me access to a lot of their skis for cheap. Growing up I always had the newest pair of twin tips and, being a kid, I would trash them! The Verdict was my first non-Rossignol ski; surprisingly I liked the feel of the ski. Its wood core makes them one of the lighter fat skis on the market right now. This core also creates a nice soft flex, which is very playful and enjoyable to ski. If you like ripping around at medium speeds and making medium size turns, you will love the Verdict. If you just spent several hours hiking up a slope, than these bad boys will let you lay down some big arcs, or make technical turns. If you put the Verdict in tight trees or figure 8 contests, they are still going to succeed. The downside to this core is that it looses stability when you try to go fast and rip big turns. The core is too soft and can't keep up with the forces that high-speed big mountain turns produce.
Powder:
If you look at any ski magazine or ski photo from the 2000's than you will probably see someone doing a slasher pow turn, getting that epic face shot we all dream of. This ski thrives in the powder; this is where it wants to be! However, this is not the easiest ski to shred pow on.  With the tale rocker only being at 240mm and the tip rocker 300mm, the ski likes to sink its tales in and float in the tips. Most rockered skis have a similar tip to tail rocker, this creates a feeling like you are floating on top of the snow, making it easier to turn. However, the Verdict is a little harder to turn in the powder. The tails will sink into the snow, making you ski a little in the back seat. On the other hand, the tips will be floating on top of the snow. Then, as you lay the ski over to initiate your turn, the tip grabs the soft snow and will bring the ski right around. When it's dumping outside and I get on these puppies, I know its going to be a leg burner of day, but I will still be smiling and trying to get that magazine face shot we all dream about.
Carving:
There is a reason why ski companies make so many different skis: the variety of snow conditions and how the individual wants to use the skis etc. Many rockered, fat skis were not made to carve on hard snow; but it's not a powder day every day. When you try and carve the Verdict on hard snow, you get a little tip flap like many fat, rockered skis do. I do like the camber under foot and the ABS sidewalls. This makes the ski stiff enough under foot to grip the hard snow and make the skis come around quite nice.
One of my favorite times to ski the Verdict is in the spring, when you get the nice Colorado corn or slush skiing. This is when the tip can actually engage and you can carve the whole ski. Use caution skiing in these conditions, you might start chasing slushy corduroy and not the cold smoke!
 Soft Chop:
Soft chop is always around at resorts in Colorado. It seems like you can ski soft chop any day of the week. This is where I think the Verdict is better then some rockered skis. This is a rockered ski, but the camber under foot gives it some power to charge through the soft chop. The tip could be a little stiffer, but that's often what you get when you buy a pow ski, and the powder is nowhere to be found.
I also have a pair of Rossignol S7 and they are really tough to ski in soft chop. I feel like I just slide my turns around, and the tip flap is so loud I can't even here my iPod playing music. The Verdict on the other hand can arc through the soft chop no problem and have minimal tip flap! Rather then buttering your turns and hearing your tips flap, the Verdict will let you arc through the soft chop, and enjoy your music.
Flex:
Generally speaking, this is a soft flexing ski: the tip is soft, under foot is stiff, and the tail goes back to soft. This creates a ski that is easy to flex and gives it a snappy feeling. The soft tip and tail makes it easy to start and finish the turn.
YES THERE IS MORE! Click Here to continue reading!
Conor McDonald ~ MagpieGearReview.com
Photos Courtesy of Magpie Gear Review.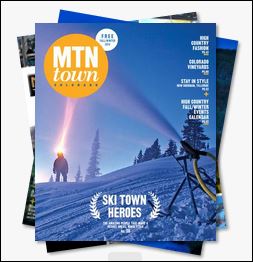 MTN Town Magazine Copyright © 2015 | MTN Town Magazine all rights reserved. All editorial and images are property of MTN Town Magazine and require permission for use and re-publication.