Apple Blossoms, Bluegrass and Honeybees on the West Slope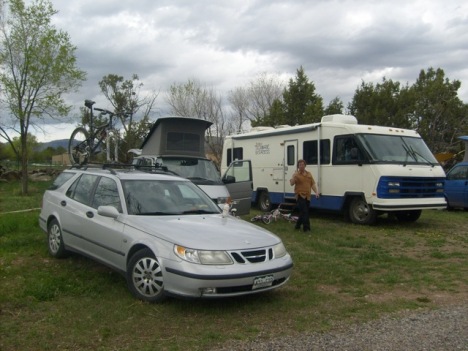 When Crested Butte alumni get together at Appleshine Farm for the 'Blossom Party', you're gonna find a plethora of Eurovans, the occasional 'Motor-coach (careful! keep the kids away from the parking brake!), and Saab wagon…not to mention the odd late-50's Ford pick-up. Three hours from Breckenridge, a good bit of it in 75 MPH Interstate zones (90 doesn't feel so fast, there), is a land full of apple blossoms, greening cottonwoods, temperatures in the low eighties, and SO MUCH oxygen, you can get dizzy.
In barely more than 24 hours, I'd transported myself to what felt like the tropics. Cottonwoods were getting past the leafing-out stage, every bunch of apple blossoms had honey bees doing their dance. The thick aspen forests atop the Grand Mesa were budding-they will not be far behind. I had the pleasure of reconnecting with old friends from the Roaring Fork Valley, and all kinds of new ones from Crested Butte, among them some fine musicians. Knowing many of the same songs, I had no problem slithering in as a sideman/vocalist/soloist on the '36 National 'Resophponic'. In fact, within hours, I became known, not so much as M. Krane, but as 'the Resonator.' Thanks to Cresson and Marion, kids and dogs of all shapes and sizes, and new friends. Until the fall.