Aching for some Bacon? Keystone!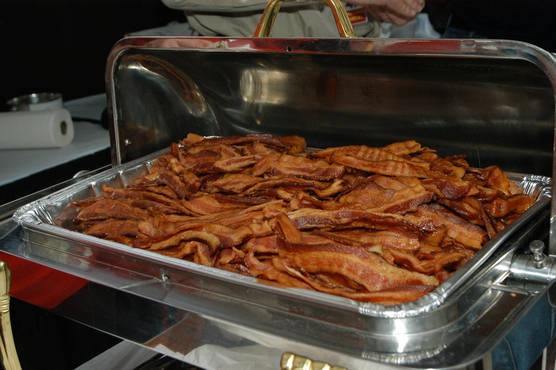 Can you smell it? It's a lovely fragrance that lifts you from a night of sleep. The sizzle and pop heard from afar. All of it luring you away from where you are… straight to Keystone where their first ever Blue Ribbon Bacon Tour is heating up for the masses to enjoy. An entire weekend of Bacon – OMG! I worry briefly about the extra padding this past winter brought me, but too bad, bacon is on my list of pleasures today!  
I started hearing about this great event during the later part of winter. Tweets of pure delicousness graced my page from @SkierGrrl and @christianknapp chatting up the new affair. Keystone had partnered with a group that had developed America's premier bacon festival and they were taking it higher together at Keystone Resort. This weekend it is officially here so here is the scoop:
A limited number of Blue Ribbon Bacon Tour tickets will be available for $30 online through http://www.blueribbonbaconfestival.com/, while supplies last. The ticket entitles the holder to admission to the three-day event, a commemorative hat, a beer koozie, unlimited bacon samples at the Bacon Showcase, live music (Devon Allman's Honeytribe on Saturday & Yo Mama's Big Fat Booty Band & Reckless Kelly on Sunday, bacon educational lectures, and one free beer.
Bacon Showcase – The popular Bacon Showcase provides individuals with the opportunity to sample some of the nation's best bacon brands and talk directly to brand reps. In previous years the following bacon brands have been showcased: Eden Farms, Tenderbelly, and Daily's.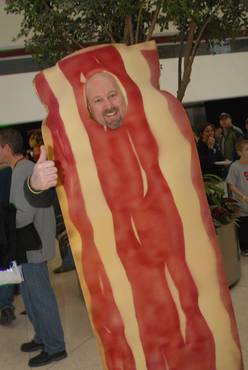 Bacon Bucks – Available in $5 increments will be available throughout the festival grounds and will allow participants to purchase samples of gourmet bacon inspired cuisine throughout the day. Over 15 restauranteurs are expected to attend and will be serving up delicious bacon dishes for all to enjoy.
Bacon Lecture Series – The Bacon Lecture Series brings together some of the most brilliant bacon minds providing festival attendees with the opportunity to challenge their bacon knowledge and beliefs. Lecture topics, "All About Bacon" and "Driving Tour of Bacon" by Leo Landis, Professor of Baconology.
The Mascot – A furry pig named, Blue, is the official mascot of the Blue Ribbon Bacon Festival and Blue Ribbon Bacon Tour, will be on hand.
[youtube=http://www.youtube.com/watch?v=1juSyf6_8Co]
Schedule of Events:
Saturday, June 25th

Time: 
Event: 
Location: 
Cost: 
12:00pm-5:30pm 
Bacon Festival 
River Run Events Plaza 
$30 Bacon Package 
12:00pm-5:30pm 
Food and Beverages 
River Run Events Plaza 
Priced á la carte 
12:00pm-5:30pm 
KidZone 
Gondola Plaza 
Free & paid activities 
1:00pm-2:00pm 
All About Bacon Lecture 
Warren Station 
FREE 
2:00pm-3:00pm 
Hornbuckle Band 
River Run Main Stage 
FREE 
3:00pm-4:00pm 
Driving Tour of Bacon Lecture 
Warren Station 
FREE 
3:00pm-5:00pm 
Devon Allman's Honeytribe 
River Run Main Stage 
FREE 
7:30pm-10:00pm 
After-Party 
Kickapoo Tavern & the Goat 
Tickets at the door 
Sunday, June 26th 
Time: 
Event: 
Location: 
Cost: 
12:00pm-5:30pm 
Bacon Festival 
River Run Events Plaza 
$30 Bacon Package 
12:00pm-5:30pm 
Food and Beverages 
River Run Events Plaza 
Priced á la carte 
12:00pm-5:30pm 
KidZone 
Gondola Plaza 
Free & paid activities 
So get up and get over there! If you need more info here is the perfect link http://www.keystoneresort.com/eventdetail/Blue+Ribbon+Bacon+Tour.axd?year=2011&month=6&eventview=calendarview&intcmp=K000069
Photo Credits: Metromix