2018 Vail Summer Bluegrass Series – Catch the Last Show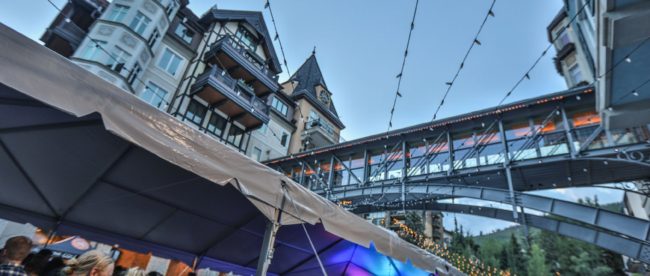 The
2018 Vail Summer Bluegrass Series
comes to a close this Wednesday, July 18 with an all-star tribute to improvisational bluegrass. Portland, OR-based Matt Butler will lead the ever-evolving lineup of Everyone Orchestra musicians through two sets of music. This iteration will feature Drew Emmitt (Leftover Salmon), Rev Jeff Mosier (Aquarium Rescue Unit), Darren Garvey & Bridget Law (Elephant Revival) and Tyler Grant & Adrian Engfer (The Grant Farm). Support duties will be handled by Durango, CO's Liver Down the River.
.
.
"Vail Bluegrass is thrilled to welcome Everyone Orchestra back to our stage," said Ariel Rosemberg promoter at the Series. "Between the band's interaction with one another and the energy that flows through the crowd, there is truly no better way to wrap up the 2018 season."
.
"The experience of playing with different musicians, improvising every night, and getting the crowd involved in ways different from a regular show has provided an unparalleled live music experience," said Matt Butler, Everyone Orchestra's conductor. "Utilizing conducted improvisation as a tool to facilitate spontaneous group compositions, is what makes EO unique and magical."
.
Marching clearly into uncharted territory, The Everyone Orchestra balances the challenges of live group improvisation with triumphant tension and release conduits of music which head deep into the soul. This unique collaborative of performance deeply encourages and requires audience interaction. The edge of your seat enthusiasm for what is next is the fuel behind the continuous musical experiment of The Everyone Orchestra.
.
Vail Bluegrass kicks off at 6:00 pm with Liver Down the River, followed by two sets of the Everyone Orchestra at 7:00 PM. The show is free to attend and will go on rain or shine.
~MTN Town Magazine
Photos: ©2018 ShowLove Media