Over 100 Years of 4th's – Steamboat Springs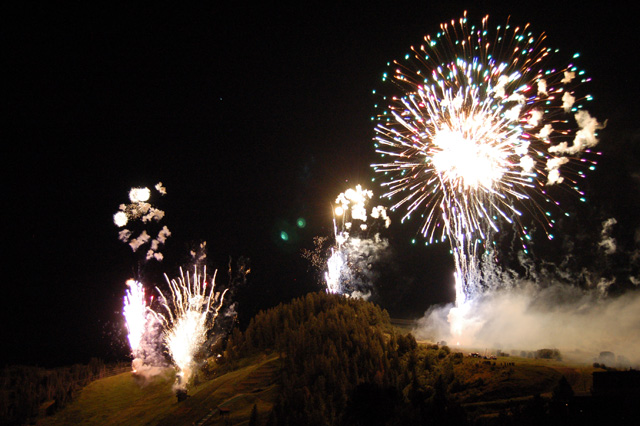 For over 100 years Steamboat Springs, Colorado has celebrated Independence Day in true western fashion, with events for the entire family. Kick back in your boots at several community events including a community all-you-can-eat pancake breakfast, the annual Yampa Valley Bank parade down Lincoln Avenue, Pioneer Days Block Party featuring a free community concert and Root Beer Floats for the kids, evening rodeos, and the Ranch Rodeo where local ranches compete against one another in the Old West tradition.
Join us for a breathtaking fireworks display at historic Howelsen Hill which holds the distinction of being one of the country's oldest ski areas in continuous use. This nighttime extravaganza will begin at dark, roughly 9:30 P.M. For the best viewing location, you can get front row seats at the base of Howelsen Hill. Or celebrate the 4th at the Steamboat Springs Pro Rodeo and enjoy prime seating for the fireworks that follow.
<a href="http://echo3.bluehornet.com/ct/6243555:9190999322:m:N:229344877:FAA6F33CF77DA550B2C7378607E1C54F" target="">
2011 Weekend Schedule: 

Saturday, July 2: 
7am 33rd Annual Mountain Madness Half Marathon & 10K at Howelsen Hill, Running Series
9am- 2pm  MainStreet Farmer's Market, 6th Street next to the courthouse
10am- 4pm  10th Annual Art on the Mountain in Gondola Square
7:30pm  Steamboat Springs Pro Rodeo Series at Romick Arena
Sunday, July 3:
9am  Independence Day Ski Jumping Extravaganza, Nordic Combined competition, Howelsen Hill
10am  The Saddleback Ranch Cattle Drive have been CANCELLED.
10am- 4pm  10th Annual Art on the Mountain in Gondola Square
7pm  Brent Rowan and Friends, Strings Music Festival
7:30pm  Steamboat Springs Pro Rodeo Series at Romick Arena

Monday, July 4:
7- 10am  Pancake Breakfast at the Little Toots Park, Steamboat Springs Lions Club
9am  6th Annual Cross Country/ Nordic Combined Roller Ski Race, Lincoln Avenue
9am  20th Annual Steamboat Sprint, Lincoln Avenue, Running Series
10am  Fourth of July Parade presented by the Yampa Valley Bank
                  Parade theme: The Greatest Summer on Earth
10am- 4pm  10th Annual Art on the Mountain, Gondola Square
11am- 1pm  Pioneer Day Block Party, featuring a free concert, Routt Beer Floats; free hot dogs, free admission to the museum, kids activities and more, Tread of Pioneers Museum
12pm  Independence Day Ski Jumping Extravaganza, Nordic Combined competition, Howelsen Hill
6:30pm  Steamboat Springs Pro Rodeo Series at Romick Arena
Approx. 9:30pm Fourth of July Fireworks display at dark following the end of the rodeo, Howelsen Hill
~Steamboat Springs Chamber of Commerce – http://www.steamboat-chamber.com
https://www.facebook.com/steamboatchamber#!/steamboatchamber?sk=wall
http://twitter.com/#!/SteamboatCO