World Autism Awareness Day – ASPEN! Light it Up Blue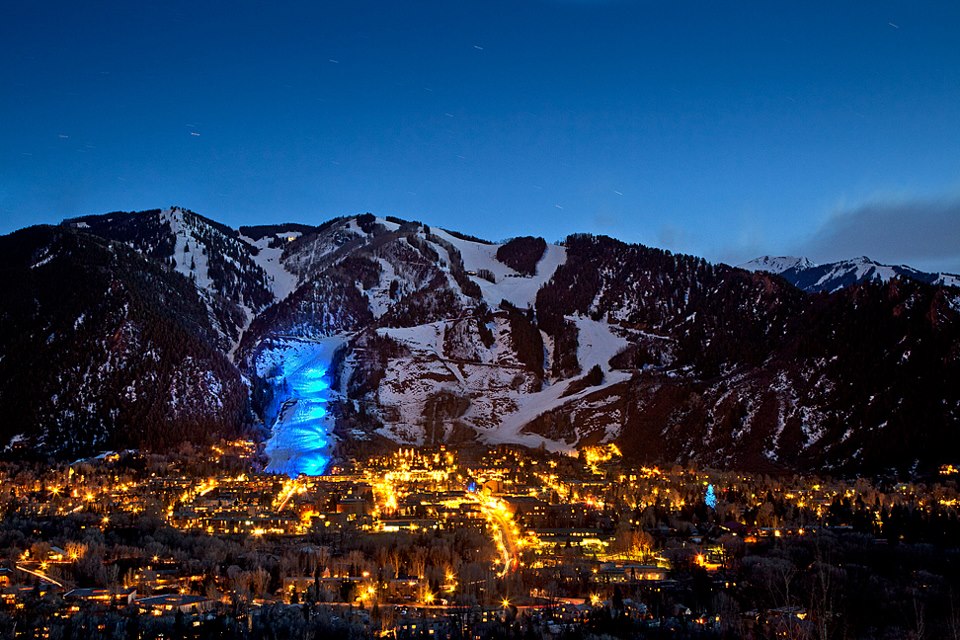 Tomorrow is World Autism Day. Individuals, Communities and Institiutions will be lighting up there surroundings Blue in support of this global inititiative. LIUB ASPEN is proud to be affiliated with this global effort by lighting up Aspen Mountain blue. Aspen mountain will join the ranks of such esteemed landmarks as the Empire States Building, the Sydney Opera House, and Niagara Falls.
Featured Aspen Mountain Image: Light It Up Blue for Autism ©Robert Millman 2012. All rights reserved.
Light it Up Blue Aspen (LIUB ASPEN) is a collaboration of  organizations dedicated to serving individuals on the autism spectrum on a local and national level. These organizations have banded together to join Autism Speak's global initiative to celebrate World Autism Awareness Day on April 2.
The mission of LIUB ASPEN is both to raise awareness about Autism Spectrum Disorders and raise much-needed funds that will directly impact families and children on the autism spectrum in our rural mountain communities.
On November 1, 2007, the United Nations (UN) called for one day each year to be designated as World Autism Day. On December 18, 2007, the UN General Assembly designated April 2 as World Autism Awareness Day. It was first observed in 2008.
This UN resolution is one of only three official disease-specific United Nations Days that brings world attention to autism, a pervasive disorder that affects tens of millions. The World Autism Awareness Day resolution encourages all Member States to take measures to raise awareness about autism throughout society and to encourage early diagnosis and early intervention. It expresses deep concern at the prevalence and high rate of autism in children in all regions of the world and the consequent developmental challenges. Furthermore, April is also recognized as National Autism Awareness Month.
Every year, autism organizations around the world celebrate the day and the month with unique fundraising and awareness-raising events. By bringing together autism organizations all around the world, we give a voice to the millions of individuals worldwide who are undiagnosed, misunderstood and looking for help. Please join us in our effort to inspire compassion, inclusion and hope.
What is an Autism Spectrum Disorder?
Autism is a "spectrum disorder" meaning symptoms range from mild to severe and vary by individual. There is no one "look" or "type." As the saying goes, once you've met a person on the autism spectrum, you've met one person on the autism spectrum.
Autism Spectrum Disorders are a group of developmental disabilities characterized by atypical development in socialization, communication, and behavior. The symptoms of ASDs typically are present before age 3 years and often are accompanied by abnormalities in cognitive functioning, learning, attention, and sensory processing (from the CDC).
How Common is Autism?*
Today, the CDC estimates that one in every 110 children is diagnosed with autism, making it more common than childhood cancer, juvenile diabetes and pediatric AIDS combined. It is the fastest-growing developmental disability in the world.
An estimated 1.5 million individuals in the U.S. and 67 million worldwide are affected by autism.
Government statistics suggest the prevalence rate of autism is increasing 10-17 percent annually. There is no established explanation for this increase, although improved diagnosis and environmental influences are two reasons often considered.
Studies suggest boys are more likely than girls to develop autism and receive the diagnosis three to four times more frequently. Current estimates are that in the United States alone, one out of 70 boys is diagnosed with autism.
Since 1975, there has been a 600% increase in the prevalence of diagnosis of those on the Autism Spectrum.
* Source: Autism Speaks
Prevalance vs. Funding*
Autism costs the nation over $35 billion per year, a figure expected to significantly increase in the next decade, and yet autism receives less than 5% of the research funding of many less prevalent childhood diseases.
Leukemia affects 1 in 1,200. Funding: $277 million.
Muscular Dystrophy affects 1 in 100,000. Funding $162 million.
Pediatric AIDS affects 1 in 300. Funding: $394 million
Juvenile Diabetes affects 1 in 500. Funding: $156 million
Autism: Affects 1 in 110. Funding: $79 million
The National Institutes of Health Funds Allocation in 2010 had a budget of $35.6 billion . Of this, only $218 million went directly to autism research. This represents 0.6% of total NIH funding.
* Source: Autism Speaks
Help show support for this initiative and light up your home, business and even yourself with the color Blue!
~MTN Town Magazine
MtnTownViews.com is MTN Town Magazine's daily journal blogging about Colorado's mountain towns and resorts. Like them on Facebook and Follow on Twitter. Click the cover to read the Winter 2012-13 Issue.
© 2013 MTN Town Magazine. All rights reserved. Republication, in part or entirety, requires permission.