Woodzwayz – Growing A New Business from Beetlekill in Kremmling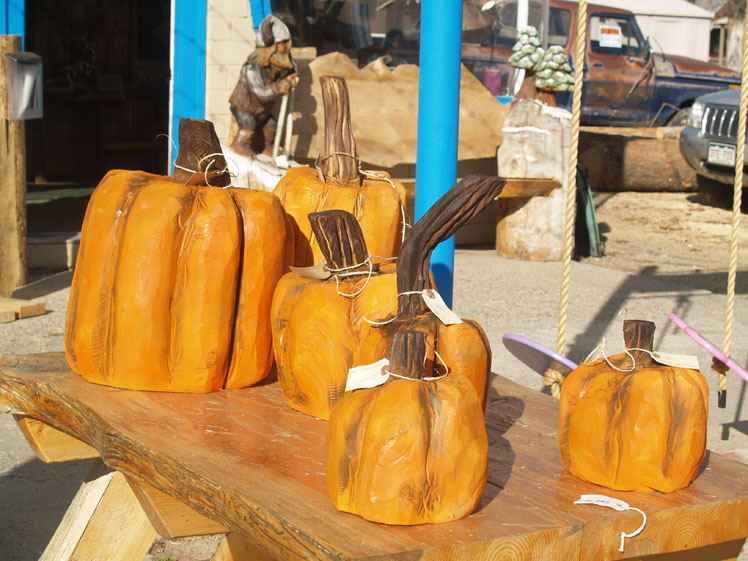 I was driving through Kremmling on a beautiful fall morning and came to notice the growth of unique businesses along its main throughfare. Some crazy carved Pumpkins caught my eye as they were carved from wood.  WoodZwayz is a new shop on main street in Kremmling, just west of Highway 9. I decided to stop in. Kremmling locals Mark and Christine Mahorney own the shop, which specializes in wood carving and rustic art. Christine was interviewed to tell us more about what inspired the store and its offerings:
When did you open the store?
Mark has been carving for more than five years. He left his IT job to start a tree cutting business in Summit County just as the beetle kill epidemic was forcing homeowners to cut trees on their property. Mark started thinking about how he could put the trees to use. His grandfather taught him to whittle when he was young, so he translated that skill and started doing large-scale carvings from the stumps left behind by the tree cutters. His work can be seen on properties throughout Summit, including in Frisco, Dillon Valley, Blue River and Breckenridge.
Two years ago we moved to Kremmling from Summit Cove and started thinking in earnest about opening a shop. Primarily we needed work space, as Mark was beginning to get jobs that weren't just stumps on private property. We also wanted to maximize exposure – which meant being on the west side of highway 9 – after visitors make the left-hand turn to Steamboat.
We were approached in July about taking over a space across from the Visitor's Center and the Quarter Circle Saloon – which is as ideal a location as it gets. We moved in during August, and opened on Labor Day weekend.
What does woodZwayz offer?
First and foremost, we sell carvings. Mark produces a wide variety of stuff – when we get big logs, he really enjoys doing big carvings. (He just finished a life-sized grizzly bear that sold before it was half-way done.) Cowboys and indians are another of his favorites. Of course we do bears and moose, and we also produce seasonal items. We sold pumpkins as fast as we could carve them in October, and are now production carving trees for the holidays.
My contribution is more in the décor area…we had the idea earlier in the summer to make rustic, outdoor pillows for hammocks and swings that could withstand the elements. I've started a line of throw pillows made from recycled materials, including coffee and grain sacks, scrap leather, old jeans and flannel shirts.
In addition to the products we make, we sell the work of about 15 other local artisans. Aside from working for ourselves, that's the part I love the most about our business. We opened so quickly that Mark didn't have time to make inventory to fill the space, so we put the word out that we were looking for hand-crafted goods. There is so much talent in our little community! I'm always very proud to talk with visitors about the jewelry and other art we have, and brag about the humble local folk who made them.
You mentioned recycled materials…how green is your business?
Very. Mark primarily carves from beetle killed pine, standing dead aspen, and reclaimed wood (such as barnwood). For small things we get the "scraps" from the local mill, and we have relationships with many of the loggers in the area. Many of our artists also use re-purposed materials in their work.
How can someone view current inventory?
We're on Facebook (woodZwayz), and also have a website: woodZwayz.com. The website is more of a running commentary about pieces Mark's currently working on. We also have a store on Etsy.com.
Do you still do custom work?
Yes! In fact, most of the work we do is custom. We have lots of customers who like a particular carving, but need it smaller / bigger / longer, etc. Mark can do anything, literally. (And that's not just me bragging about him.) He's a talented artist who uses wood as his medium.
Will you ship?
Absolutely. I can't say it's cheap…small bears generally cost about $60 to ship. But we can do it. Yesterday we crated up a 5-foot-tall Viking to send to a customer in Chicago.
This is what I love about our Colorado Mountain Towns, unique businesses run by local passionate people. Check them out!
111 Park Ave., Kremmling, CO 80459
970.406.8432