WILLIAMS FORK MOUNTAINS- A Suprise Mountain Bike Ride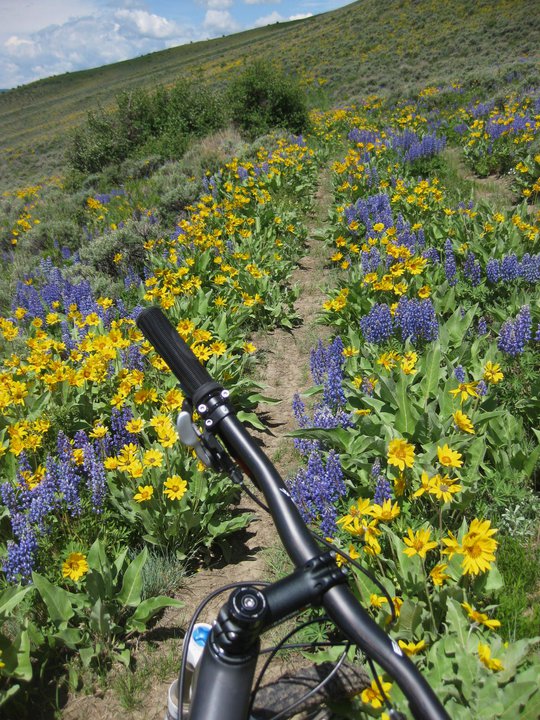 A few years back I got involved with the Hidden Gems Wilderness Proposal. Along with a few other mountain bikers, it was our job to see what trails we could lose in Summit County. This loop was one of them. I had never even heard of it, a rarity for me, since I'm a bit obsessed with discovering new trails. But that early June of 2008, I decided to go check it out. It was still cold in Breckenridge and many of the trails were wet, so this was enough of an excuse to take a 40 minute drive to ride my mountain bike, and maybe visit Target on the way home!
Nothing wins me over more than a mountain bike ride through peaking wildflowers. Although three years ago I didn't find quite the abundance of flowers which I saw this year, there were enough to capture my heart.  I knew that we had to save this one for mountain bikes.
I have gone back to do this ride every June since then. Last year the flowers were literally non-existent and I wondered if maybe I had imagined things. So when I returned last week, I was blown away. Truly, this is a wildflower explosion of a lifetime. Our record breaking winter and spring must be responsible. I have never, ever ridden through widlflowers like this, especially in Summit County.
The loop is mostly on old double-track roads that see light use, so often it rides more like a singletrack. The grassy strip in the middle of the road is still intact and filled with flowers, thanks to a lack of ATV's on this route.
In these pictures you'll see that it's mostly of balsam root and lupine. I did a lousy job of capturing all the other wildflowers that were out there. In addition, there was plenty of  Larkspur, Indian paintbrush, Sulphur Flower, Phlox, Sugar Bowl, Wild Iris, and many more of which I don't know their names. I have to confess, I'm more about the visual and the colors than I am at being a botanist.
This zone makes for a great hike or run as well. The best flowers are on the first half of the 'ride'. Try to take that out and back spur road that heads north for awhile for some of the best viewing. I bet you could hike this portion in a couple hours. This zone can get hot so maybe save it for a dawn or dusk outing, but go soon. These flowers will probably peak for another week or so.
Wildflowers of the sagebrush zone are often ignored as we wait for the high alpine to peak. But I find more and more that this is my favorite. Take the time to check this out everyone….And yes, bring your camera.
DIRECTIONS:
From Summit County: Drive Hwy 9 past the first Heeney turnoff and go just another mile or two. Be prepared for a surprise left turn into the "Cow Creek South CG" turn left, and park just off the highway. Ride the highway north for about fifty feet. Immediately turn RIGHT onto FS 2855. Head straight at the beginning and don't take that first sharp right. Ride uphill, passing one rougher right turn, and then another major right turn. So basically you just always stay Left. This road is fainter than some of the other roads, so remember, just stay left.
This road gets more and more faint, and soon turns into a singletrack that is hard to see through the flowers. Eventually it turns steeply uphill. After you walk/ride this hill it deadends on a ridgetop. Turn around and head back downhill the way you came. (You gotta do this out and back for the incredible flowers, and this is a route we need to get the FS to re-open. It's super fun and the ride is too short without this)
So you're descending down the way you just climbed. Do not take the first left (it's a possible out and back but it get's steep), but DO take the second left. You can see that this road starts contouring southbound. Stay straight on this road passing one steep spur to the left (east). You'll see ahead a Hike your bike up that steep section of road. Come to a T. Take a right and descend all the way down to the highway.
~Ellen
Ellen Hollinshead is a passionate outdoors woman and tireless advocate for the environment. She is currently involved in the Save Peak 6 Campaign