The North Face Speaker Series – Alpine Climber Conrad Anker in Breckenridge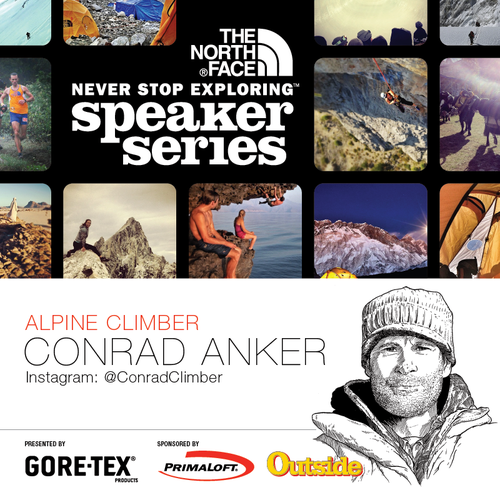 Conrad Anker will recount his incredible story of climbing in the world's most extreme conditions to Breckenridge residents on October 12. In The Impossible Climb, presented by The North Face and The North Face Breckenridge Store, Anker will offer an inspirational look at the depths of human endurance and share his amazing journeys.
Anker's climbing career runs the gamut from Everest to Arctic big walls, but the vertical Sharks Fin on India's Mount Meru pushed him the hardest. Demanding two grueling expeditions and a teeth-clenching dose of suffering, Meru was Conrad's ultimate expedition.
The VIP meet and greet reception will take place prior to the main event at The North Face Breckenridge Store, located at 322 South Main Street at 5:30PM. It'll include premium seating, wine and beer, and hors d'oeuvres from The Briar Rose restaurant. All proceeds from the VIP reception will go to the Breckenridge Outdoor Education Center (BOEC). For more than 30-years, the Breckenridge Outdoor Education Center (BOEC) has provided life changing outdoor learning experiences to people of all abilities, with a focus on those with special needs. This year there also will be a chance to win numerous The North Face products including jackets, pants, gift certificates, passes to the local rec center and much more all for only a $5 donation per ticket. Raffle tickets may be purchased online, in the store, or at the event. All raffle proceeds will go to the BOEC. You must bring your ticket to the 7:00PM event. The presentation will then take place at the Breckenridge Riverwalk Center at 150 West Adams, Breckenridge, CO 80424, beginning at 7:00 p.m.
The North Face Never Stop Exploring Speaker Series is a free event; however, general admission tickets must be secured online in advance at www.thenorthface.com/speakerseries and are available on a first-come, first-served basis. Guaranteed seating tickets for the event may be purchased for $8.00. The VIP reception tickets are available for $20.00. Again, The VIP reception begins at 5:30 PM, and all ticket proceeds will benefit Breckenridge Outdoor Education Center. Following the presentation, there will be a question-and-answer session.
The North Face Never Stop Exploring Speaker Series, presented by GORE-Tex and sponsored by Primaloft and Outside, is taking place Oct. 2 through Dec. 3. For information about additional tour dates and athlete appearances, please visit www.thenorthface.com/speakerseries.
~MTN Town Magazine
Photos Courtesy: The North Face
MtnTownViews.com is MTN Town Magazine's daily journal blogging about Colorado's mountain towns and resorts. Like them on Facebook and Follow on Twitter. Click the cover to read the Winter 2012-13 Issue.
© 2013 MTN Town Magazine. All rights reserved. Republication, in part or entirety, requires permission.