The Historic Hot Springs Loop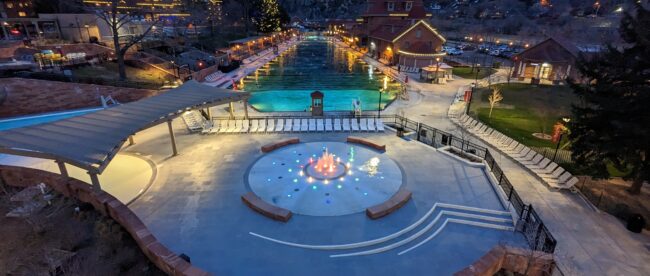 The Historic Hot Springs Loop is the perfect way to explore Colorado's mountain towns
Jump in your Car, Saddle up the motorcycle, or even prep your road bike, this may be one of the best ways to experience a large majority of Colorado's mountain towns and their premier hot springs destinations. — Chaffee County, Carbondale, Durango, Pagosa Springs, Ouray, Ridgway, Glenwood Springs, Saguache County, and Steamboat Springs — have come together to form the Colorado Historic Hot Springs Loop. This 720-mile loop showcases some of the most popular hot springs attractions in the country and is one way to relax and unwind. 
The ebb and flow of warm and cool water passed over my body and tickled my toes as I lay in Chalk Creek. The creek's rushing waters run through Mountain Princeton Hotsprings Resort and are one of the more unique ways to experience the geothermal waters of Colorado. It reminded me that there is so much variety to be experienced here in our mountain towns; from intimate private baths to the world's largest mineral hot springs pool. Each of Colorado's Historic Hot Springs Loop nineteen facilities offers unique features like vapor caves, hot pots, terraced pools, enormous travertine formations, fun-filled aquatic centers, and riverside soaking spots like the one I experienced.
"These hot springs facilities continuously enhance their unique features so that guests have a high-quality experience," says Vicky Nash, project manager for the Colorado Historic Hot Springs Loop.
There is nothing like a road trip with Hot Springs all along the way. We have a great loop to experience, disconnect from your troubles and go with our guide
Glenwood Springs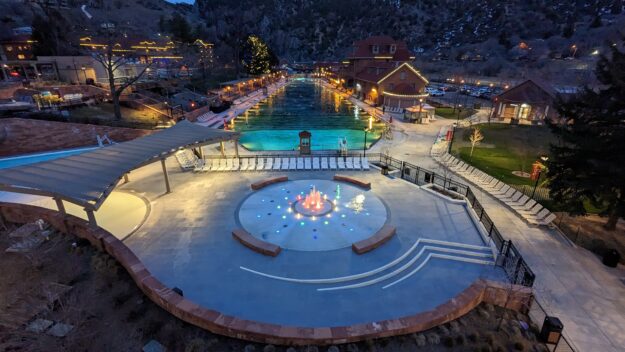 Best known for its geothermal amenities, Glenwood Springs is also a favorite destination for hiking, biking, rafting and fishing. Its mountaintop theme park and proximity to Hanging Lake are big draws for this little mountain town that was once the home of gambler-gunslinger Doc Holliday.
GLENWOOD HOT SPRINGS RESORT.
This resort (featured picture) is home to the world's largest hot springs pool, as well as a lodge, spa and an aquatic adventure zone openingW in June 2019.
IRON MOUNTAIN HOT SPRINGS.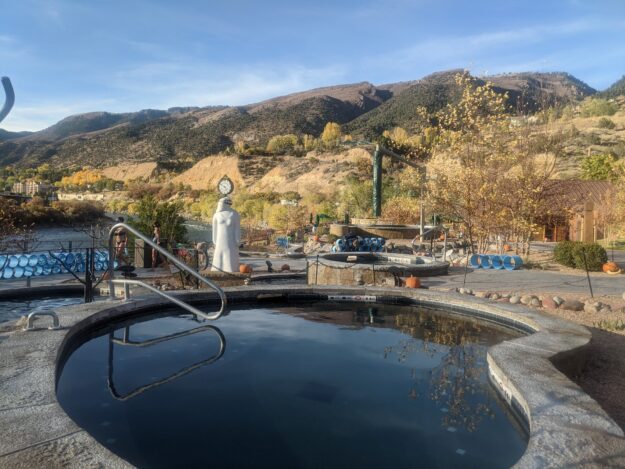 Boasting 16 soaking pools and a freshwater family pool, Iron Mountain Hot Springs (pictured above) is located on the bank of the Colorado River, with stunning mountain views.
YAMPAH SPA & VAPOR CAVES.
These vapor caves are a rare setting for a natural, geothermal steam bath with detoxifying benefits. An on-site spa provides further wellness opportunities.
Carbondale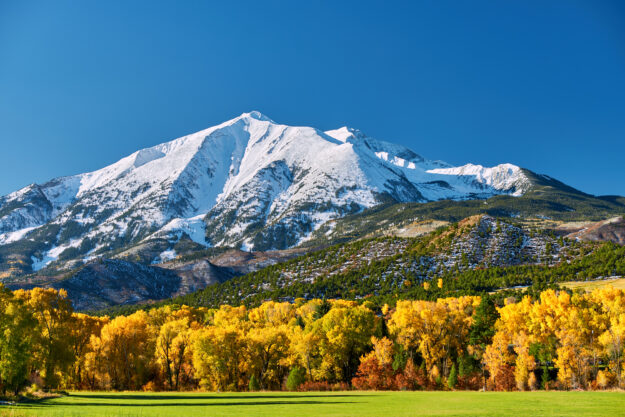 Carbondale's setting at the base of Mt. Sopris and along the shores of the Roaring Fork River has created a thriving outdoor recreation culture where year-round adventures are possible. Top activities include cross-country skiing, ice climbing, fat biking, road and mountain biking. Fly-fishing is yet another multi-season attraction.
AVALANCHE RANCH CABINS & HOT SPRINGS.
A family-owned resort nestled in the beautiful Crystal River Valley, Avalanche Ranch Cabins & Hot Springs features three geothermal pools in a tiered alignment that blend gracefully into the natural surroundings. From the soaking pools, visitors have knockout views of the Elk Range and Mt. Sopris. Cabins, Camping and limited paid public access are available by reservation.
Ouray and Ridgway
Dramatic landscapes are the calling card of this part of Colorado. Stunning mountain backdrops, crystalline lakes and wide-open spaces are a magnate for outdoor enthusiasts. Thanks to the generous geology of the region, you can soak in five different hot springs. A family-owned brewery in Ouray serves up brews with views.
OURAY HOT SPRINGS POOL.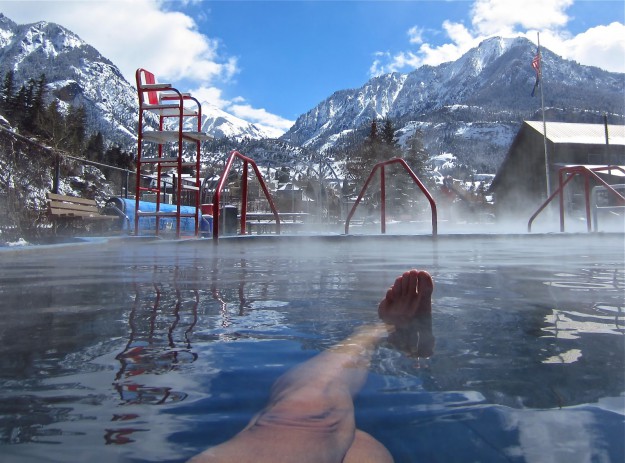 This recently renovated oval-shaped pool has incredible mountain backdrop views (pictures above), in addition to a mix of fun and relaxing features, such as an activity pool, an overlook infinity-style waterfall, and a hotter soaking pool.
WIESBADEN HOT SPRINGS SPA AND LODGINGS.
Wiesbaden is home to hot springs and rare vapor caves tucked deep inside the mountain, as well as an outdoor swimming pool and private outdoor spa—all heated with geothermal water.
TWIN PEAKS LODGE & HOT SPRINGS.
There are both indoor and outdoor soaking opportunities at this Ouray hot springs lodge.
ORVIS HOT SPRINGS.
Located in Ridgway, Orvis Hot Springs is a beautifully landscaped facility with both indoor and outdoor soaking options, famous for their au naturel, clothing-optional policy.
Durango
Durango, Colorado is a year-round travel destination with a rich history. Nestled at the foot of the La Plata Mountains, Durango is your gateway to adventure.
DURANGO HOT SPRINGS RESORT & SPA.
Durango Hot Springs Resort and Spa is uniquely located above some of the most naturally healing waters in the world. The distinctive blend of 32 minerals bubbling up from within the Earth fills all 28 of the resort's soaking pools. Durango Hot Springs Resort + Spa, in Durango, Colorado, is the only hot springs in the world to utilize the AquaGen water system to infuse all pools with nano-meter and micro-meter oxygen bubbles. Antimicrobial by nature, these oxygen bubbles provide an unparalleled cleanliness to the waters without introducing any foreign substances or chemicals. Come soak in these waters as Mother Nature intended and enjoy the various health benefits the minerals and oxygen provide. Click the image above for our full story on Durango Hot Springs Resort & Spa.
Pagosa Springs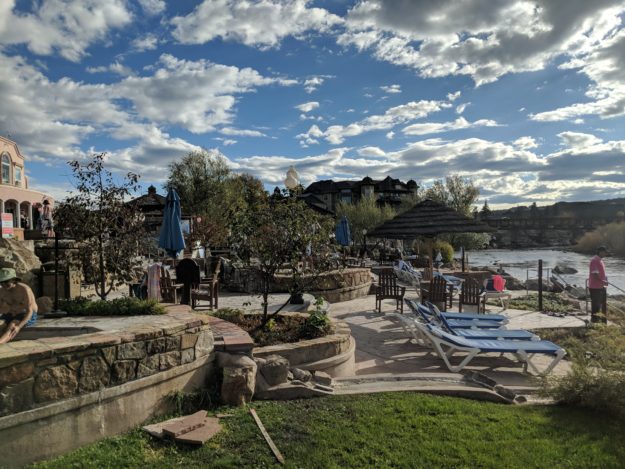 The next stop is Pagosa Springs, about a 150-minute drive from Salida. Be sure to enjoy the beautiful Wolf Creek Pass on the way—stopping at the scenic overlook, Continental Divide, and the gushing Treasure Falls. Once you've arrived in town, the "Pah gosah" Mother Spring aquifer, which translates to "healing waters," awaits, filling three different hot springs facilities.
THE SPRINGS RESORT & SPA.
The Springs Resort & Spa is open to lodge guests 24 hours a day and features 23 therapeutic mineral hot spring pools overlooking the San Juan River.
OVERLOOK HOT SPRINGS.
Overlook Hot Springs has rooftop soaking tubs with unimpeded views of the San Juan Mountains, the river and downtown Pagosa Springs!
HEALING WATERS RESORT & SPA.
Healing Waters Resort and Spa welcomes visitors to relax and soak in its therapeutic warm springs that are 100 percent natural mineral water with nothing else added.
Saguache County
Saguache County, (pronounced Sa-watch" is derived from the Ute language and loosely interpreted as "blue earth" to "sand dune. This area of mountain towns is surrounded by the majestic San Juan and Sangre de Cristo mountains. It is one of the least populated places in Colorado and offers incredible outdoor activities such as hiking, camping, mountain biking, fishing, hunting, horseback riding, motorsports and wildlife viewing.It is home to the Great Sand Dunes National Park & Preserve as well many unique and many historical sites. Saguache County is also hot springs country offering four unique destinations to soak and swim.
JOYFUL JOURNEY HOT SPRINGS SPA.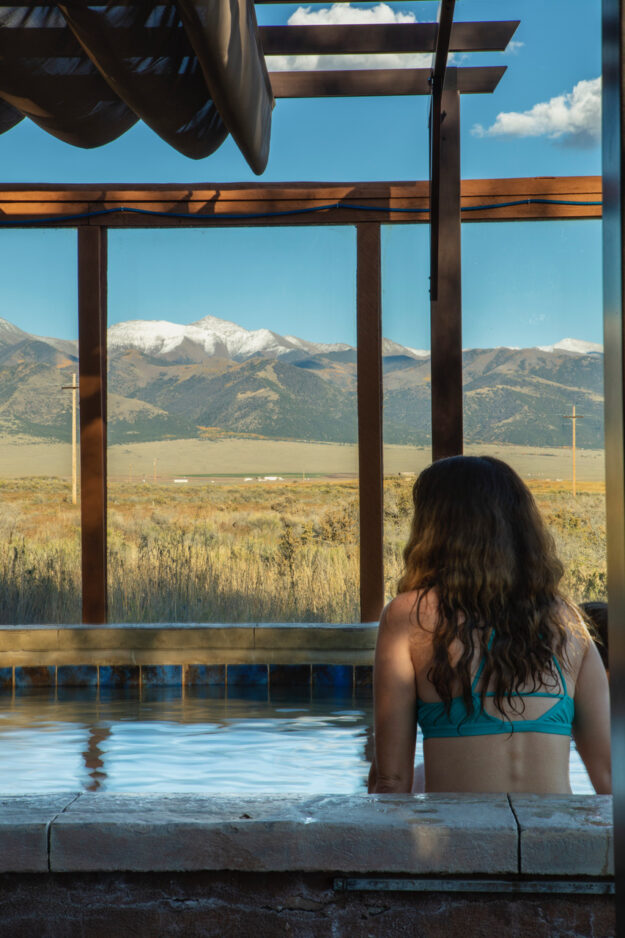 Beautifully landscaped and radiating a sense of serenity, the resort is a center for relaxation, healing and inner transformation. Part of what makes it such a Joy-filled place is the high concentration of naturally occurring lithium in the geothermal water. The mineral is known to elevate the mood and produce feelings of happiness and peace. Chemical and odor-free, the geothermal water leaves the travertine spring at 140˚F and is allowed to cool down to between 98˚ and 108˚F, ideal temperatures for soaking.
SAND DUNES SWIMMING POOL.
The centerpiece attraction is a large, outdoor geothermal hot springs pool, maintained year-round at 98˚F. A smaller, hotter pool and a children's pool are situated beneath an enclosure that shields bathers from the wind and weather
SPLASH LAND HOT SPRINGS.
Located in Alamosa, Splashland is a classic hot springs destination that has been operating since 1955. The 1950s-era sign complete with a vintage pinup girl holding a beach ball and backed by a giant blue wave adds a surf's up appeal to this quaint hot springs in the San Luis Valley. Even the bright blue metal lockers in the changing rooms are reminiscent of a time gone by. Splashland's throwback style is part of its lasting charm
VALLEY VIEW HOT SPRINGS.
Privacy is paramount at this secluded Colorado hot spring located at the foot of the Sangre de Cristo Mountains. The remote location at the base of the Sangre de Cristo mountain range is part of the attraction. With limited capacity and no admittance without a reservation, Valley View Hot Springs is intentionally uncrowded.
Chaffee County
This is Colorado 14er country where the majestic Collegiate Range—home to Mounts Princeton, Yale and Harvard—top out at over 14,000 feet and delineate the landscape. Tucked in amid the mountains are the towns of Salida, Nathrop and Buena Vista, places where experiencing the quintessential Colorado lifestyle is at its peak.
SALIDA HOT SPRINGS AQUATIC CENTER.
This community center facility is the largest indoor hot springs in North America, with its lap, soaking, and private pools.
MOUNT PRINCETON HOT SPRINGS.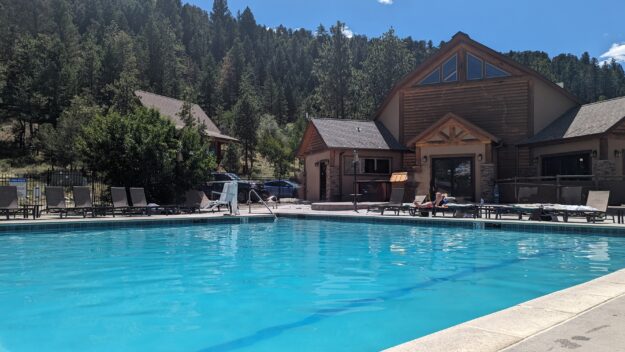 Known as a scenic overnight or day retreat, Mount Princeton Hot Springs is packed with amenities, like a historic bathhouse, creekside hot springs, a waterslide, and a spa and health club.
COTTONWOOD HOT SPRINGS.
With a relaxed and back-to-nature vibe, Cottonwood Hot Springs is a peaceful stop with a quiet-zone and alcohol-free pools, as well as various lodging options.
Steamboat Springs
Nestled in the heart of the Colorado Rockies, Steamboat is famous for its authentic Western roots and genuine hospitality. It is home to vast ranch lands and dude ranches with rodeos held every weekend in the summer months. Surrounded by wilderness and a river that runs through it, Steamboat is an outdoor recreation paradise.
OLD TOWN HOT SPRINGS.
Old Town Hot Springs is a recreational, multi-use complex with family-friendly fun packed into its geothermal waters.
STRAWBERRY PARK HOT SPRINGS.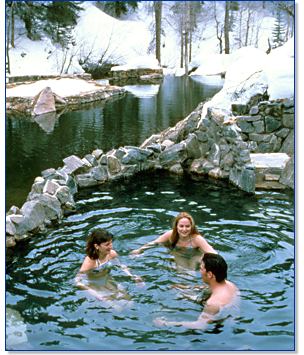 Strawberry Park Hot Springs is located outside of town, in a rustic and smaller venue, nestled against the banks of Strawberry Creek. There are lodging and camping options available.
For more information on each of Colorado's Hot Springs and local amenities head to:
www.cohotspringsloop.com
www.colorado.com/hotspringsloop
by Holly GoSpritely
Looking for a place to hike? Check out our Hiking In Colorado Page
Story Sponsor
Friday, September 15, 2023 at Leadville CMC Campus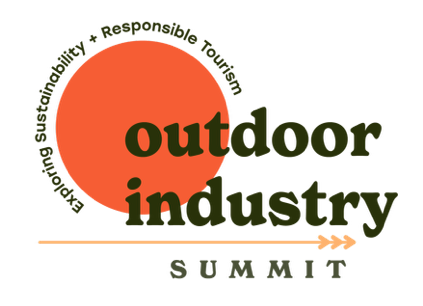 MTN Town Media Productions | Celebrating the Colorado mountain lifestyle for over 10 Years
Copyright 2023 MTN Town Media Productions all rights reserved.
Mountain Town Magazine promotes Colorado's incredible mountain towns and the people who make these communities unique. A highly desirable place to live and visit, our magazine gives an insider's view of what's hot and happening around this region. Restaurant reviews and business profiles, home and real estate updates, wellness tips, people profiles, fashion trend reports, recreation, family life, and the art & culture scene are all reported on. Mountain Town Magazine, read us online or, subscribe to get your hands on the print editions. Stay in touch with Colorado's Mountain Towns and visit our website often.