TellurideNewb.com – Alta Lakes Ghost Town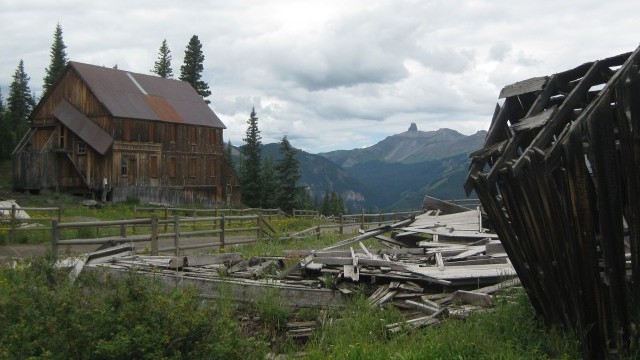 Telluride's rich, mining history is one of the many things that differentiates it from other resort communities. Whether it was gold, silver or zinc, mining originally built Telluride, and the town and  locals cherish this fact. And while the majority of the actual structures from those mining heydays have disappeared, the Alta Lakes Ghost Town is one of the cooler ones still standing.
Located between Telluride and Ophir, the actual ghost town is nothing grand, just a few, decrepit buildings and boardinghouses. In truth, the town was more of a mining camp than anything else – apparently, the actual Alta Lakes Gold King Mine was the first in history to use AC current. Nevertheless, since it is located in such a stunning area, with awesome views of Wilson Peak as well as a short hike away from a scenic lake, the ghost town, as well as Alta Lakes, is definitely one of the better areas around Telluride to check out. Especially if you like mountain biking, since you can ride directly from the ski resort to the ghost town via the Boomerang Trail.
~Gavin, TellurideNewb.com