Tax Time, Gangsters and the Average Man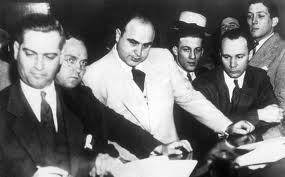 On Valentine's Day most of us celebrated the occasion with flowers or chocolate. But a small group of mob enthusiasts marked it as the 82nd anniversary of the infamous "Saint Valentine's Day Massacre," when Al Capone's "Outfit" gunned down seven members of rival Bugs Moran's North Side Irish gang, in a garage at 2212 North Clark Street in Chicago's Lincoln Park.
Although it is history not everyone knows that it was the IRS who finally put Capone behind bars. But how did it all go down? How much tax did Capone really evade? Back in 2008, the IRS released several documents relating to the case, and they reveal a fascinating glimpse into the investigation that brought down "Public Enemy Number One."
It all started in 1927, when the U.S. Supreme Court held that a bootlegger named Manny Sullivan owed tax on his illegal income. Two years later, President Hoover and Treasury Secretary Mellon vowed to put Capone behind bars. The Treasury Department's Special Intelligence Unit assigned IRS Special Agent Frank Wilson to the case. Wilson spent three years investigating Capone and even infiltrating "the Outfit" with federal agents in order to determine Capone's income. His big break came when he found three ledgers that had been seized in a gambling raid in Cicero – then from there, traced the handwriting in the ledgers to a deposit slip from a bank in Cicero – then from there, traced the deposit slips all the way to a bookkeeper at a dog track in Miami who ultimately agreed to testify. (Wilson made further history during the Lindbergh baby kidnapping – his bright idea to record the serial numbers on the gold certificates paid as ransom helped secure kidnapper Bruno Hauptmann's arrest and became common practice in kidnapping cases.)
Wilson's investigators calculated that, from 1924-1929, Capone's share of the Outfit's earnings from "gambling, houses of prostitution, and bootlegging" totaled $1,055,375.07. (That's about $13 million in today's dollars.) The IRS hit him with $219,260.12 in tax and threw in another $164,445.09 in penalties. An amount so huge that it's difficult to even wrap our heads around! There may be scores of people trying out some massive spins in casinos all over the world, and hitting the jackpot even, but it can be hard to match this major crime boss' winnings even after playing for a lifetime (but you could definitely try).
A federal grand jury indicted Capone on 22 counts, including "failure to file returns" (a misdemeanor) and "wilful attempt to evade and defeat an income tax" (a felony). Capone originally copped to all charges, but when he discovered the judge wouldn't be bound by the prosecution's sentencing recommendations, he switched his plea to "not guilty." After a long trial that included an unsuccessful plot to bribe potential jurors, Capone was convicted, sentenced to eleven years, and fined $250,000 plus $30,000 in court costs.
Capone wasn't the only Chicago mobster who wound up answering to the IRS. The Service also won convictions against Capone associates Jake "Greasy" Guzik and Frank "the Enforcer" Nitti, among others. And the convictions inspired still more delinquent taxpayers to come forward and 'fess up, including one "big shot gambler" who showed up at the IRS's Chicago office to pay $200,000 in cash!
Capone's conviction broke his hold on the Chicago outfit. He spent seven years as a guest of the federal government, including four years at Alcatraz, before winning parole and returning to his home in Florida, where he died in 1947. The infamous garage where the Saint Valentine's Day Massacre took place is now a parking lot. It's ironic that Capone's greatest legacy may be a Valentine to the IRS, in the form of reminding gangsters of all stripes to pay their taxes!
970.668.0772, 970.668.0434, 888.668.0772