Breckenridge International Festival of Arts – Celebrating Adventure, Creativity and Play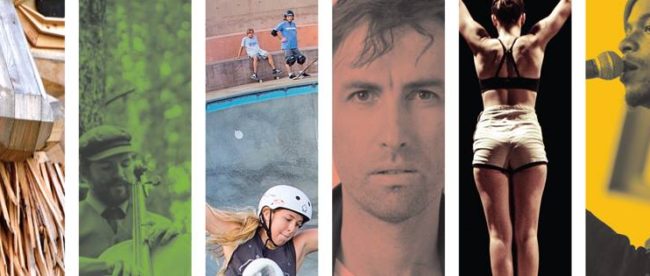 The Breckenridge International Festival of Arts (BIFA) returns to the high country with its celebration of adventure, play and creativity from August 10–19, 2018. From skateboarding mashups and musicians in trees to trailside harmonies and a hidden giant in the woods, BIFA offers an exhilarating program of extraordinary events in spectacular places and spaces across Breckenridge, Colorado. Inspired by themes of environment and mountain culture, the 10-day festival brings together a variety of performances, exhibitions, screenings, workshops, talks and surprise collaborations, with an eclectic mix of music, dance, film, visual arts and family entertainment.
Dozens of scheduled events, indoors and outdoors, ticketed and free, are showcased at venues and sites throughout town. A special BIFA preview day is scheduled for Thursday, August 9, showcasing select performances and offering a sneak peek at featured installations.
"BIFA is a spectacular convergence of arts, ideas and people, bringing together the work of internationally renowned creatives with extraordinary regional talent," said Robb Woulfe, President and CEO of Breckenridge Creative Arts, the festival's producer. "Our fourth season will once again transform the town's parks, plazas, trails and other public spaces into an artistic playground that is sure to ignite the imaginations of our guests."
2 Tickets for select festival performances are on sale now with remaining shows on sale on Monday, May 7, and may be purchased in person at the Riverwalk Center Ticket Office at 150 W. Adams Avenue, by phone at (970) 547-3100, or online at breckcreate.org.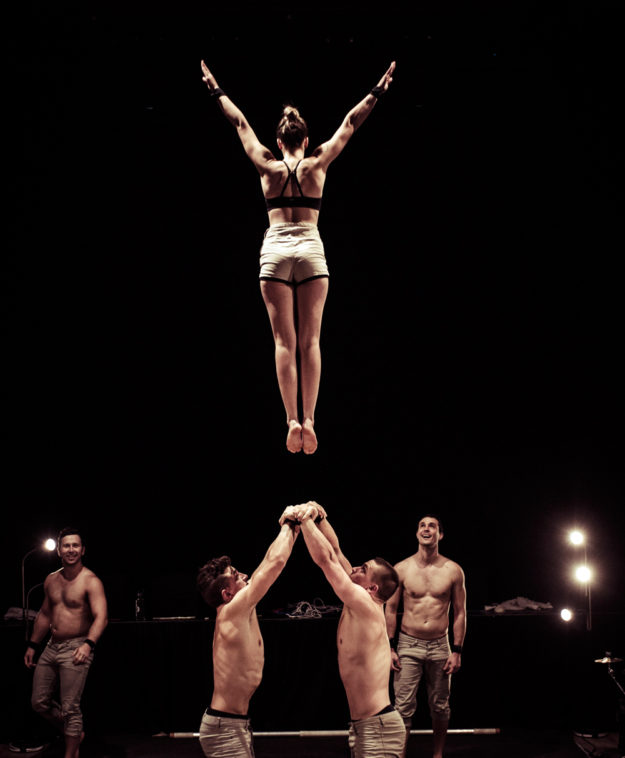 Featured 2018 BIFA performances and exhibitions include: Danish artist Thomas Dambo with a new commission of one of his large-scale giant sculptures made from recycled materials; singer-songwriter, fiddler and whistler extraordinaire Andrew Bird with special guest Neyla Pekarek; contemporary jazz ensemble Vijay Iyer Trio; a screening of the colorful Radhe Radhe: Rites of Holi accompanied by a chamber ensemble from the Breckenridge Music Festival Orchestra; the live skateboarding and music celebration Concrete Jams: Sk8 + Jazz featuring pro skaters Jordyn Barratt, Bucky Lasek and Andy Macdonald along with music by Denver-based funk and hip-hop crew The Other Black; a tetralogy of new classical works entitled In the Light of Air by Icelandic composer Anna Thorvaldsdottír; an outdoor community film event called Kick Push: A Roll-In Movie Night featuring wheel-themed, adventure shorts curated by the Breckenridge Film Festival; performance collective Manual Cinema and their multimedia production of Lula del Ray, an epic story featuring live actors, shadow puppetry, music and projection; and the daring feats and athletic prowess of acclaimed Australian acrobatic troupe Gravity & Other Myths in their contemporary circus production of A Simple Space.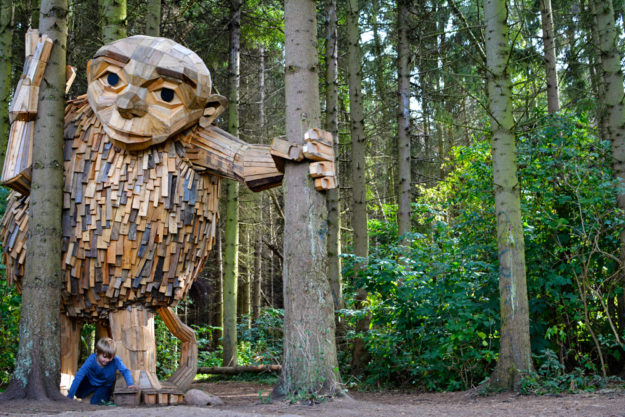 In addition to the core festival attractions listed above, BIFA's visual arts program will feature two separate eco-minded exhibitions—one on the interior of Old Masonic Hall entitled Tempting Landscapes by New York-based Hungarian artist Edina Tokodi, who fuses landscape art with real materials found in the outdoors, and another installation on the exterior of Old Masonic Hall entitled Nature Will Not Miss Us by Denver-based sculptor Nicole Banowetz, who creates large inflatables based on microscopic worlds. For the 2018 season, BIFA brings back its popular Trail Mix series, which combines art, music, hiking and biking along the trails of Breckenridge through free outdoor concerts and environmental installations. This year's series, presented on Iowa Hill, Moonstone and Wellington trails, features 33 pop-up musical performances with accompanying artworks by Banowetz, Dambo and Tokodi.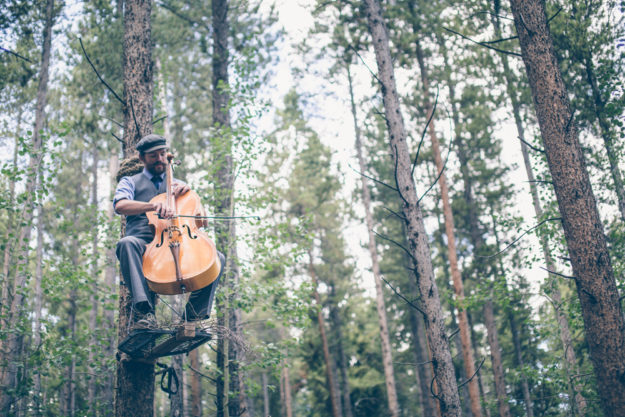 Also returning to the lineup is both Acoustic Flow, a blissed-out mix of music and wellness featuring mini-concerts with free outdoor yoga, and Tree-o, a performance art installation in the forest featuring three musicians — cellist Russick Smith, violinist Karen Lauffer and mandolinist Kevin Larkin – performing a series of free concerts with the trio perched aloft upon the trees. Adding to the outdoor festivities, performers from the circus ensemble Gravity & Other Myths will participate in trailside acrobatic demonstrations as free, open-air previews to their ticketed, indoor shows. Another nature-inspired program new to the festival this year is Chirp!, an al fresco musical experience that features Denver-based performance ensemble Chimney Choir with guest singers Natalie Tate and Evan McCandless. Harmonizing their voices to create an ethereal atmosphere in the forest, each concert in this new series features a vocal soundscape performed along a wooded trail.
Additionally, the Breckenridge Arts District once again serves as the heart of BIFA, bringing together studios, galleries, performance spaces, public art and historic landmarks that animate and populate a vibrant cultural corridor in downtown Breckenridge. Throughout the festival, the Arts District's campus becomes an interactive hub of creativity, offering free workshops, demonstrations, artist talks and hands-on activities for all ages.
Recognized as one of the top mountain resort destinations in the world, Breckenridge is a beautiful and historic Colorado town that attracts over a million visitors yearly. Nestled in the heart of the Central Rocky Mountains, the town offers year-round activities to please outdoor enthusiasts, vacationing families and cultural travelers. As an umbrella organization that promotes arts, culture and creative experiences, Breckenridge Creative Arts (BCA)—or BreckCreate for short—is responsible for the successful management of a series of programs, properties and partnerships which collectively animate and populate a cultural corridor in the heart of downtown Breckenridge. BCA's signature events include WAVE: Light + Water + Sound, Street Arts, Breckenridge International Festival of Arts (BIFA) and the annual Día de los Muertos celebration.
The schedule of events is massive and can be viewed here:
Another Handy Way to View the Whole Schedule:
From quality performing and visual arts to the development of the Breckenridge Arts District, a Colorado-Certified Creative District, BCA is a transformative force for Breckenridge and the greater Summit County community. Funding for BIFA is generously provided by the Town of Breckenridge and the National Endowment for the Arts, with additional media support from Mountain Living.
We cannot emphasize enough how fantastic this week of Art will be. Be astounded and attend!
~MTN Town Magazine
MTN Town Magazine | We are Colorado's Mountain Town Magazine
Copyright © 2018 MTN Town Magazine all rights reserved.
Please follow and like us: