State Bridge Brings the Best of New Orleans, Colorado and the Midwest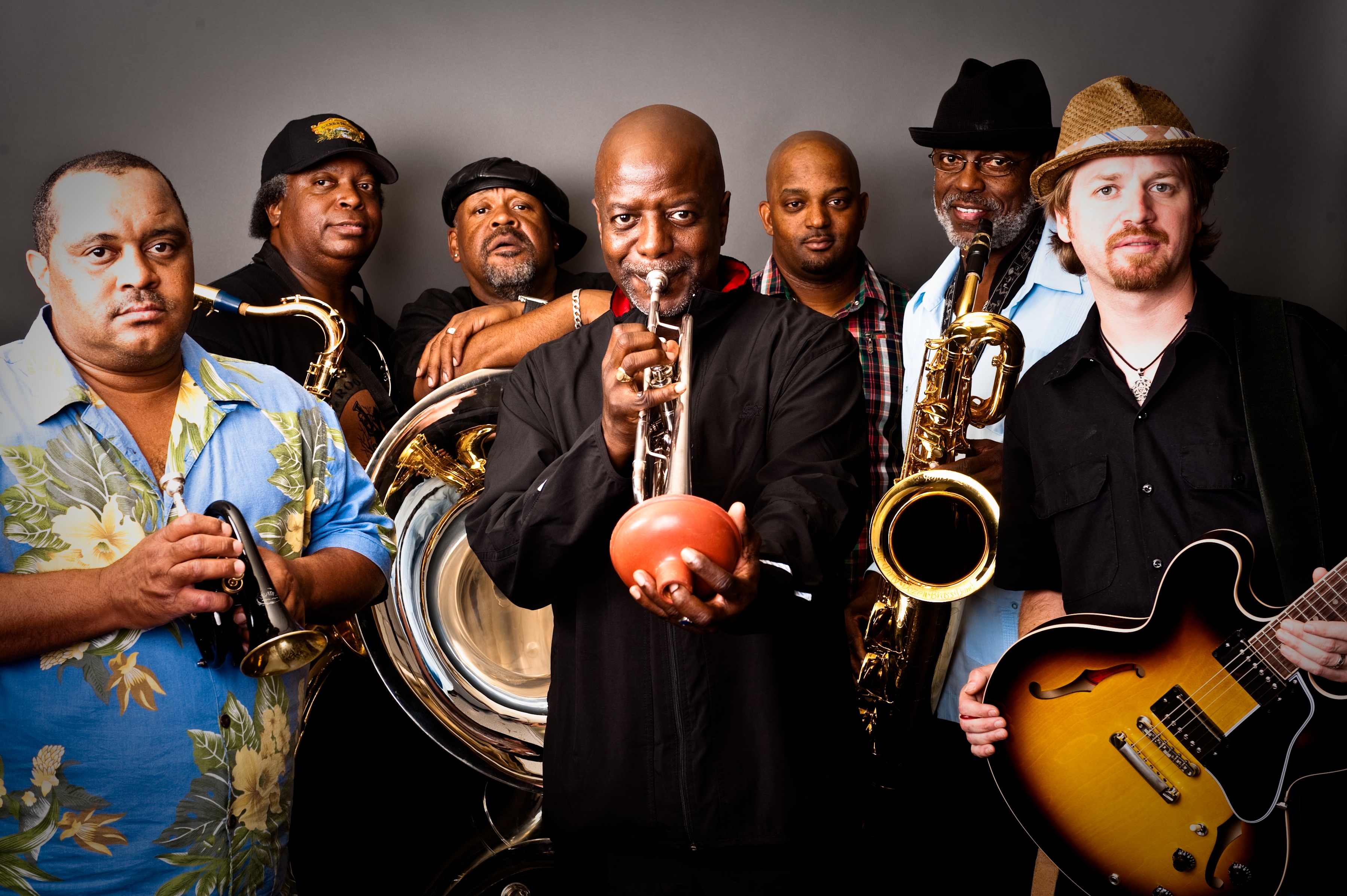 Bringing together the best of New Orleans, Colorado and the Midwest, State Bridge Riverside Amphitheater welcomes the Dirty Dozen Brass Band, Yamn and Ultraviolet Hippopotamus with special guests Saturday, July 16.
Music begins at 1 p.m. on the Riverview Stage. UV Hippo kicks things off on the Main Stage at 5 p.m., followed by headlining act Dirty Dozen Brass Band and Yamn playing a late-night set. Lodging and free camping are available onsite.
In 1977, the Dirty Dozen Social and Pleasure Club in New Orleans began showcasing a traditional Crescent City brass band. It was a joining of two proud, but antiquated, traditions at the time: social and pleasure clubs dated back over a century to a time when black southerners could rarely afford life insurance, and the clubs would provide proper funeral arrangements.Brass bands, early predecessors of jazz as we know it, would often follow the funeral procession playing somber dirges, then, once the family of the deceased was out of earshot, burst into jubilant dance tunes as casual onlookers danced in the streets. By the late '70s, few of either existed.
The Dirty Dozen Social and Pleasure Club decided to assemble this group as a house band, and over the course of these early gigs, the seven-member ensemble adopted the venue's name, the Dirty Dozen Brass Band.
Thirty years later, the Dirty Dozen Brass Band is a world-famous musical machine, whose name is synonymous with genre-bending romps and high-octane performances.
They have revitalized the brass band in New Orleans and around the world, progressing from local parties, clubs, baseball games and festivals in their early years to touring nearly constantly around the U.S. and in over 30 other countries on five continents.
The Dirty Dozen have been featured guests on albums by artists including David Bowie, Elvis Costello, Dr. John and the Black Crowes.
Close your eyes and feast your ears upon Yamn — a smooth sonic explosion born in the Rocky Mountains of Colorado. Four years and 100,000 road miles after they met in cold and snowy Breckenridge, the trance-fusion rockers have built a vision, a future toward which they'll launch headfirst, no-holds-barred, with smiles and an insatiable vigor.
The band relocated to Denver in 2008 to fulfill another dream, one that shifted and evolved as it discovered its sound in the blossoming music scene on the Front Range.
Yamn is about the live experience, one that scintillates the senses with more than just tranced-out tunes and emotional peaks. That experience is one that is born off the stage, where the band's bond is like none other.
The Yamn experience does not begin and end with the guys who play the instruments either: revered fifth band member and lighting designer Paul Whitehouse plays an irreplaceable role the their live show. Knowing every note and bringing his LED light rig along to every gig, Whitehouse's talents add another dimension to the Yamn experience, a feast for the eyes to enhance the full-bodied, crisp melodies and free-flowing power rock jams that Yamn has come to be known for.
Ultraviolet Hippopotamus is a five-piece rock band from Grand Rapids, Michigan whose strength in original compositions and ability to flow from one genre to another has made them a captivating force in the Midwest music scene. The energy, crowd banter and light show make this band hard to ignore.
It started in the summer of 2004 when a few friends from Big Rapids, Michigan got together for a few low-key jam sessions. Before they knew it, they had established a couple of sets of music containing fun covers and even some original musings. As they tried to settle on a name for their new group, they stumbled across a story containing a fictional band with the name, Ultraviolet Hippopotamus. They felt it worked as a perfect representation of the ridiculous nature of the band — and so it stuck.
So here is the What, Where and When! Get out and get down at State Bridge!
What: Dirty Dozen Brass Band, supported by YAMN, Ultraviolet Hippopotamus and others.
Where: State Bridge Riverside Amphitheater, 127 Trough Road, Bond, CO
When: Saturday, July 16, 2011 — music at 1 p.m., headliners at 5 p.m.
Tickets: $15 in advance, available at 
http://www.statebridge.com/
 ($18 day of the show)
Lodging/Camping:
www.statebridge.com