Ravines and Machines – Snowmobiling Lake County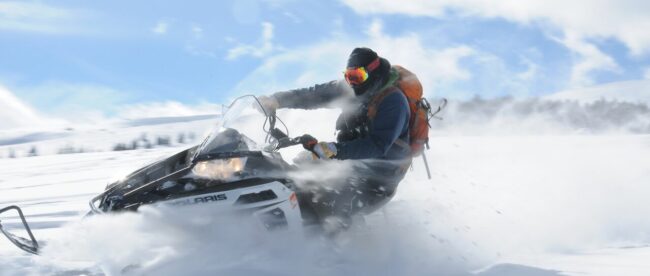 Snowmobiling Lake County is fantastic just over Freemont Pass. About a mile and a half from the Climax Mine, there is a turn-out on the right-hand side of the road. On and off since 2004, I have had the pleasure of working for White Mountain Tours as a snowmobile guide and taken thousands of people through this wonderland of snow. From performance tours to high adventures, we have taken guests to the top of "Capitol Hill," into the depths of "Avalanche Bowl," ridden the massive ditch we call the "Big Kahuna," and played in endless meadows filled with feet of pristine Colorado champagne powder. The view from just below Chicago Ridge "named by the soldiers of the 10th Mountain Division" is one worthy of a postcard with the Climax Mine and the tailing ponds in the forefront and peaks from the Ten Mile Range and the Mosquito Range visible as well.
Nowhere near as busy as Vail Pass or Rabbit Ears Pass, this small and unsuspecting turnout on the side of the road leads to a veritable gem of backcountry terrain perfect for snowmobiling. With accessible meadows, tree runs, powder fields and plenty of vertical walls for marking, this area has all the makings of a Colorado classic. There is also an abandoned ski lift at the top of Chalk Mountain, diversion ditches from the Climax Mine and a hut that is part of the 10th Mountain Division which adds a historical component to the ride as well.
As a guide, I have seen people riding both responsibly as well as extremely irresponsible. I feel that in Colorado we are blessed with access to terrain that the majority of people in the world can only dream about and many times we take it for granted. Substance abuse and negligent consideration for the landscape and other riders sometimes tarnish the reputation of riders out there recklessly causing havoc in the backcountry. In outdoor recreation, we tend to build a false sense of security based on outcomes from our past experiences. We build a certain confidence in the fallacy that because things have worked out for us in the past, they will continue to do so in the present. The same things that make this terrain and access potentially safe, its ease of access, plenty of open terrain, a well-respected tour operator with radios regularly in the area, can also serve as a detriment. In the outdoors we have a saying "everything's all good until it isn't."
If you are going to be riding anywhere, I suggest first of all that you go with someone that knows the area, even if it means paying for a guide the first couple of times. Never enter the backcountry alone. Second, I suggest you start early in the day to allow yourself plenty of time just in case something does go wrong; you better your chances of getting to a spot where you can be seen before it gets dark. Third, if you are in an area where there are tours or there are other riders, bring a radio and know which frequencies they use in case of an emergency; cell phones rarely work. Fourth, bring your tools and a spare belt. Having gear and tools to fix your sled, or potentially tow your sled, readily available in case things go wrong mechanically means that you can be proactive in contributing to your rescue. Don't be the clown that can't contribute or is embarrassingly unprepared. Finally, and most importantly, know your line out. Before the temptation of powder turns calls you into dropping into a remote meadow, really look at the terrain. Carefully look and study the landscape and see if you can see a line out. If you are with a group, have the most experienced rider drop in first and give the OK. You would be surprised how many times I have seen multiple riders overconfident on the size of their machines buried within 20 to 30 feet of each other. Also, really deep snow may cover hazards or features like ravines, ponds or mini creeks that don't reveal themselves until it's too late.
I feel that in my time guiding in the backcountry I have seen it all. I have participated in rescues and evacuations, had machines break down, helped people dig out their sleds and most unfortunately been close when someone passed away because of an accident. In many outdoor mediums and sports, we have to obviously respect the land and Mother Nature herself. With sledding, you have to respect the machine as well. One should always be honest with themselves and know that an error in judgment can't always be saved or over-compensated with the throttle. Stay sober, enter the backcountry with respect and reverence, be prepared, pick your riding buddies intelligently, and be safe. Follow these simple guidelines and truths and you'll go a long way in ensuring that you'll be enjoying our backcountry treasure.
by Javier Placer
Keep up on Colorado mountain town skiing and snowboarding news here: www.mtntownmagazine.com/category/skiing-and-snowboarding/

Mountain Town Magazine | We are Colorado's Mountain Town Magazine
Copyright © 2020 MTN Town Magazine all rights reserved.