Santa Fe Getaway – An Easy Escape from Colorado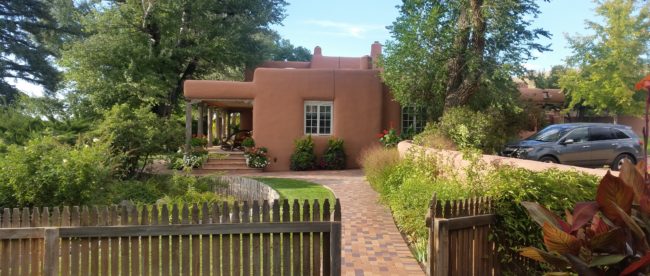 Colorado ski areas are counting down to a close and if you're like the majority of us living in a mountain town a Spring getaway is in store for you. If you're not too sure where to go we would like to make a suggestion, with a Santa Fe Getaway – An Easy Escape from Colorado to Santa Fe, New Mexico.
Here is why. The time spent behind the wheel is minimal. You're looking at approximately 5 to 6 hours of drive time from most of Colorado's mountain towns, less if you're on the Front Range. The drive is absolutely beautiful and if you come in on 285 then the traffic dwindles to a trickle once you leave Alamosa. I have to say, I felt like I was the only human alive at one point along the road.
A trip to Santa Fe takes you out of your element and reminds you that there is a ton of extremely diverse culture outside of our mountain towns. I was surprised to discover that Santa Fe is the second oldest city in the United States and New Mexico only became a bona fide state in 1912. I learned that the area was originally occupied by a number of Pueblo Indian villages with founding dates between 1050 to 1150. Thirteen years before the Plymouth Colony was settled by the Mayflower Pilgrims, Santa Fe, New Mexico, was established with a small cluster of European type dwellings. It would soon become the seat of power for the Spanish Empire north of the Rio Grande. Santa Fe is the oldest capital city in North America and the oldest European community west of the Mississippi.
 While looking for outdoor pursuits we discovered this area is chock full of adventure. Skiing both Alpine and Nordic, Hiking, Biking, Golf, Rafting, Fishing and more can be found within the city and the surrounding area. It is rated a Top Ten destination for Mountain Biking (as voted by Singletrack.com) and offers terrain for every skill level. Check in with the Santa Fe Fat Tire Society's website for great maps and ride suggestions. For you skinny tire fanatics the roads are scenic and offer easy and challenging rides. A great website with Garmin road ride maps can be found at Trails.com
The rafting scene will be hot at this time with spring runoff. You can raft and kayak the Rio Grande and Rio Chama rivers and experience thrills in Class IV whitewater rapids or opt for a serene stretch of Class I floats. SUP lessons and rentals are also available.
Santa Fe and it's surrounding area is a Golfers paradise with year-round play usually available to the enthusiast. We had a chance to play the Towa Golf Club at Buffalo Thunder Resort on one of our days exploring the area and I can vouch that I had one of my best days out golfing ever. The air was crisp and the course was green, a color we forget after days upon days of snow in the yard and on the slopes. Towa has three independent nine-hole courses designed by Hale Irwin, offering some great elevation changes, fun layouts and scenic views of the Sangre de Cristos. The Towa Golf Club at Buffalo Thunder Resort was rated "North America's Best Golf Hotel 2015" by the World Golf Awards and I know why, the greens were perfect, the views were spectacular and the entire staff was extremely helpful and courteous, making the day even more satisfying.
We chose to stay at Buffalo Thunder Resort and Casino due to its proximity to Golf, Outdoor Activities, the City of Santa Fe and the fact that it has a beautiful pool area and luxurious accommodations. The resort is situated on Pueblo of Pojoaque land and is operated by their people. The amazing thing about the resort it is also an incredible Art Museum housing the artwork of past Pueblo governor George Rivera, a renowned artist and sculptor. His influence can be found with his beautiful works of art dotting the property, outside and in. Art from Native contributors statewide, and from many different Pueblos, are also displayed proudly throughout the resort. A museum-quality collection with its own curator is worthy of a tour and studied perusal.
The hotel is luxurious with a relaxed spirit. The rooms are very comfortable and speak Santa Fe from the moment you walk through the door. The resort has a huge pool area and a top-notch spa.
Another reason to head to Santa Fe… their famous food scene. Every day is delicious in Santa Fe and I was glad we had lots of side activities to help keep my waist in check. We were very fortunate to experience an al fresco dinner at Buffalo Thunder Resort's working ranch and farm, La Mesita Ranch. It was stunning and their food was exquisite. 
In town we checked out great Green Chili Cheeseburgers at the AGAVE Lounge at Eldorado Hotel & Spa Santa Fe.We ate some of the best locally sourced cuisine and tableside guacamole at the Buffalo Thunder Hotel Resort Casino and enjoyed an incredibly memorable and scenic lunch at Rancho de Chimayo Restaurante. In town, we grabbed a few beers at the Second Street Brewery at the Railyard – a very cool gathering spot in the city.
The art, the culture, the food; all of this makes Santa Fe a very worthy Spring Break destination. One other recommendation, go and see the El Santuario de Chimayo. This is a beautiful cultural pit stop that people have been pilgrimaging to the early 1800's. The church and surrounding area is worth a full day of exploring. It has been called "no doubt the most important Catholic pilgrimage center in the United States." Whatever your religion you will be amazed at the uniqueness and history of this landmark.
The activities and events are abundant and will refresh you for the coming season of summer in our Colorado mountain towns. This is a trip worth taking.
~Holly Battista-Resignolo, Publisher- MTN Town Magazine
MTN Town Magazine | We are Colorado's Mountain Town Magazine
Copyright © 2018 MTN Town Magazine all rights reserved.