Recapping the Ride Festival – Telluride.com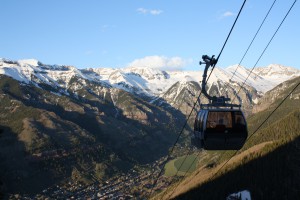 Making plans to attend this one next year! Here is a recap of Telluride's second Ride Festival from Telluride.com. Sounds like this music festival kicked booty:
The 2nd Annual Ride Festival was one helluva ride. Cool weather, plenty of space and some much needed rock n' roll in the box canyon. It will be hard to top such a talented and eclectic lineup this summer – everything from new emerging artists like UK's Brother and Bones (who made their US debut) and New Orleans's The Revivalists to old-school favorites like Cake and David Byrne. The canyon walls are still vibrating.
My top 4 shows:
David Byrne & St. Vincent (of course) – my second time seeing David Byrne in Town Park and I'll have to say… one of the best shows I've seen in a long time. But that's a given. It's David Byrne. For me, St. Vincent really stole the show. Her stage presence was out of this world and I was pleasantly surprised by her guitar shredding ability. One word: HOT. Byrne's entire brass section almost rivals a college band and the choreography alone will keep you enthralled. The icing on the cake? They encored with Talking Head's Burning Down the House. Town Park went nuts.
Drive-By Truckers – my favorite performance from the entire weekend, DBT's show was off the charts. Everyone in Town Park was digging their loud Southern Rock set and cowboy like lyrics from frontman, Patterson Hood. That's Athens for ya. John Oates hopped on stage and they ended with an awesome Everybody Needs Love from their Go-Go Boots album. If you haven't listened to that album, check it out. Gives me chills every time I listen to it.
The Revivalists – this was my wildcard for the weekend and they did not upset. Not your typical NOLA funk sound, The Revivalists are a unique sounding rock group destined to blow up on the scene. A little bit of a Citizen Cope/Maroon 5 sound with a serious rock twang. And way better. AND they closed their Sheridan Opera House set with Dr. Dre's Click here to continue reading.
~Hart Roberts, Telluride.com
Photo Credits: Hart Roberts
MtnTownViews.com is MTN Town Magazine's daily journal blogging about Colorado's mountain towns and resorts. Like them on Facebook and Follow on Twitter. Click the cover to read the Winter 2012-13 Issue.
© 2013 MTN Town Magazine. All rights reserved. Republication, in part or entirety, requires permission.