Reading River Gauges and Tracking Water Flows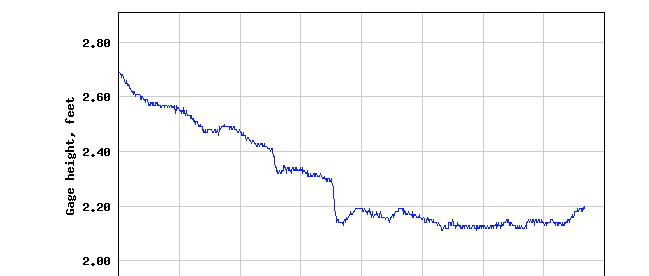 Reading River Gauges and Tracking Water Flows is essential to making good decisions about your next river trip.  Lakes and Rivers are rising and we are excited to start thinking about getting on the water. It is that time of year again! River folk of all ages and disciplines are checking their phones and updating their web browsers en masse to watch river levels ebb and flow. Hala Gear team rider Matt Buckley gives us the rundown on how to find this information, dispensing all his tips and tricks so that you can make plans to SUP new runs or crush old favorites.
When I was tenderfooted whitewater guide, I was lucky enough to live amongst a community of like-minded souls in the dusty parking lot of a river outfitter, mere yards from the banks of the Arkansas River. Seasoned guides could approximate a river's flow by judging how covered or uncovered a certain rock was. As a rookie, my modest affinity with the Arkansas meant I had to wait for the head boatman to open the boathouse and write the metrics on the board.
I wondered, out loud, where he got those numbers from, and a few snide remarks later I finally discovered that the United States Geological Survey (USGS) maintains a website which systematically tracks water all over America.
In the United States, we refer to river flow in two ways: cubic feet per second (CFS) or feet (height). CFS is the most common, however some rivers are measured in feet due to a lack of a river gauge. For all intents and purposes, they assess the same thing. As a recreation user, neither CFS or river height will be meaningful until you get a sense of what constitutes high or low water on a given run. Additionally, since every river has a different character, it is important to note that some sections of a given river take less water than others to become runnable. The Yampa River moving at 5,000 CFS is very different from the Upper Colorado River moving at 5,000 CFS. Therefore, in order to appreciate river gauge measurements, you must paddle frequently and ubiquitously!
Where can you find these measurements? There are many available resources, however, I like to keep things simple. I will stick to two organizations that have served me really well for years. Both institutions manage websites that provide river data for the entire country.
Up first is the USGS. Find it here: https://waterdata.usgs.gov/nwis
This link brings us to the National Water Information System homepage. My go-to way to search for river gauge information is through the Current Conditions button. If you choose this module, you will find a US map with several colors keyed down on the bottom right. Click on the state in which the river stretch you want to know about resides. On the right, you will see "Streamflow Real-Time Table" listed. You will now be looking at a long record of all the gauges in that state separated by drainage with at height and CFS measurements listed. Find the gauge for the stretch you want and click on it for a more detailed look at what's happening. On the main page for each individual gauge, it will show a height and CFS graph from a few days prior up to the current day. At some gauges, this data is updated several times a day.  Different parameters can be selected or entered to see specific flow history or data. I like to run the gauge history for previous years and try to predict flows.
I also use the map search function on the National Water Information homepage. Click the button that looks like a map, and you will be brought to, of all things, a map. A search function exists on the right side of the page with a filter option. This map and its corresponding query have allowed me to look any river I was curious about SUPing, find the stretch of whitewater I wanted to click here to continue reading and learning
Happy Paddling!
~MTN Town Magazine
MTN Town Magazine | We are Colorado's Mountain Town Magazine
Copyright © 2018 MTN Town Magazine all rights reserved.