Raising a Family and Full Life in Breckenridge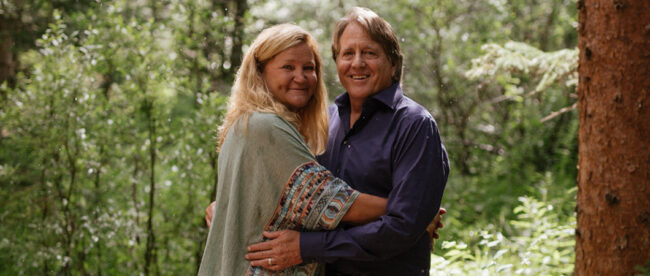 PEOPLE OF BRECKENRIDGE: Dave & Liz Hartman
by Holly Resignolo
Before magazines and websites were touting mountain towns as an ideal location to live and raise a family, Liz and Dave Hartman were pursuing their passions living the coveted ski bum lifestyle. Let's clarify the word Ski Bum. According to Colorado Ski Country USA, the Ski Bum is an individual who eschews responsibilities, financial security, and basic creature comforts for the bliss of carefree skiing. Maybe at the beginning of their pursuits, there was some ski bumming but as time rolled forward they morphed into ski industry professionals.
As a longtime Breckenridge resident, I have gotten to know Dave and Liz through our children's mutual relationships. The Hartman's are one of the larger families in the community raising three daughters and a son below the peaks of the Breckenridge Ski Resort.
Dave Hartman was born and raised in the Denver Metro Area. He decided to try out the central plains when he went to Doane College in Nebraska. After graduating, the Rocky Mountains pulled him back to the slopes of Colorado. Dave had spent plenty of time in the mountains growing up. His dad had purchased a condo in Breckenridge's Gold Camp development along Ski Hill Road and he came up through his formative years. In the ski season of 70-71, Dave bought his first pass for $40 after mowing lawns all summer and has years of memories skiing all around the state.
Dave's dad ran the dog track where Dave ran the concessions and then moved on to work at Winter Park Resort's restaurants. He was living up at the resort's day lodge, Snoasis. A buddy was working F&B at Copper Mountain and reached out to him to ask if he knew anything about Breckenridge. The ski area was concessioning out a restaurant at the top of Peak 8. Dave contacted the boys he knew running Aspen (Aspen owned the resort at that time) to inquire about securing the outlet.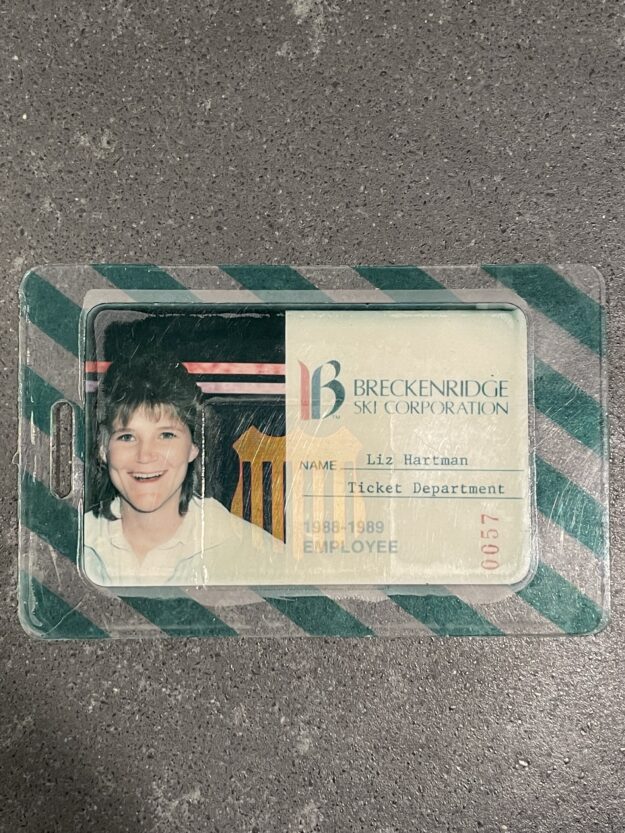 Elizabeth Hartman also grew up in Denver and attended University here in Colorado. She is one of nine siblings. She met Dave and married in 1986. Three days after they married they moved up to Breckenridge.
After winning the Breckenridge Ski Area concession contract at the top of Peak 8 Dave, Liz, and a whole crew built the original Vista Haus where they lived and ran the restaurant. There they made everything from scratch. Their Bakers would arrive at 6 am prep up 50 pizzas for the day, bake all of the pastries, bread, chili, cinnamon rolls, pies, prepare chili, and more. Everything was produced by Liz, Dave, and their crew. Their food became well known across the mountain. Liz fondly recalls those times. She was 25, married, owned a snowmobile, woke up to incredible views, and was having a ton of fun. Who could ask for more?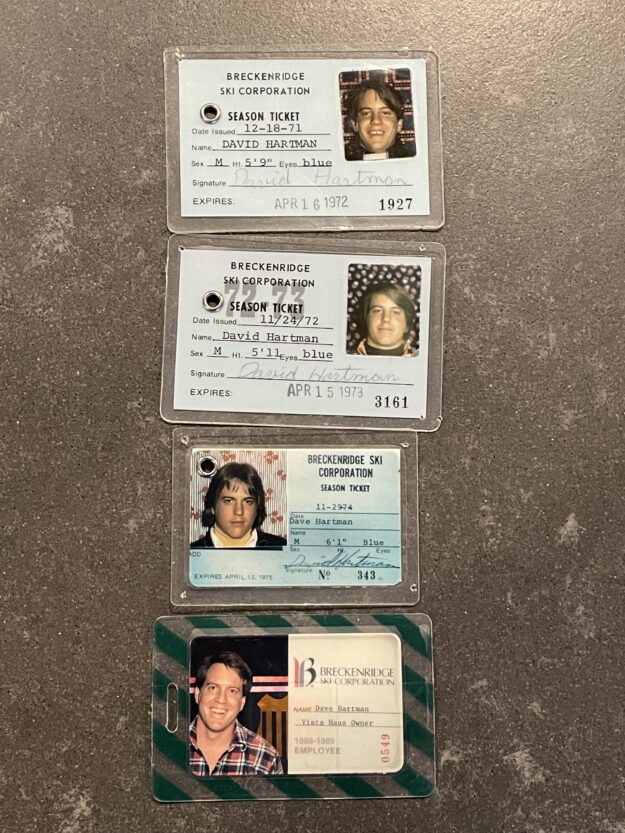 During that time they had two daughters, Katie and Megan, and built a house on Peak 8. Their concession contract soon thereafter came to an end. It was the early 90's and they were preparing to purchase Shamus O'Tooles and continue in the restaurant business. The contract fell through, which ended up being a blessing, as they now had four children and the restaurant business requires intense commitment to keeping things going at all times of the day.
The couple bought Woodwinds Property Management and secured their first HOA contracts. Liz stayed on with the Ski Resort and worked year-round for nine years in the ticket office. She was able to secure daycare and medical insurance for the family while Dave built the property management company. Liz then went back to Denver during that time and secured her Master's in Psychology and began her own counseling business. She had been offering counseling for free during the beginnings of Covid but has since retired.
Dave and Liz reflected on how owning their own business assisted them in raising their family as it allowed flexibility for taking on the tasks of raising their four children, Katie, Megan, Bernie, and Ellie.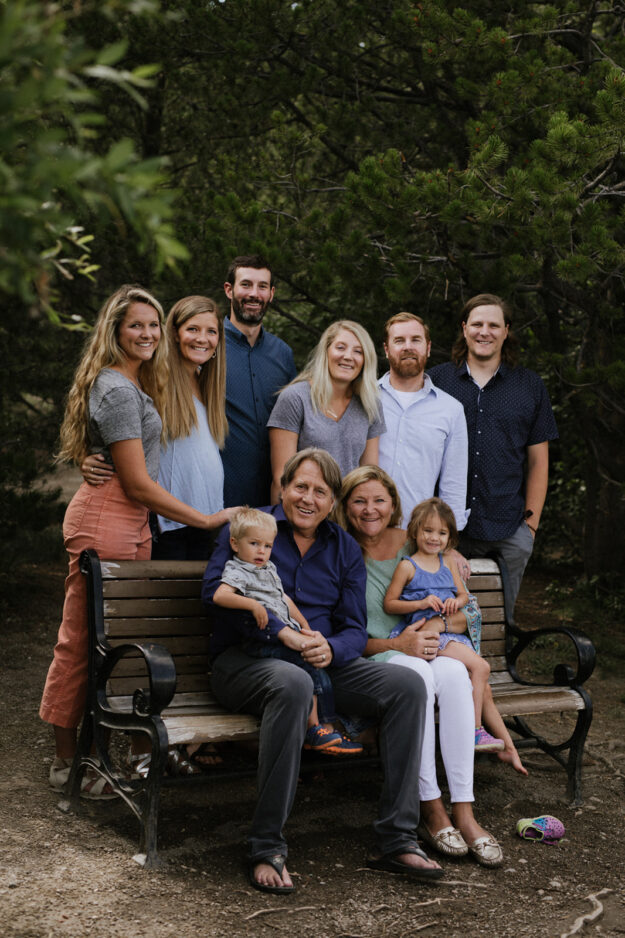 Their first child Katie pursued skiing and ski racing with an intense passion. Her skills and fortitude brought her athletic career all the way to the Collegiate level and beyond coaching for the U.S. Alpine Ski Team.
Megan took a path that led some to some time in the modeling world and nurtured a passion for Tennis and Swimming. She is now heading up the family's Real Estate company, Woodwinds Realty alongside her Dad.
Bernie, their son, was a ski racer who also played Football. He went to Montana State to study Psychology but decided he really wanted a singing career. He applied and was accepted into a program at Metro State. He now works with Aurora Public schools and is the percussionist and singer for Dog City Disco.
Ellie, too, was a ski racer but injured her leg in college. She left the sport and headed to Miami where she became a member of the Barry University NCAA rowing team where she and her teammates fought their way to winning two undefeated National Championships.
Liz and Dave were very supportive parents looking after all of the passions their children chose to pursue but believed if the kids really wanted to be dedicated athletes, it was on them, they had to work for it. They didn't force them to pursue their goals. As a couple, they worked at supporting the organizations the kids participated within by actively serving on boards and committees to help those organizations flourish.
Dave recently sold their business, Woodwinds Property Management, but retained the name for their Real Estate Company, Wood Winds Realty. Megan and Dave are both Realtors and Ellie is their Marketing Director and Web Specialist selling Real Estate in Breckenridge and across the state of Colorado.
The couple is now enjoying their time helping start the next generation of skiers and mountain enthusiasts with their grandkids. At the time of our conversation, they were working on getting ready to help their two-year-old granddaughter get on skis during the Christmas holidays and watch their 5-year-old grandson "go fast". It sounds like they have another racer on their hands and many more years pioneering a full mountain family life.
Raising a Family and Full Life in Breckenridge is a life fulfilling dream.
Read more about Raising a Family and Full Life in Breckenridge at :
www.mountaintownbreckenrdge.com
MTN Town Media Productions | Celebrating Colorado mountain culture and lifestyle
Copyright ©2022 MTN Town Magazine all rights reserved.
Post Sponsored by