Park & Main Quality Food – Excellent Food in the Heart of Breckenridge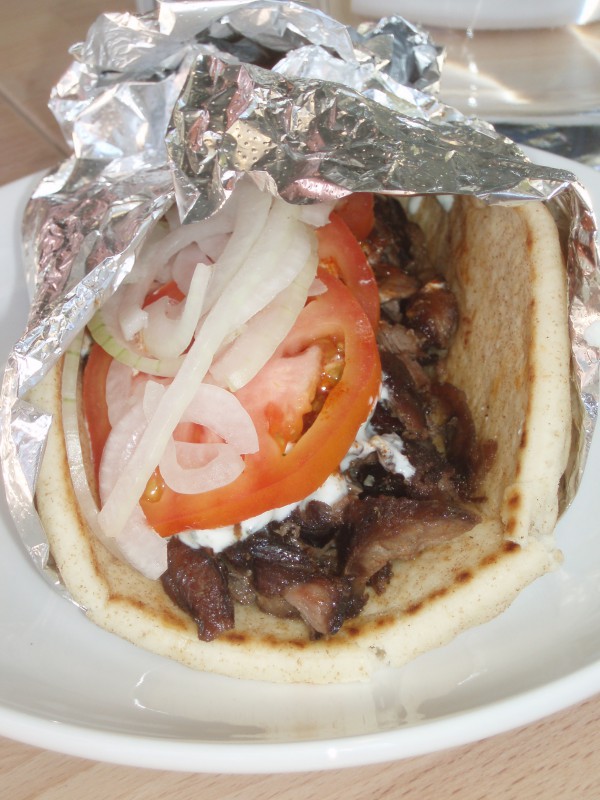 Three is a charm but four is the piece de resistance for the Nelson brothers and partner Chris Galceran in Breckenridge. With three incredible restaurants running successfully under their toques, Ken and Todd Nelson have opened yet another two thumbs up establishment. PARK & MAIN Quality Food, located directly across from their Empire Burger in the LaCima Mall (at the confluence of South Main Street and Park Avenue in Breckenridge) is a twist on the traditional delicatessen offering international flavors for Breakfast, Lunch and Dinner throughout their menu.
Cool and clean, PARK & MAIN's simple yet bold dining area greets you with bright colors and smooth lines. Both order at the counter and wait-staff  on the floor are available to swiftly bring you your order. Unique beverages, a killer wine list and some delicious cocktailing options tempt you to linger a little longer at breakfast, lunch and dinner. Bellini's, Spanish Cava Cocktails, Sangria, Spritz Apertivo, need I say more?
The menu is unique and I took a lot of time reviewing it. As an opener the Menu begins with SNACKS.  Artisanal Creminelli Salumi, Trio of Artisanal Cheese & Honey, House-Made Ricotta Bruschetta, Olives, Pickles, Egg and more grace the list of starters. We went for the San Marzano tomato-basil soup. Zesty and Sweet garnished with aged Parmigiano Reggiano and Hand Torn Croûtons, it was a wonderful adult version of that classic tomato soup that so many love.
Salads, Cold Sandwiches, Grilled Cheese Sandwiches,Pressed Panini and Sweets also have unique and delicious selections but we choose to go with the Hot Sandwich list. Zucchini 'Parm', Porchetta, Croque Monsieur, Vietnamese Banh Mi, Cuba, the list went on and when they say World Sandwich they mean it. Two Sandwiches from this section of the menu was selected: Roast Beef Chimichurri and Gyro. The  Roast Beef Chimichurri with shaved All Natural Harris Ranch Prime Rib, Chimichurri(a garlic and parsley sauce), Fontina Cheese, Pickled Onion on a toasted Baugette was one heck of a great sandwich that I will order again.
What I will absolutely come back for is the Gyro. It was perfect. The soft grilled pita complemented the Spit Roasted Colorado Lamb and Beef to a tee. The Tzatziki and Harissa sauces- outstanding. The whole combination was perfection on a plate and I was one satisfied Gyro lover.
This is not your average sandwich shop. I even learned a thing or two from the menu. There are a ton of options on the menu and I believe every one of them is terrific. I am looking forward to coming back for the Sweets, desserts that I could do a glass of wine with. Nutelle Pressed Panino, Gelato, Bread Pudding. Can you say yes please!
Last but not least is their Breakfast menu with affordable take out and dine in availability starting at 7:30am. I cannot wait to start my day out with them too.
Ken and Todd Nelson (yes, they are in the kitchen) have been fooling around with food for the past 12 years in Breckenridge.  Starting with Giampietro's Pizzeria in 2001, Empire Burger in 2005 and the beautiful restoration and operation of the Briar Rose Chop House in 2008. These brothers know food and they know how to serve it well. PARK & MAIN is currently their "piece de resistance" which translates as 'the outstanding item (the prize piece or main exhibit) in a collection" or "the most important dish of a meal" and I agree. Nice job boys! I am 'Shouting it From the Mountaintops!'
PARK & MAIN Quality Food, La Cima Mall, Breckenridge, 970-453-9493
ParkandMain.com – Website should be live in a week or so.
~MTN Town Magazine
MtnTownViews.com is MTN Town Magazine's daily journal blogging about Colorado's mountain towns. Like them on Facebook and Follow on Twitter.
Photo Credits: MTN Town Magazine
© 2013, MTN Town Magazine. All rights reserved. Republication, in part or entirety, requires a link back to this original post.