Ouray Ice Park – Ice Farming, It's Real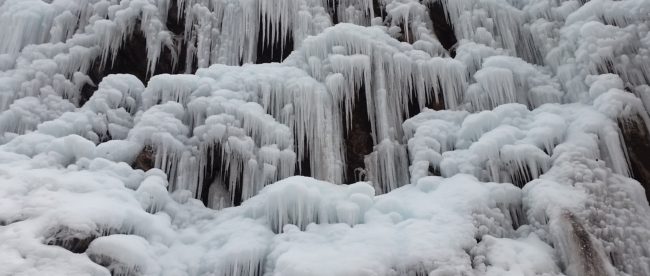 Each year, a committed group of Ouray Ice Park volunteers and staff unite to transform the beautiful Uncompahgre Gorge in Ouray, Colorado, into an Ice Climbing mecca. We were lucky enough to experience a tour of this unique ice climbing venue with the folks that make this Ouray destination a world-class climbing destination. We had no idea until then how a unique and incredible "sprinkler" system has been created by a dedicated group of Ice Climbing aficionados to help make each season the best possible for the sport's enthusiasts. 
Beginning in November, the Ouray Ice Park "Ice Farmers" begin spraying water down the canyon walls of the Uncompahgre Gorge resulting in the creation of awe-inspiring walls of ice. With the utilization of overflow water from the City of Ouray and more than 150 sprinklers, theses Ice Farmers diligently work to bring both adventure and tranquility to those seeking respite from the hustle and bustle of everyday life. You can find these folks traversing the canyon, scaling up and down pitches each day of the Winter season positioning and re-positioning the spray system to create great climbs for climbers of all abilities to access. 
Within a one-mile span of the Uncompahgre Gorge, the Ouray Ice Park contains over 150 manmade ice and mixed climbs, 11 distinct climbing areas, and three miles of vertical terrain. The Ouray Ice Park has become a premier destination for climbers, travelers and outdoor enthusiasts from around the world.
Please note! The Ouray Ice Park does not offer clinics, classes or guiding. If you have never tried Ice Climbing you will need to book a guide service to assist you. Then get ready for an exciting expedition. Guide service suggestions try:
San Juan Mountain Guides – The Ouray Ice Park Concessionaire
970-325-4925 or (800) 642-5389
Chicks Climbing and Skiing
970-325-3858
Irwin Guides
970-349-5430
If your already an Ice Climber then you most certainly have heard of the park. Make a date to check out one of their many events, go for a day of climbing or attend the Ouray Ice Climbing Festival competitions each January.
ICE PARK FACTS
Water source: overflow from the City of Ouray water supply tank 0.25 mile to the west
Gravity-fed system: no pumps, no motors
Linear feet of irrigation pipe: 7,500 feet throughout the Park
Type of pipe: Certa-lok yelomine irrigation pipe
Water supply: 250 shower heads
Average flow rate per shower head: 2 gallons per minute
Typical water pressure: 30 psi at the South Park climbing area (farthest upstream point)
Number of gallons per night: 150,000–200,000 gallons
Length of open and climbable terrain: more than 1 mile
Cumulative vertical climbing terrain: more than 3 miles
For opening dates, rules of the park and further information about the Ouray Ice Park check out: www.ourayicepark.com
~MTN Town Magazine
MTN Town Magazine | We are Colorado's Mountain Town Magazine
Copyright © 2017 MTN Town Magazine all rights reserved.