Meet Jacques Houot – At 82 He is Still Getting After It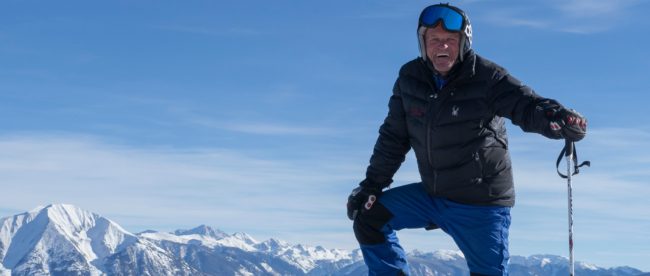 "I am forty-one years old in each leg," Jacques Houot blurts out while laughing with his thick French accent when asked his age. Like most people, he has two legs, so that makes him eighty-two. But based on his highly-energetic and outspoken demeanor paired with his activity level, he could get away with counting just one leg as his age, and then reading that number backwards. Take away the wrinkles and the white hair, and Jacques could easily be mistaken for a fourteen-year-old. If the fountain of youth exists, Jacques has found it.
Most days of the week, depending on the season, one will find Jacques (a.k.a. The Frenchy) either attached at the hip to his mountain bike or attached by the foot to his skis – and we aren't talking about a casual attachment to his sporting gear either. He is out there racing these sports, up to one race per week, if at all possible. How does he do it? His journey to achieve eternal youth wasn't an easy one.
"I should have died twenty-three, maybe twenty-four, times!" Jacques yells. He keeps a well-documented list of "close calls," at his home in Carbondale, Colorado – from being born blue at birth in France to surviving cancer.
One of his closest calls may have saved his life.
At age 52, Jacques was a sailor in Miami. One day, he took the bus to go to his job. The bus didn't stop. He sprinted after it, caught it, and by the time he got to work he knew that something was wrong. "There was this big pressure on my chest, " he remarks.
A co-worker told him to walk two blocks to the fire station to get checked. "I walked those two blocks, by hitting my heart. I was doing CPR on myself," he explains. When he got there, he collapsed. A day later he woke up in the hospital, to learn that he had just survived a heart attack.
"I was smoking cigarettes…a pack a day, " Jacques said. After getting some health advice from his boss, he threw all of his cigarettes away, and exchanged the flat lands of Miami for the mountains.  He moved back to Colorado – to rebuild his heart.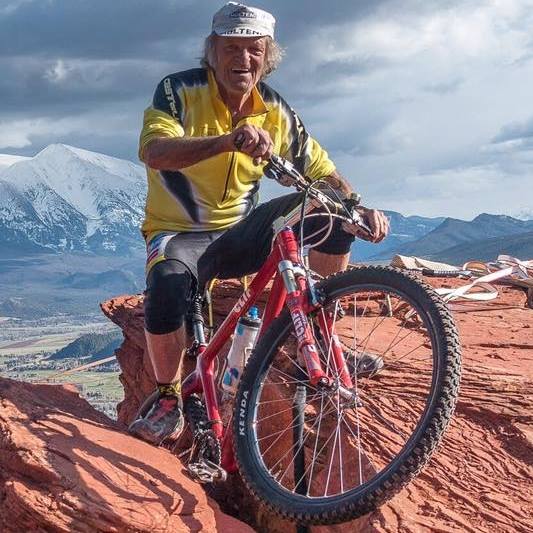 He settled in the Roaring Fork Valley on the western slope of Colorado. While working odd jobs, mainly as a French cook, he went up and down the mountains of Colorado by bike or skis on a daily basis. Thirty years later, he is still at it.   
"Never give up. And pace yourself. Listen to your body," He says, in a rarely-heard serious tone.
Exercise isn't the only way that Jacques is able to stay young though. His social energy is tireless and he has an ability to find humor in any situation.
"Allez! Allez! Go!" The shout echoes across a cyclo–cross race course in Carbondale,  Colorado, as he runs alongside the racers with a beer in his hand, spilling it across his arm as he cheers. He has raced already, and now he's supporting the other athletes. He encounters a female spectator and asks if he can kiss her on the cheek. She laughs and allows it.
Approach him, and he won't be shy. He will shower you with his tales of surviving life and leave you with one of his many words to live by.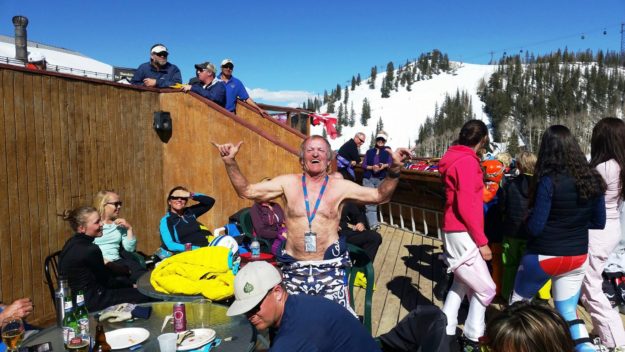 "Every time you laugh, you will add one extra hour to your life. I am going to die very old, because I love to laugh, " He will tell you, all while laughing.  
Want to see Jacques in action for yourself?  No Problem! This spring, The Frenchy, a film about the one and only Jacques Houot, will be premiering at a film festival near you. Stay tuned by searching #thefrenchyfilm on facebook and Instagram, and follow @michellescreative.
by Michelle Smith, www.michellescreative.com
MTN Town Magazine | We are Colorado's Mountain Town Magazine
Copyright © 2018 MTN Town Magazine all rights reserved.