Bonfire Brewing – Crafting Beer and Community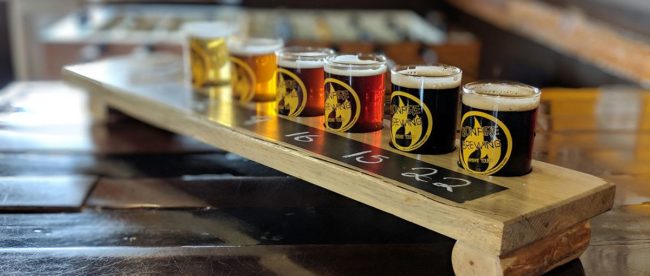 Bonfire Brewing has been crafting delicious brews since 2010 in Eagle Colorado. Like a lot of great beer stories, Bonfire Brewing started with a homebrew kit and from there was taken to the garage. When evil forces of money began to influence their lives, they looked upon their little hobby as one potential way to pay their rent. Today, Bonfire is steered by Andy and his wife Amanda Jessen as they continue on their path of sustainable growth.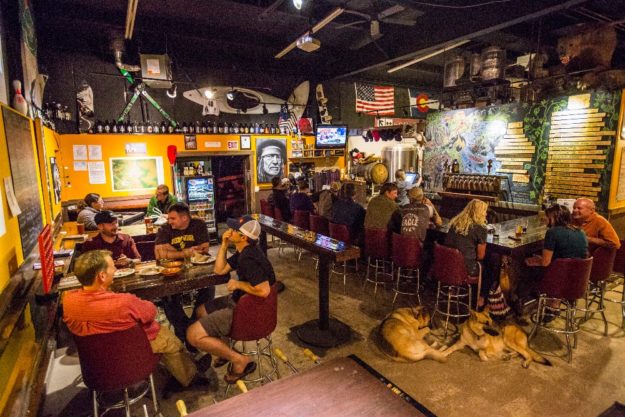 They opened their doors at 127 West 2nd Street in Eagle Colorado with three beers on tap: Two Hands Wheat, Demshitz Brown, and Firestarter IPA. They continually added "fuel to their fire" with the slow but sure accumulation of equipment and individual beer creations. Fast forward to 2018 and they now have both the Taproom at the 2nd Street location and a Production Facility across the river in Eagle where their Kindler Pale Ale, Firestarter IPA, Demshitz Brown Ale and Brush Creek Blonde Ale are produced, canned and shipped throughout the state.
Craft enthusiasts and outdoor adventurers gather around apres activities at Bonfire Brewing in Eagle, Colorado, where the beers are driven by quality, curiosity, and community. It helps that there's an epic bonfire in the center of notably Vail Valley's best patios at the brewery's 2nd Street location. Bonfire is committed to the community and from what we have seen the community is committed to them. Every time we have walked into the taproom it has been filled with local folks and their dogs. Most impressive is the amount of beer available on tap, there are 20 different possibilities to explore that will please every palate. There is no food, but popcorn galore is available to munch upon and you can step next door and grab at some appetizers, snacks and pizza at Pickups Pizza to bring back over. Even better was the opportunity to take a few cans home with us.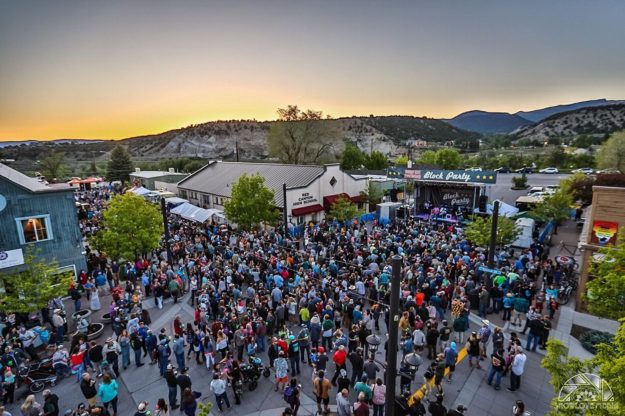 Not only do they have great beer but they have a great commitment to community. In 2017 Bonfire contributed more than $55,000 to philanthropic efforts. $23,000 in cash sponsorships helped fund local music, club hockey and rec sports. An additional $20,000 in product and swag were also donated. Bonfire recently signed on to 1% for Land and Rivers where one percent of all to-go beer and merchandise sales at the taproom goes directly to the Eagle Valley Land Trust and the Eagle Valley Watershed Council.
Last year, Bonfire Brewing hosted its largest Block Party yet. Seven thousand attendees drank 156 kegs of Bonfire beer. This event raised $4000 for Cycle Effect. The 9th annual Man of the Cliff marked the annual burly lumberjack competitions, beards, and brews in September. This event raised $8000 for First Descendents.
You can dance around it and urge the snow gods to let it snow and you can drink it…and still urge the snow gods to let it to snow or not. Bonfires usually involve a gathering of people and Bonfire Brewing is an expert at keeping their community stoked.
Taproom: 127 W Second Street, Eagle, CO 81631
by Holly Resignolo
MTN Town Magazine | We are Colorado's Mountain Town Magazine
Copyright © 2018 MTN Town Magazine all rights reserved.