Love is in the Air at Beaver Creek – RockyMountainBride.com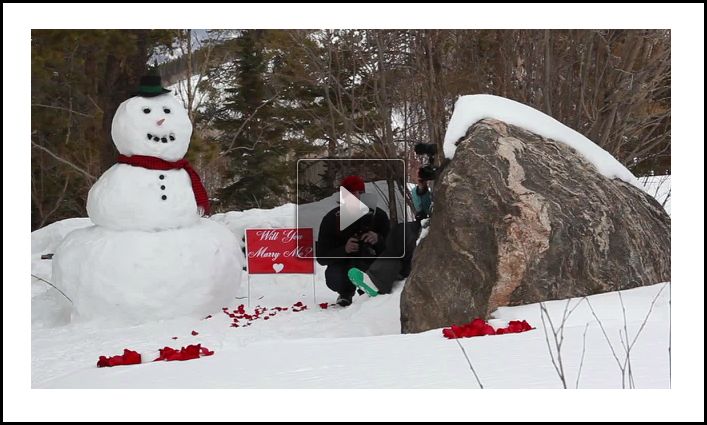 Valentines! It is just a few days away and if you guys out there need some engagement inspiration then check out one of the sweetest proposals we have ever seen and we say Wow! and Congratulations!  Philip Butler pulled off an amazing marriage proposal and an experience of a lifetime for his Bride-To-Be, Ashley Owens. This man knows what he wants and how to get it. A private snowcat ride, a romantic dinner, and a snowman asking an important question. Here is the romantic scoop:
How'd it Happen?: When Ashley Owens took a snow cat ride to Beano's Cabin at Beaver Creek Resort with her boyfriend Philip Butler last night, she thought they were headed for a quiet romantic meal for two. As they approached the cabin, Ashley was greeted by a giant snowman surrounded by candles, roses and even complete with a carrot nose. Next to the snowman was a sign that said, "Will you marry me?" The surprise wasn't over however. Inside Beano's Cabin both Ashley and Philip's parents joined to celebrate with the newly engaged couple.
Philip worked with a team from Beaver Creek Resort and The Pines, A RockResort, to plan the event and pull out all the stops to give the couple an over-the-top, romantic proposal complete with the specially arranged snow cat transportation, snowman, sign and lights. Looking for inspiration? Watch the video below: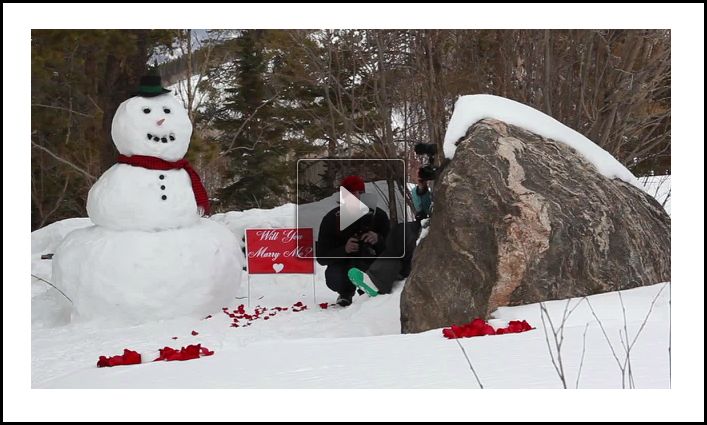 ~Holly Resignolo
Photo Credits: Jesse Starr Photography
Video: Beaver Creek
© 2013, MTN Town Magazine. All rights reserved. Republication, in part or entirety, requires permission.