Lilypond – Morning Shadow Pack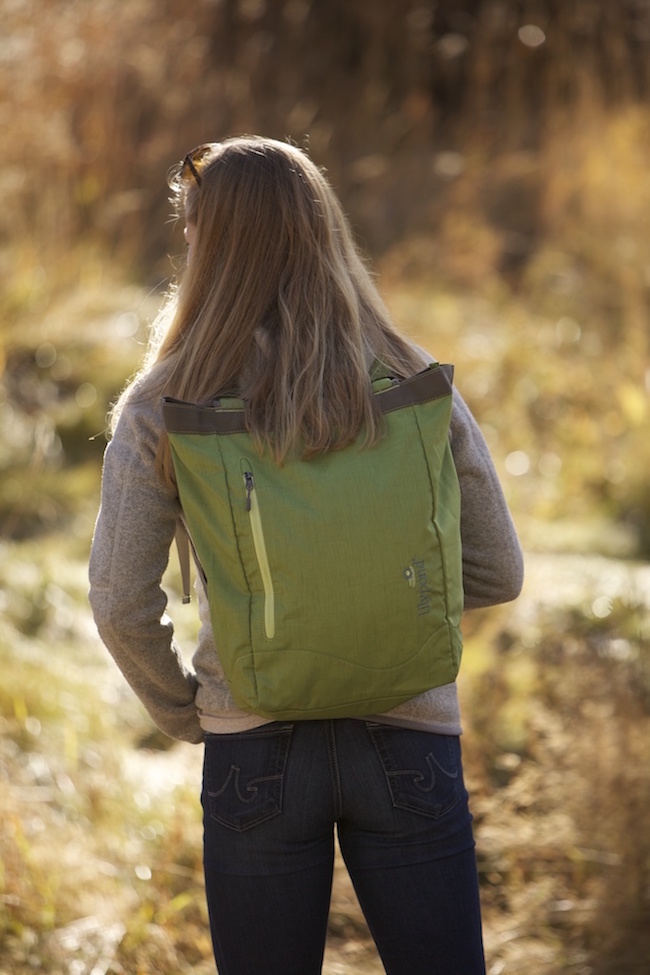 Lilypond products are built to last and we wanted to include this write up in our Gear section after we pulled the bag out of the closet and gave it a quick go around in the washer. Two years of dirt peeled right off and now the bag looks like new again. Lilypond has since retired this style but I think what we have to say speaks volumes about their latest lineup of Lilypond brand products.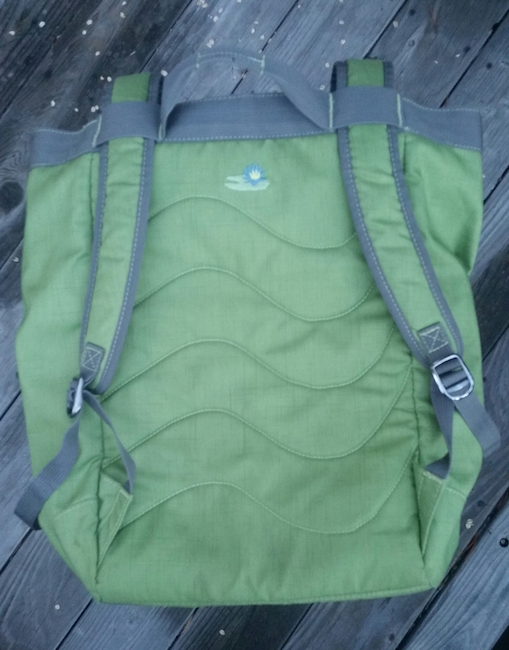 Lily Pond Morning Shadow Pack:
I love when I find an item that I think isn't going to work and then discover that I was wrong after the whole concept of the particular item unfolds and reveals itself. I received a brilliant green bag made by Lilypond. It was a part of their upcoming 2014 line of products. The Morning Shadow backpack in Meadow Grass was lovely and reminded me of spring.  The bag appeared to be what I was looking for, a bag I could carry or wear as a backpack. I am one of those odd women; I don't like toting a purse all over the place.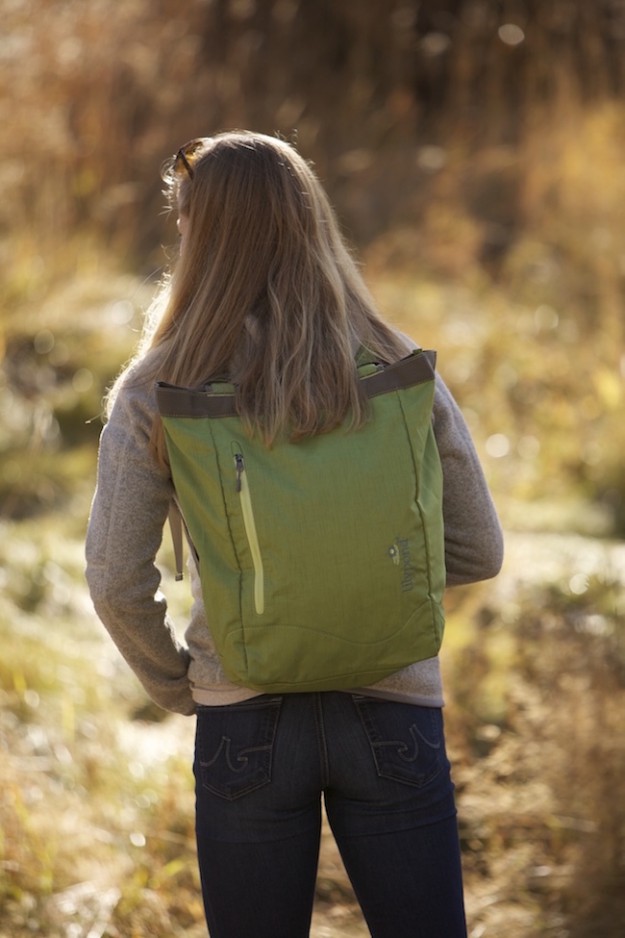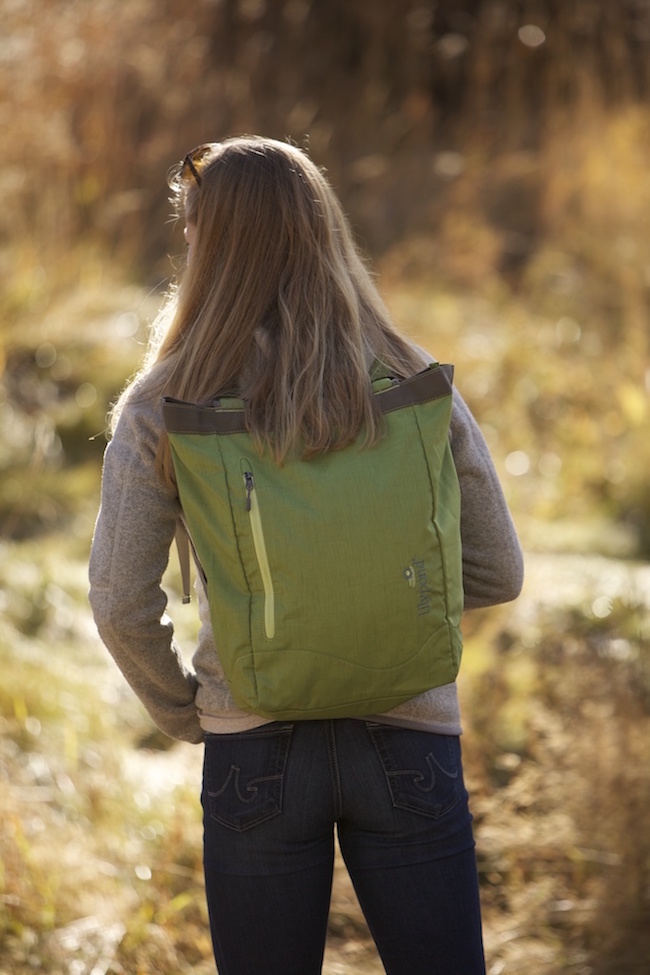 First appearances lead me to believe that it was an odd item.  The back straps crossed over the top of the bags opening and I felt it might hinder placing and retrieving items from the internal compartments. I fiddled with it and discovered the top would open right up and placing items in and taking them out was not a problem at all. It would fit my laptop, notebooks and documents with plenty of room to spare. In addition to the large internal space it has a spacious interior pocket that closes with Velcro and becomes a sealed location for important items. I like how I can place and entire file folder in this protected area and it will not wrinkle or get dirty. Once you have loaded the bag up there is a zipper to close it and seal out nasty stuff the environment might bring in.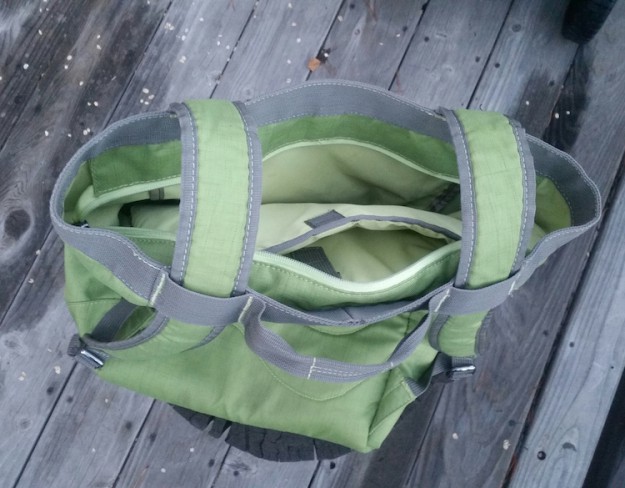 The straps are adjustable and you can wear the bag like a traditional back pack or you can throw one strap over your shoulder and carry it comfortably too. There is also a smaller handle grip on the backside of the bag so you can pick it up and carry like a tote.
On the front outside of the bag there is a large zippered compartment for easy access to whatever item you think you need to grab quickly. I use it for pens, business cards, my cell phone and some light weight gloves. This is not a bag for traditional backpacking but I have used it skiing, hiking, to business appointments, for groceries, working out, picnics and as an overnight bag for short trips away. For all I have put it through it is still clean. It sheds water and dirt nicely.
Lilypond is a companion line of products to the Colorado-based Fishpond Brand. Fishpond is a collection of bags and gear specific to fly fishing and outdoor adventure travel. They are a company committed to the environment and giving back to all that has helped them become successful. Lilypond was created for women and has the same rugged construction that Fishpond has become known for. They have a ton of other great travel bags, wallets and accessories in beautiful colors and trim. Prices are as easy on the wallet. The Morning Shadow retails for $89 and is worth the price tag. This bag will be with you for a long time. Check out all of their products on-line  www.lilypondusa.com. We highly recommend them.
~MTN Town Magazine – We are Colorado's Mountain Town Magazine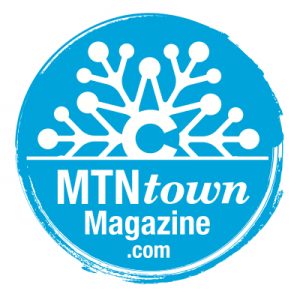 MTN Town Magazine Copyright © 2016 MTN Town Magazine all rights reserved.