Lighten Your Load with the Kulkea Micro Pack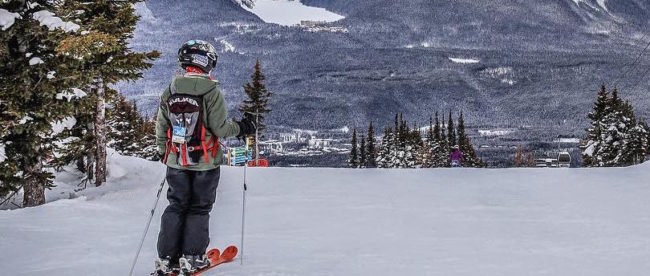 David Abramowitz is an engineer with a passion for skiing. In 2012, Abramowitz launched Kulkea, a ski and boot bag manufacturer with his brother Steven. Among the company's first offerings was a reimagined ski boot backpack called the Boot Trekker.

In lieu of a cavernous central compartment holding randomly tossed gear, the Boot Trekker has pockets, pouches, and compartments to hold specific pieces of ski gear.

It's an engineer's delight.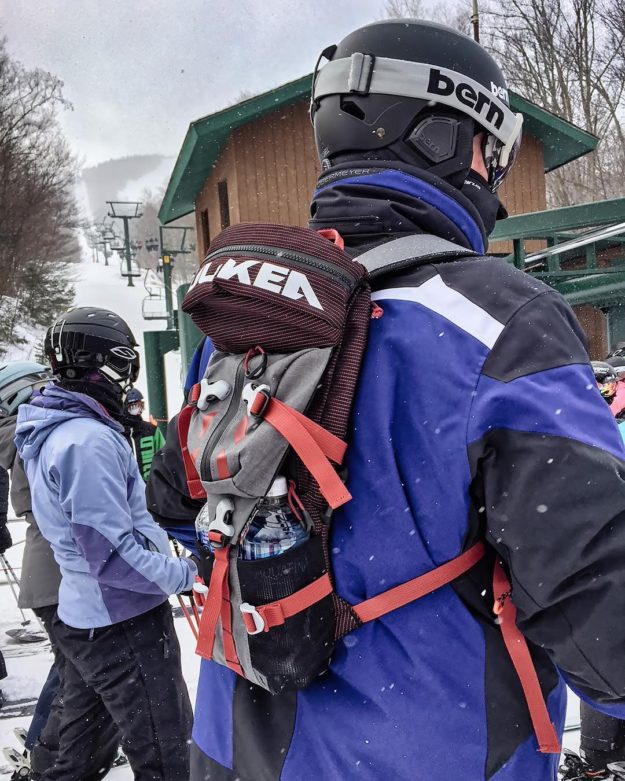 The Kulkea Micro Pack

After expanding their line to include large-volume heated boot bags, ski bags, and traditional ski boot backpacks, Kulkea changed it up with the Micro Pack.

Designed specifically for snowsports, the Micro Pack is for skiers and snowboarders who have stuff to carry on the mountain but don't want to fill their pockets to bursting or wear a heavy backpack while skiing and riding the lift.

With external dimensions of just 17.5" H x 8.75" W x 3" D, the Micro Pack is less a pack than a set of connected pockets, pouches, straps, and holsters.

At first, using the pack can be a bit disorienting. For while it looks like a cross between a traditional daypack and a small hydration pack, there is no top opening. Instead, there is a side-opening zipper pocket where I might put my wallet and phone and someone else might put a sandwich. A roomy top pocket is clearly made to hold goggles, while a two-sided adjustable holster is perfect for water bottles. Additional pockets and attachment straps offer users the ability to stow or strap on other essentials.

According to Abramowitz, the inspiration for the Micro Pack came from skiers.

"We looked at the issues skiers face," he explains. "We identified that skiers are in need of things like swapping goggles for sunglasses, shedding a mid- or top-layer as things heat up in the afternoon, or a good solution for spring skiing when they aren't wearing a jacket with pockets."

The tag that comes with the Micro Pack delineates suggested uses for each pocket and set of straps. And while the purpose of the bag is to help skiers and snowboarders minimize their load, we decided to test it by loading it up.

Our test scenario was carrying everything we'd want on a spring day skinning up at a resort.

Our packing list included snacks, a thermos, gloves, glove liners, a helmet, goggles, a neck gaiter, beanie, sweater, sunscreen and lip balm. With the exception of the sweater and helmet which were both strapped on (not a great solution when snow is falling), everything else fit internally. Best, the entire load weighed less than 5 pounds and was very comfortable. Skiing down, we'd put on the helmet and sweater and strap the climbing skins in their storage bag to the outside of the pack.

While it's not suitable for the backcountry, the Micro Pack is a good solution when you have items you need to carry, but want to go as light as possible. We think it's also well-suited to cross-country skiing and short summer hikes.

Two Drawbacks and One Very Smart Solution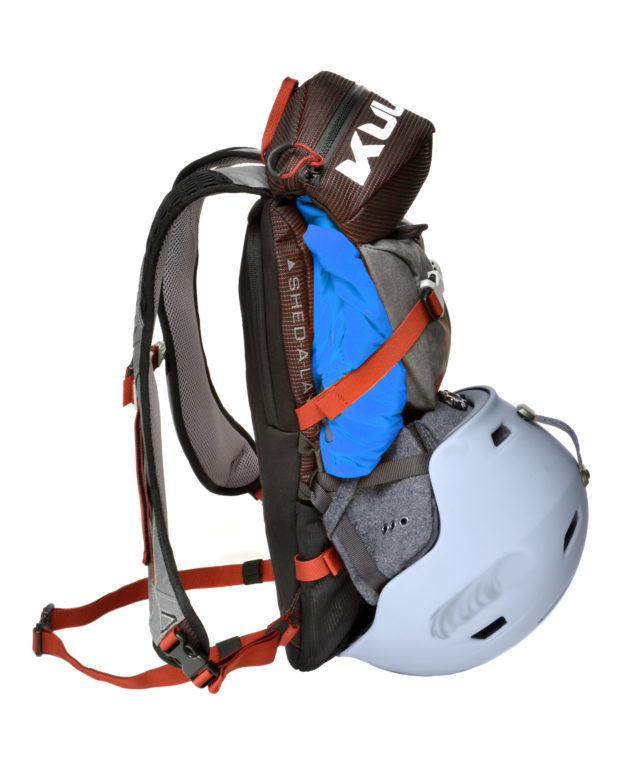 While we are intrigued by the "traveling light" capabilities of the Micro Pack, it has two inherent drawbacks.

First, the Micro Pack works very well for one person. But it would be hard to carry lunch and gear for a family (although hand warmers, snacks, and water for three or four are a possibility).

Second, it's a backpack. If you don't like skiing or riding chairlifts with something on your back, you probably won't like the Micro Pack, despite its ultra-low profile.

However, if your primary aversion to skiing or riding with a pack is fear of getting stuck on the lift and becoming a dangler (we've all seen the videos!), Abramowitz's design has you covered.

If the Micro Pack gets entangled in a tree, on a lift or elsewhere, buckles on the front of the pack quickly release the shoulder straps, detaching you from the Micro Pack and allowing you to ski away from any danger.

Smart. Engineer smart.
by Kristen Lummis, The BraveSkiMom.com Blog
Mountain Town Magazine | We are Colorado's Mountain Town Magazine
Copyright © 2019 MTN Town Magazine all rights reserved.