Hive Lip Balm – Our Lips Like It!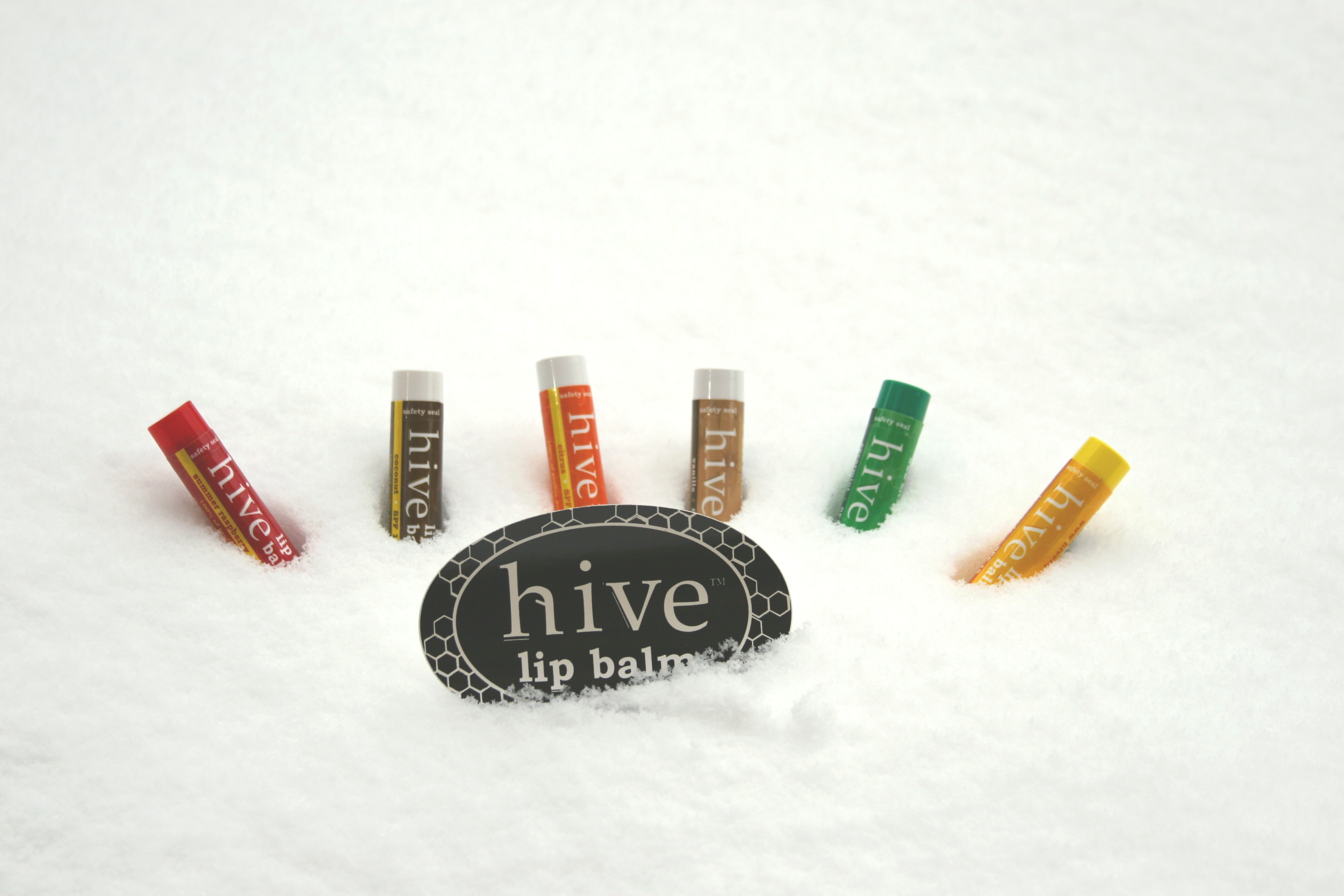 I more often write about Colorado companies but I was recently contacted by Morgan & McHale Company, makers of Hive Lip Balm and asked if I would like to try their products. They are from my childhood stomping grounds, Long Island New York, and I thought why not. I have actually seen their products in some of the local ski shops. Created for surfers and water sport enthusiasts (these guys love to surf) they recently realized that the winter sport community would probably like their products too. They were right, I do like their products.
Hive owners Brian McHale and Morgan Fuchs created a line of natural (mostly organic) lip balm using all natural ingredients such as organic palm oil, beeswax, organic virgin olive oil, organic hemp seed oil, rosemary extract, and vitamin E, plus an SPF 15. All Hive Lip Balm products are 100% petroleum free, and made in the USA.
Hive lip balm flavors include spearmint, vanilla, summer raspberry, coconut, citrus and lemonade. They say flavors, but really they are just yummy scents.  We know how some lip balms can leave the worst flavor in your mouth. These lip balms goes on smooth and luxuriously without imparting any taste, instead there is a nice light scent.
They recently announced a new line of sunscreen that uses natural ingredients such as aloe vera, sweet almond oil, grape seed oil, sunflower oil, and vitamin E.  with a fresh Tropical scent in a 1.5oz bottle. I have not tried the sunscreen but it sounds good.
What I thought was really cool is the company's business structure. Hive donates 100% of their profits to environmental charities. Modeled like Newmans Own, Morgan & McHale Company donates their profits to organizations that support their love of the outdoors (preserving the land, protecting the beaches, and cleaning up the ocean). That is a cool business model and one I am willing to give a shout out to.
Hive lip balm is now available in over 400 locations throughout 22 states. Please check the where to buy link to find a store near you. I'll pitch them too: Interested in carrying Hive lip balm at your store? Call Morgan at (516) 901-5142 for a free sample and wholesale information. I really liked this lip balm, you will too!
~MTN Town Magazine
Photo Credits: MTN Town Magazine
MtnTownViews.com is MTN Town Magazine's daily journal blogging about Colorado's mountain towns and resorts. Like them on Facebook and Follow on Twitter. Click the cover to read the Winter 2012-13 Issue.
© 2013 MTN Town Magazine. All rights reserved. Republication, in part or entirety, requires permission.