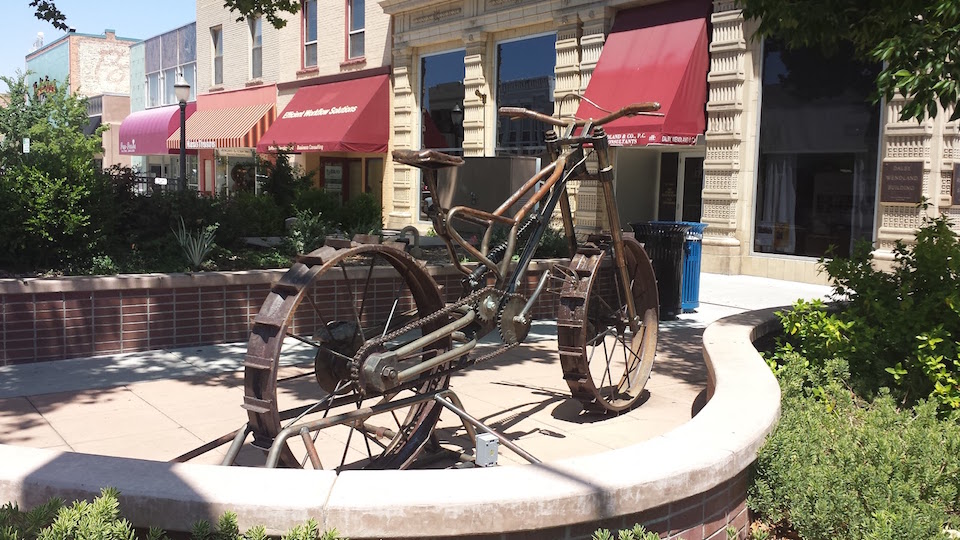 Story by Kristen Lummis  
It's a hot summer day in Colorado's Grand Valley and great(er) Grand Junction.  
With the mercury pushing 90, I've found a cool respite on a shady, breezy patio. Hummingbirds flit amongst flowers and bountiful clouds fill the sky.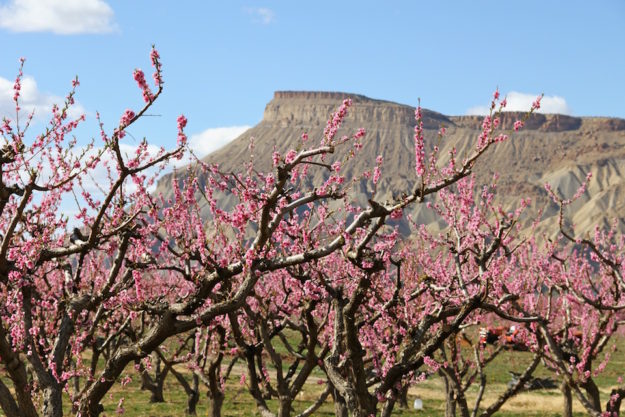 I'm biting into an organic peach the size of a grapefruit, trying not to spill a single drop of heavenly nectar, despite the fact it's running down my fingers to my wrists.  
As I savor this peach, just one of the many local delights we'll eat this summer, I'm pretty sure I live in the center of the universe.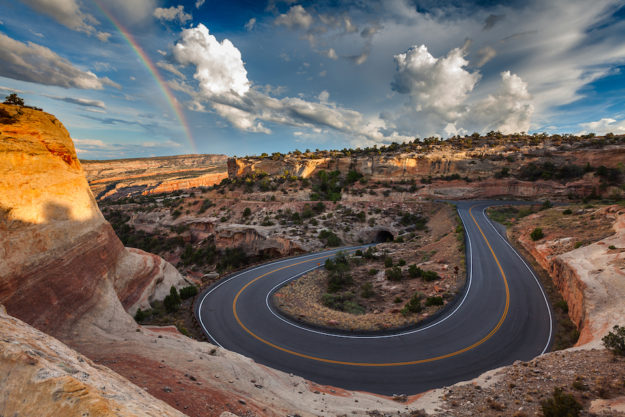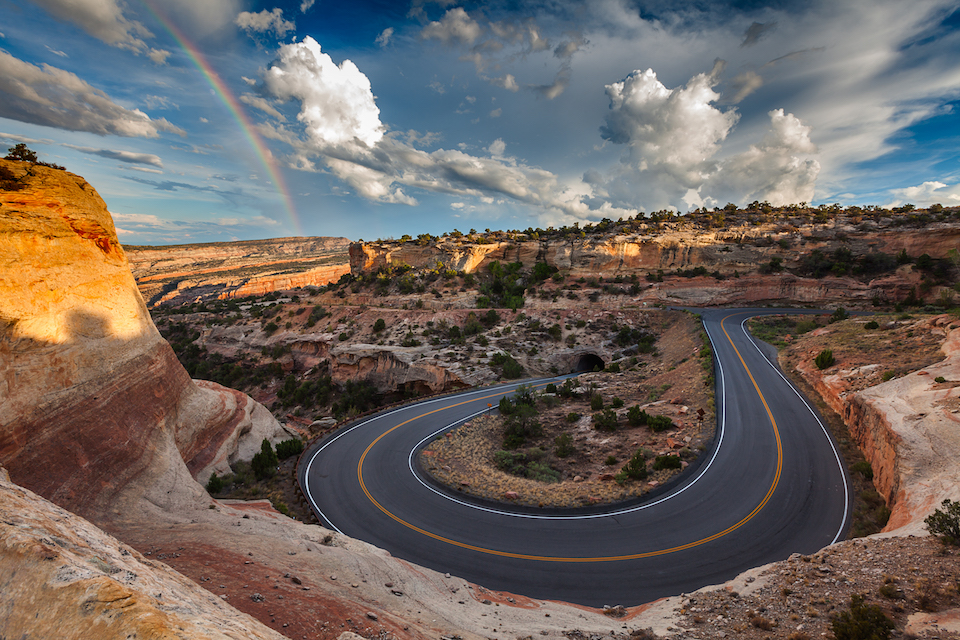 My brother and I were raised just minutes from Colorado National Monument, a national park showcasing a wonderland of red canyons, towering spires and otherworldly sandstone formations.  
To the east is Grand Mesa, an enormous alpine plateau rising to 11,332 feet where we hiked, fished and camped during summer and skied during winter. The Book Cliffs, on the north side of the valley, gave us the opportunity to hike among herds of wild horses.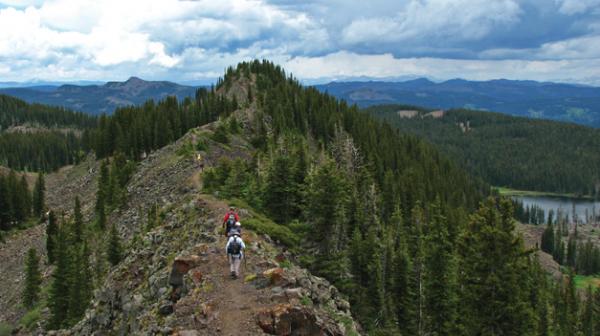 As kids, we spent our time scrambling, climbing, exploring and daydreaming. It was idyllic and we took it for granted that this was, indeed, a grand place.  
Yet when we'd meet people from outside Western Colorado, many had a hard time pinpointing our county on a map.  
Once, while describing my hometown's location ("1.5 hours from Moab, two hours from Aspen or Vail and 2.5 hours from Telluride"), my friend stopped me, saying, "It's easier to say you're from the center of the universe."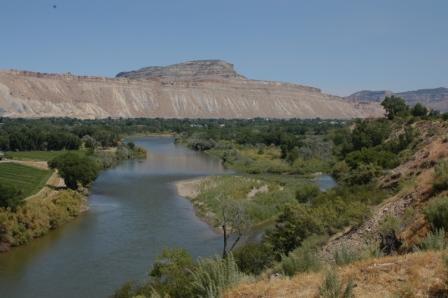 A Junction and a Crossroads
Before it was known as the Colorado, the river that arises in Rocky Mountain National Park and flows to the Gulf of Mexico was called the Grand.  
Grand Junction, Grand Mesa and the Grand Valley take their name from this river, which joins the Gunnison in this long, broad valley.  
The river gave the valley life, creating a vibrant farming, ranching and orchard trade, which continues alongside the booming wine industry.  
The next junction was built by the railroads, followed by the intersection of I 70 with US Highways 6 & 50. Transportation turned Grand Junction into a regional shopping, medical and shipping hub.  
And then came the energy industry, first in the form of uranium milling and most recently in oil and gas drilling.  
The inevitable booming and busting of these commodities nearly destroyed the region's soul several times over. Yet these boom-bust cycles also inspired active-minded locals to build upon the region's natural assets and put Mesa County on the recreation map.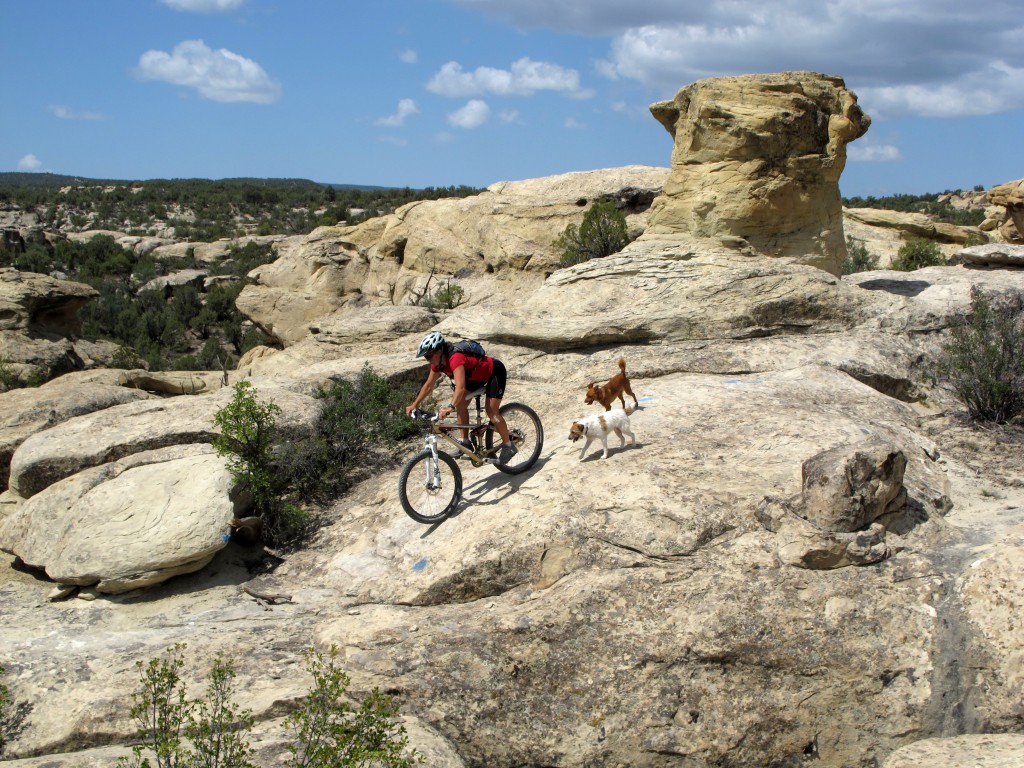 A Closely Held Secret, Revealed
While it's hard to pinpoint when the area's outdoor abundance began to be acknowledged, one clear marker is the Coors Classic, an annual multi-stage professional cycling race that ran from 1980 to 1988.  
During these years, the Tour of the Moon over the Colorado National Monument was an immensely popular and photogenic stage. Today, the ride is a bucket-list destination drawing cyclists from around the globe. Couple this with plenty of room for climbing, backpacking and hiking, the Colorado National Monument is the area's marquee destination.
Excellent road cycling abounds throughout the valley, whether grinding up Little Park Road to the Uncompahgre Plateau or testing your legs on two of Colorado's four Beyond Category climbs, Grand Mesa North and Grand Mesa South.  
The next recreational marker was the development of the 150-mile Kokopelli mountain bike trail between Loma and Moab, Utah in the 1990s. Today, there are three major trail systems in the Grand Valley, as well as significant rim trails in Palisade and Rabbit Valley.
Ten minutes from downtown Grand Junction is the Tabeguache/Lunch Loops trail system. Lunch Loops offer everything from a pump track and teaching trail for beginners to expert-only downhill and cross-country routes that dodge giant boulders adjacent to maximum exposure.  
In May, Lunch Loops welcomes the Grand Junction Off-Road, a multi-day professional and amateur racing event, culminating in a grueling 40-mile singletrack race.  
In 2017 and 2018, Grand Junction will be the site of the USA Cycling Collegiate Road Cycling National Championships, a fitting tribute not only to the quality of the local riding, but also to the success of the Colorado Mesa University Cycling team.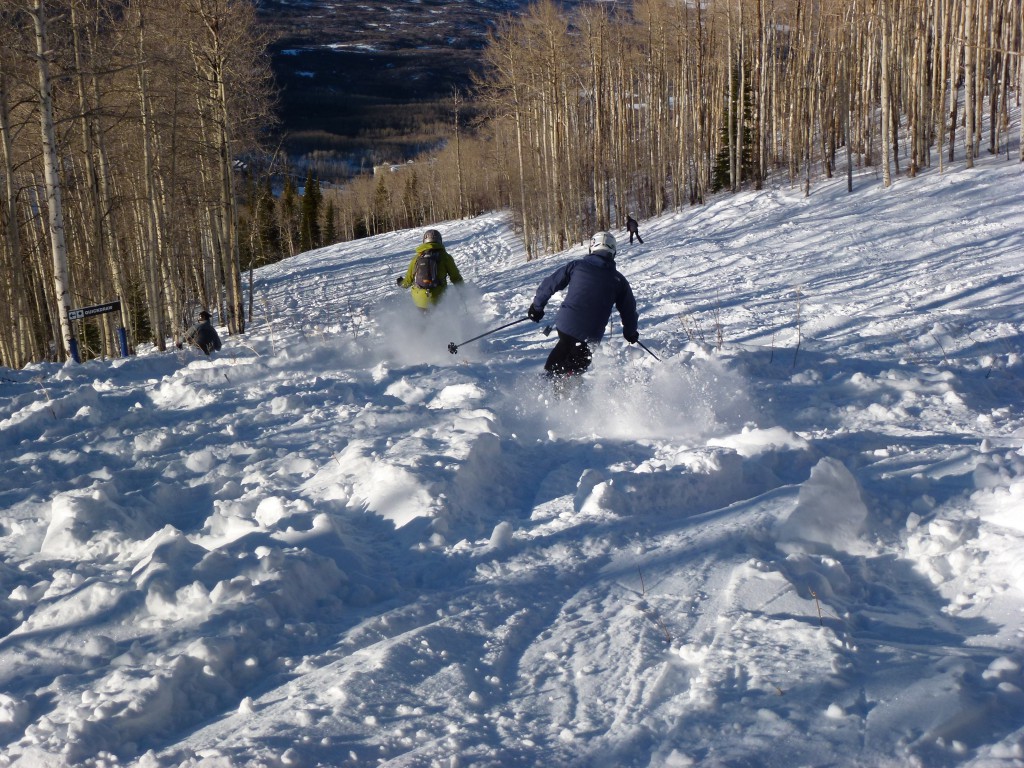 More Than Two Wheels
In addition to biking, hikers can choose from hundreds of miles of trail on the Monument, at Lunch Loops, atop the Uncompahgre Plateau, along the Colorado River and amongst the aspen and wildflowers of the Grand Mesa.  
Nearby Powderhorn Mountain Resort offers lift-served downhill biking in summer, along with fantastic tree skiing, long-lasting powder, and family-friendly terrain during ski season.
The Grand Mesa Nordic Council maintains 54 km of groomed cross-country ski trail, while in the summer, the hundreds of lakes and thousands of acres of National Forest covering the Grand Mesa draw fisherman, boaters, ORV enthusiasts and those looking for some backcountry solitude.  
And then there's the Colorado River, it's temperate waters perfect for floating, SUPing, paddling, and fishing.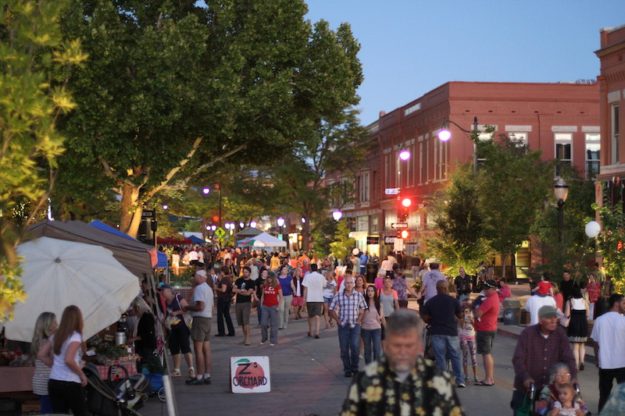 Farm to Table and Art on the Corner
Now let's get back to those peaches.
With so much agricultural abundance, the greater Grand Junction area is a farm-to-table destination, with outstanding downtown restaurants, notably 626 on Rood and Bin 707, offering the local bounty to all comers.  
The Western Colorado Lavender Festival in July, the Palisade Peach Festival in August and the Colorado Wine Fest in September draw thousands of visitors to the area each summer and fall for a potent combination of relaxation, recreation, and indulgence.  
Grand Junction is home to a professional symphony orchestra and monthly art walks through the city's many galleries and studios. Additionally, Colorado Mesa University is a potent driver of the arts, with highly regarded music and drama departments.  
One of the easiest ways to experience the arts in Grand Junction is to take a stroll downtown.  
In the 1960s, community leaders redesigned the town's Main Street, turning it from a four-lane throughway into an award-winning, pedestrian-friendly "shopping park."  
In addition to shops and boutiques, excellent lodging and plenty of bike shops, Main Street is an al fresco dining destination during summer and fall. It's also home to Art on the Corner, an annually changing installation featuring over 100 sculptures.  
Of note, look for the statue of blacklisted, Academy Award-winning screenwriter and novelist, Dalton Trumbo. You'll find him hard at work in his bathtub in front of the Avalon Theatre.  
While at Grand Junction High School in the 1920s, Trumbo honed his writing skills working as a reporter for the Grand Junction Daily Sentinel. After one year at the University of Colorado, he left for California and never looked back.  
Yet here he is, hard at work, back in his hometown, in the center of the universe.  
Fall is an especially beautiful season in the Grand Valley. Mellow temperatures make it a perfect time to hit all of the region's trails, both biking and biking, before snow falls. Ripening apples and the grape harvest are cause for celebration, most notably at the Colorado Mountain Winefest in Palisade in September.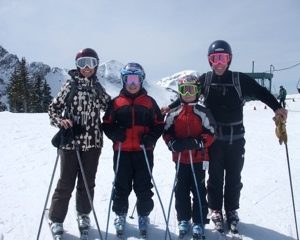 ~Kristen Lummis is the driving force behind the Brave Ski Mom – Because the Family that Skis Together, Enjoys Life Together.
Photography Courtesy of the Grand Junction Visitor & Convention Bureau
For More Information on Grand Junction Head to these Helpful Websites:
Grand Junction Visitor & Convention Bureau
Mountain Town Magazine | We are Colorado's Mountain Lifestyle and Living Magazine
Mountain Town Magazine Copyright © 2023 MTN Town Media Productions all rights reserved.