Gravel Grinding Steamboat Springs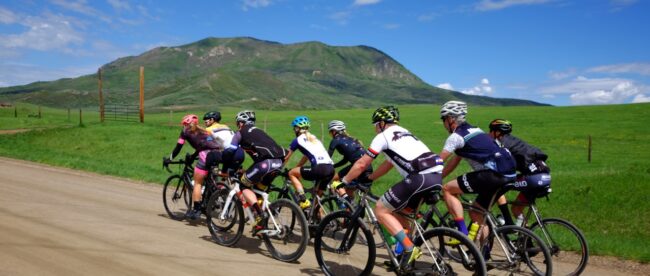 Gravel Grinding? Gravel Riding? We know you have been hearing the term but what exactly is Gravel Riding? We all know Road Biking involves cycling paved roads and pathways. Gravel Riding is a cross between road biking and mountain biking where riders get out on unpaved roads and pathways on a sturdier wheeled bike. These Gravel Bikes have become very popular in recent years as they let you ride over dirt and gravel roads.
Why gravel? Outback beauty, miles and miles of route options, smooth country roads, a forgiving learning curve, and a sense of solitude.
Steamboat Springs – Ski Town, U.S.A.® and Bike Town, USA has earned another appellation: Gravel Town, USA. Thanks to its rich ranching roots (150 years to date), Steamboat is home to 600+ miles of dirt and hard-packed gravel road with easy access from town. Some are calling this a nirvana for world-class gravel riding and racing. Below is a little dirt on Steamboat's Gravel.
Take a tour
Want to ride the area's premiere gravel grinding roads and experience Steamboat's cycling – and western – culture but don't know where to begin? Sign up for Gravel Camp with Veloscapes, a Steamboat-based small tour operator founded by pro bike racer JR Thompson and specializing in custom road and gravel cycling experiences. Due to COVID-19, dates for 2021 have not been announced (check back here for possible summer and fall options), however, Veloscapes is currently offering Steamboat Gravel Experience Tours – made-to-order, fully supported custom gravel trips for private groups. Or tap Timberline Adventures for their six-night Gravel Rides Cycling Tour, a brand spanking new hub tour of the gorgeous gravel surrounding Steamboat Springs.
Tips for a smooth ride from our friends at Moots:
Riding dirt/gravel roads is fun; let's keep it that way. Ride as if there are painted lines on the road, meaning ride as far to the right as is possible and safe.
Gravel roads are rural. Drivers may not expect to see a bike rider on these less-traveled routes so keep your head up and remain alert.
Expect to see livestock on the loose; ranch operations often move herds using these roadways. If you encounter livestock approach slowly, talk to them, make contact with the working ranchers and thank them.
Expect to see wildlife, this is their home; remain alert. If you encounter wildlife (fox, deer, elk, moose, bear, bobcats, mountain lions), do not approach. Give them ample space to move. This may mean turning around to find a different route. In the case of bears and cats, back away slowly.
If you're from out-of-town make sure you know Colorado's rules of the road before you ride.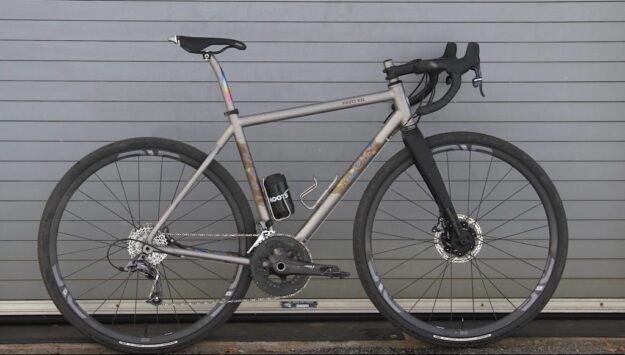 The bike to buy
Named for Steamboat's home county and Moots' home base, the Moots Routt RSL is the result of designing and building gravel bikes for nearly 10 years. The Routt RSL is designed with Moots' large diameter double-butted RSL tube set for a sublime ride over miles of gravel, dirt, chip seal and b-road routes. The 3D printed titanium dropouts with incorporated flat-mount disc mount allow for consistent alignment of thru-axel, wheel and brake caliper. Pair with the Moots all-carbon gravel fork for optimum handling. And, in celebration of its 40th anniversary, every hand-built frame Moots makes in 2021 will carry a commemorative head badge.
A community comes together
Ranching is a way of life in Routt County and that western mindset has resulted in some unique public-private partnerships over the years. The latest collaboration creates a brand new stretch of trail on the fourth-generation Fetcher Ranch for SBT GRVL, a local gravel bike race that sold out in record time this year. The new 1.6-mile stretch of trail is being built/improved upon by professional athletes, members of Routt County Riders, the Fetcher family, SBT GRVL, the Community Agriculture Alliance and local riders during a June community workday. The trail will be part of the 2021 SBT GRVL race set for Aug. 15. The project highlights how the agriculture and recreation communities are working together to support each other in Routt County. The community day will be filmed to capture the significant impact that agriculture has on local recreation.
Gravel riding around Steamboat Springs
Here are three of our favorites – a moderate, intermediate and difficult option – plus a ride-with-reward option. Find a comprehensive list of rides in and around Steamboat Springs on The Dirty Roads website, created and curated by Steamboat Springs locals.
Emerald Circuit (partially paved)– Length: 27.6 miles. Difficulty: easy/moderate. Ride-able: April to October. Minimum tire size: 28mm. This "classic Steamboat ride" is perfect for those who haven't done much gravel/road riding.
The Darkside of Fly Gulch – Length: 31.3 miles. Difficulty: moderate/intermediate. Ride-able: May – September. Minimum tire size: 34mm. Climb into North Routt's Elk River valley, ride along Deep Creek and enjoy the rollers on the ride back.
Strada Sporche – Length: 106.2 miles. Difficulty: difficult. Ride-able: May to September (CR 45 – Cow Creek – may be impassable when wet; stay on CR 33 to bypass). Minimum tire size: 35mm. The Strada Sporche (Italian for "dirty road") is one of The Dirty Roads first published rides.
Steamboat's Unofficial "Ranch & Brew" Gravel Ride– Length: 16 miles from west Steamboat (free parking at the West Side Transit Center or the Bear River Bike Park). This gravel route was created with the opening of two craft breweries that form a two-stop celebration at the end of the ride. It incorporates county roads (CR 42 and CR 44) and a bit of paved access (via Hwy 40 and CO 129), as well as Butcherknife Brewery (first celebratory stop) and Storm Peak Brewing (second celebratory stop). Butcherknife features pints and growler fills, as well as 5 oz. taster pours. You may also receive a discount for biking in so be sure to mention your ride. Storm Peak also offers 5 oz. taster pours, in addition to pints, growler fills and 32 oz. crowlers (can-growler). Grab a to-go order from Moe's BBQ next door and you've got a complete meal you can devour at the brewery. Ready for more? Bike into downtown Steamboat Springs and opt for tasters at Mountain Tap and Mahogany Ridge to round out your gravel-brew experience.
Steamboat gravel races and special events: 2021
SBT GRVL – August 13 – 15, 2021
SBT GRVL showcases the many miles of quiet, gravel roads in and around Steamboat Springs. The race offers four course length options: Black Course – 144 total miles and approx. 9,400 feet of climbing with 100+ miles of gravel; Blue Course – 103 total miles and approx. 6,300 feet of climbing with 70+ miles of gravel; Red course – 64 total miles and approx. 4,100 feet of climbing with 50+ miles of gravel; and Green Course – 37 total miles and approx. 2,000 feet of climbing with approx. 20 miles of gravel. This year's event sold out in record time, however spectators are welcome.
Steamboat Ramble – July 14 – 17, 2021
This is the original Ramble in the three-ride series, featuring a new route for 2021. The four-day adventure starts and stops in Walden this year due to the Cameron Peak fire, via the "OG" route, through the Roosevelt, Medicine Bow, and Routt National Forests, the Zirkel Wilderness, and over Buffalo Pass. This non-competitive, 258-mile (with 23,270 feet of climbing), semi-supported ride is ideal for serious riders. It's also a good option for those newer to bikepacking, as the ride requires that you carry your own tent and sleeping gear. Registration is limited and the $800 fee includes: camping each night with camp activities; full route support; four days of food; a dinner celebration on the final night; and a tour of the Moots Cycles facility in Steamboat Springs (COVID permitting). Riders have access to medical support throughout the ride, and an all-important shuttle back to Fort Collins.
Tour de Steamboat – July 17, 2021
The Tour de Steamboat is an annual bike event that brings together 1,200 cyclists for a one-day circuit through Northwest Colorado, with the sole purpose of raising funds for local community non-profit organizations. Choose from two gravel route options (or three road ride routes): the traditional 100-mile, and a new 50-mile. This non-competitive event offers something for everyone, and participants are encouraged to ride at their own pace. The Tour de Steamboat provides superb aid stations, support and an end-of-ride barbecue and craft beer garden.
Look for these events to return in 2022
Steamboat Gravel Fest – May 16 – 22, 2022
Described as "a gathering to celebrate dirt roads, friendships and all things gravel bikes," this Northwestern Colorado festival showcases the vast network of remote dirt and gravel roads crisscrossing Routt and Moffat Counties. The weeklong festival, introduced in 2018, features a free daily group ride, social opportunities, and route recommendations for "on your own" gravel experiences from The Dirty Roads, "a curated selection of Colorado's finest dirt & gravel road rides" created by Steamboat locals. Check the event website for more information on this festival's anticipated return.
Moots Colorado Ranch Rally – returning in 2022
The Moots Colorado Ranch Rally features 50 miles of gravel and dirt roads (just 5 miles of pavement), as well as a big giveback to local charities. The Moots Colorado Ranch Rally is limited to just 200 riders and begins at Moots World Headquarters in Steamboat Springs. From there, riders crisscross the countryside on rural dirt and gravel roads connecting area historical ranches and farms. This non-timed, non-competitive ride is self-paced and fully supported. The reward? Camaraderie, stunning scenery, and a little socializing, both on and off the bike. Check the Moots website for information about next summer's event.
Welcoming conscious travelers
Steamboat Springs is eager to extend a warm welcome-back to visitors in a safe and thoughtful manner. We hope you'll help us navigate this phase of recovery with patience and kindness. We invite you to join us as we elevate our awareness. Here's how you can help:
Embrace our Western hospitality
Leave a little space
Practice patience
Lead with kindness
Pay it forward
Get out there and get Gravel Grinding! It is a beautiful way to enjoy Steamboat Springs scenery.
Feature Photo Credit: David Epperson
Stay in touch with Colorado's Mountain Town Events: https://mtntownmagazine.com/events-calendar/
MTN Town Media Productions | Celebrating Colorado's mountain lifestyle and culture
Copyright ©2021 Mountain Town Magazine all rights reserved.
Post Sponsored by