Goldens in Golden Returns and it is Going to be Adorable
Goldens in Golden Returns to Celebrate Golden Retrievers in Golden, Colorado
The Beloved "Goldens in Golden" event to bring hundreds of Golden Retrievers to Washington Avenue. Leashed and well-behaved Golden Retrievers and their humans are gathering in Golden, Colorado to celebrate one of America's most popular dog breeds and a photo under Golden's famous arch on Saturday, February 4, 2023, from 11 a.m. to 1 p.m. The fun and fur-filled event is held on the Saturday closest to National Golden Retriever Day (February 3rd) and promises all kinds of Golden goodness.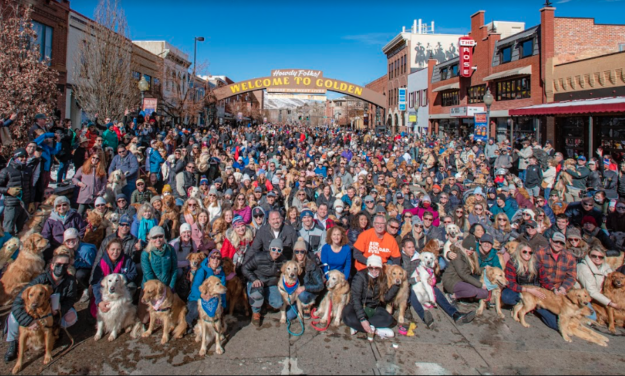 "Golden Retrievers and Golden, Colorado really complements one another! Goldens love our hiking trails and walking paths and enjoy socializing in our dog-friendly beer gardens and patios. After the Goldens in Golden event, we encourage people and their pups to enjoy a Golden day together, and of course, come back throughout the year to enjoy all Golden offers,"

said Megan Pinson of Visit Golden.
In its 3rd year, the event usually attracts well over a thousand Goldens and their humans. Participants will meet near the Golden Visitors Center and Parfet Park at 10th and Washington Avenue at 11 a.m., where there will be:
· Golden Retriever Meet and Mingle in Parfet Park
· Free Pup Cups (whipped cream) for the dogs, giveaways and vendor booths
· Photo ops on Washington Avenue, a "selfie station" & group photo under the "Welcome to Golden" arch

Local pet vendors and nonprofit organizations, including the Golden Retriever Rescue of the Rockies, Foothills Animal Shelter and Morris Animal Foundation, will also be on hand to showcase their good work.
Many Golden businesses are offering a variety of Goldens in Golden activities, specials and fun. Most Golden hotels are offering fun pet-friendly lodging specials. There will be patio dining deals, fun specially made dog treats at area shops, dog-filled beer gardens with specials and more. For a full list of hotel deals and promotions.
Important details to note:
· Goldens in Golden is extremely weather-dependent and will be cancelled if there is inclement weather. Please take this into consideration when making travel plans and be aware of your hotel's cancellation policy. Please check the website VisitGolden.com and @VisitGoldenCO social channels the day before the event to confirm there are no weather-related cancellations.
· Goldens in Golden is on Saturday, February 4th and is NOT on National Golden Retriever Day, Friday, February 3rd. The event is held on a Saturday to offer more people the opportunity to participate.
· Please RSVP to Goldens In Golden Facebook Event if you plan to attend so organizers can prepare accordingly. Check out parking information on the Visit Golden website.
· If you plan to bring your well-behaved Golden to Golden, please keep your pooch leashed and be sure to clean up after your dog. Golden Animal Control will be on site and issuing tickets to anyone not following rules.
Visit https://www.visitgolden.com/events/signature-events/goldens-in-golden/
For More Events and Festivities in Colorado' Mountain Towns: Click Here
Story Sponsored by Vail Summit Orthopaedics & Neurosurgery

MTN Town Media Productions | Celebrating the Colorado mountain lifestyle
Copyright 2023 MTN Town Media Productions all rights reserved.