Frisco Oktoberfest – Labor Day Weekend Prost!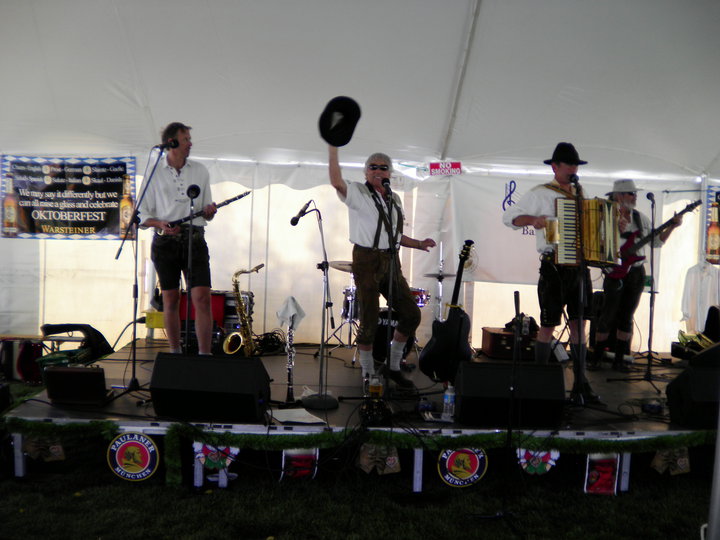 You'll think you were in Munich! Paulaner bier, two huge tents, food, entertainment and tables with decorations straight from Germany. The VIP Biergarten at Oktoberfest Frisco is going to be the place to party this weekend. Frauleins in Dirndls will serve your bier and brats – no lines for you!  New expanded hours (till 10pm) of Oktoberfest Frisco meant they needed to have more entertainment offerings. In additon to Those Austrian Guys and the Summit Concert Band the Polkanauts will rock Oktoberfest Frisco!  Death metal meets Polka is going to bring out your inner crazy yodel as the Polkanautstake stage. How can you beat having the Polkanauts at Oktoberfest Frisco.
Andy Grogger who was born and raised in Austria  and lived in Munich, Germany is the host of this event.  He learned the craft of ice sculpting from the European Masters and for several years worked at the Munich Oktoberfest managing a beer tent. Since coming to America, he has been sharing his heritage with his friends. His love of the music, food and culture means he is bringing the most authentic Oktoberfest west of Munich. Join him! Dance a polka, drink a stein and eat a brat all in the traditional Oktoberfest style. Besides Brats, you can look forward to schnitzel and Knödel too!
If you're looking for an extreme Oktoberfest experience join in on the Liter Stein Holding and Leg Wrestling Contests. Or, try your skill with a hammer & nail. It's not as easy as you think to drive a nail into a log.
Frisco is the place to be this Labor Day weekend. The party will continue long after the sun goes down on Friday, Saturday and Sunday .   This year you can avoid the long lines for purchasing tickets and get straight to the festivities ( They will only accept cash & checks at the event) by purchasing on-line. You have the option to use your credit card to pre-purchase your tickets, steins or VIP Fest Package Passes.  All you need to do when you get there is go directly to the VIP line to pick up yourorder!
VIP Fest Package Pass – all you can eat & drink with table service.  Afternoon & evening seating is available.
20 Tickets – $20
1/2 Liter Stein – $7
1 Liter Stein – $10
VIP Fest Package Pass – $100
Need Directions?
Address:
Frisco Peninsula Recreation Area, Recreation Way, Frisco, CO, 970-668-5547621
~Summit Sojourner
Photos Courtesy of Town of Frisco. To see more images of the event check out their Facebook Page link
© 2011, Summit Sojourner. All rights reserved. Republication in part or entirety requires permission of Summit Sojourner, LLC.