Fashionable Winter Footwear – MTN Women Style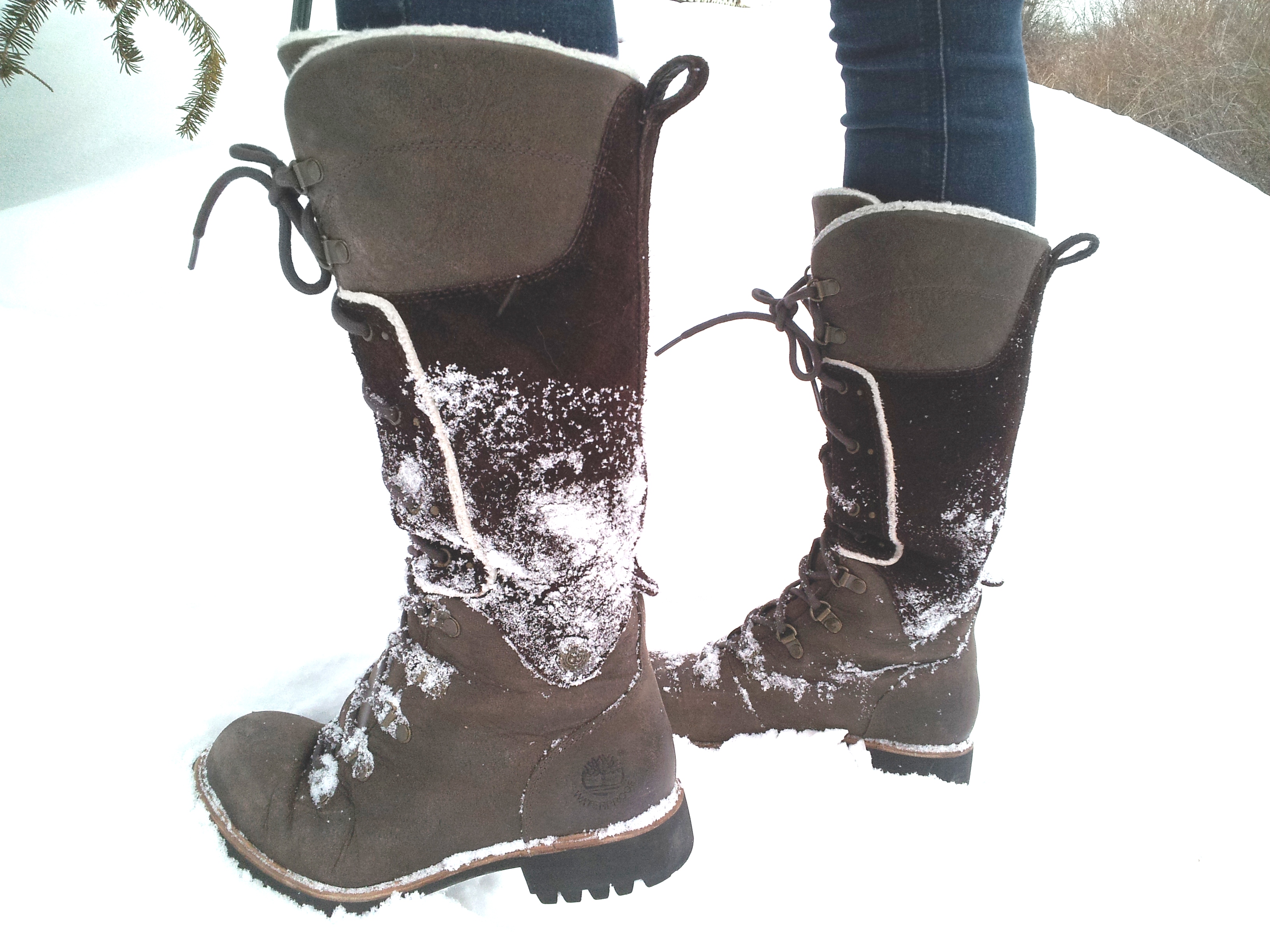 My breath creates crystals in the freezing air while snow crunches under my feet. The sidewalk plows have been through and the snow is turning to ice, making my trek to dinner treacherous. My summer sneakers have great grip in slippery conditions but they are neither waterproof nor insulated, making for a chilly walk through town. Snow boots are a must, but clunky utility boots are a fashion turn-off. I want boots that are warm, waterproof, and stick to the ice, yet seamlessly integrate with my outfit. I decided to scope out local shops and try a few to see what companies make boots that fit my guidelines. Here are my top three:
Rappers and construction workers alike have been wearing Timberlands for years. When I saw Timberland stamped on the side of the beautiful Alpine Tall snow boot (pictured above), I was curious.  It is waterproof, the lace up front is easily adjustable, and they are finished with a winter Vibram sole, meaning lots of traction. When I saw it only had a simple fleece liner throughout, I was skeptical about its warmth in negative temperatures, especially when my feet turn purple at the mention of winter temps. I've worn them in 40 degrees, I've pulled them on for a walk to town in 0 degrees. I've never been disappointed. Pair with a long down jacket and leggings to ensure compliments. Find them:
Shoe Inn Boutique | 610 Main St | Frisco | 970.691.1126
Chaco sandals are well-respected in the outdoor community and were my introduction to comfortable footwear. Now they've expanded to winter offerings. Although the Chaco Mara Waterproof Boot is not technically insulated, the liner packs enough warmth to keep toes comfortable down to below freezing temps. The footbed is cushy, yet supportive, the leather is waterproof, and the buckle ups the cute factor. Pair with skinny jeans and a wool sweater to polish off the look. Bonus: elastic in the cuff allows these to fit larger calves. Find them:
Jagged Edge Mountain Gear | 223 E Colorado Ave | Telluride | 970-.728.9307
The Mountain Goat Clothing Co | 117 South Main St | Breckenridge | 970.453.4628
Fashion and function truly intersect with the EMU Sandon wedge. The smooth sheepskin-lined boot hits just below the knee. I was nervous to walk on ice in any sort of heel, but the rubber is incredibly grippy and confidence-inspiring. Cute enough to wear with skirts and warm enough to wear below zero, these boots will do it all. Find them:
The North Face Breckenridge | 322 S. Main Street | Breckenridge | 970.453.1613
Its been cold out and winter will last way into Spring here in Colorado's mountain towns so why not look cute?!
Photo Credits: Sydney Fox
MtnTownViews.com is MTN Town Magazine's daily journal blogging about Colorado's mountain towns. Like them on Facebook and Follow on Twitter. Click the cover to read the Winter 2012-13 Issue.
© 2013, MTN Town Magazine. All rights reserved. Republication, in part or entirety, requires permission.