Fall Desert Climbing in Utah – Crested Butte Mountain Guides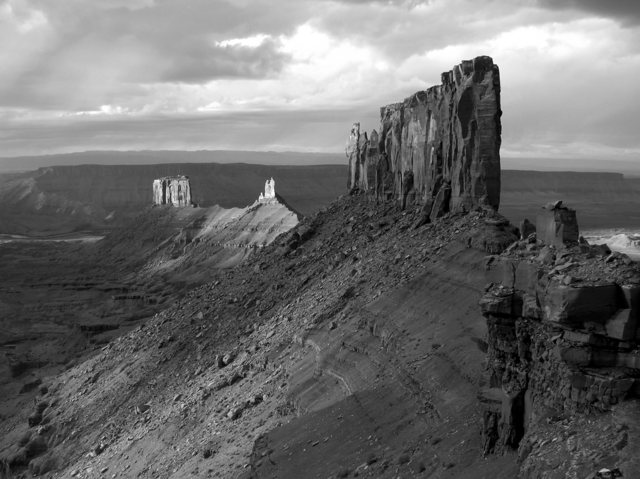 Fall is near and here at Crested Butte Mountain Guides we can almost feel the red desert sandstone on our hands!  The stark desert moonscape of Moab, Utah is not only breathtaking, it also hosts some of the best fall rock climbing in the Southwest.
Castleton Tower:
Castleton tower is easily the most iconic and sought after tower in Moab.  It stands almost 400 feet above the desert floor, and hosts a number of classic routes.  Some of the best routes on the tower are North Chimney (5.8, 4 pitches), Kor Ingalls (5.9, 3 pitches), and North Face (5.11, 3 pitches).
The Rectory:
The rectory is a large rock formation that sits right across a knife-edge ridge from Castleton.  On its narrowest face, a perfect splitter crack goes straight up for 4 pitches of jamming bliss.  This route is called fine jade (5.11a, 4 pitches) and should not be missed.  You get a little bit of everything on this route, from fingertip jams to off width, and you will be grinning from ear to ear the whole way!
Sister Superior (Jah Man, 5.10, 3 pitches)
Sister Superior is probably the craziest looking tower of the bunch.  It sits across another knife-edge ridge from the rectory, and stands about 300 feet tall.  The route Jah Man goes straight up the broad face in the picture, and is stunning the entire way.  The route starts in an exciting and fun(?!) squeeze chimney, followed by a couple hundred feet of splitter hand and finger cracks to boot.  This climb, and especially the summit, are not to be missed.
Ancient Art:
I take my last comment back; Ancient art is probably the craziest looking tower of the bunch.  This tower composed mostly of (surprisingly solid) mud, sits in the middle of the mighty fisher towers.  These towers are giant freestanding mud curtains, and most of them hold climbs only for the die-hard mud lovers.  Ancient art is certainly the well-traveled exception, climbing three beautiful pitches of rock (and hardened mud) … to an absolutely insane corkscrew summit.  Standing on this summit is certainly the pinnacle moment of most rock climbers' careers, looking down 400 feet on all sides and standing on a dinner-plate sized summit is an experience you will never forget.
River Road (Potash Road):
Potash road is the quintessential cragging area for budding sandstone samurais and hardened desert rats alike.  There are hundreds of climbs ranging from 5.5 to 5.13 in this area, and they all sprout straight from the side of the road, making the commitment factor relatively low.  This is a great place to hone in your crack skills and chill in the sun, or push your limits and "send the gnar" … from techy slabs to pumpy tips cracks to man (or woman)-eating off-widths … Whatever it is you seek, potash road has something for you.
So now that all of your soap operas have reached their season finales, and you have finally realized that climbing is much more fun than watching football, you have no excuse not to join us for some truly amazing desert adventures.  Crested Butte Mountain Guides is excited to offer yet another year of trips on the iconic sandstone walls and towers that litter the area. Call or email us today if you have any questions or would like to inquire about any of these trips.  See you all out there!
Photo Credits: Crested Butte Mountain Guides
© 2011, Summit Sojourner. All rights reserved. Republication in part or entirety requires permission of Summit Sojourner, LLC. and Crested Butte Mountain Guides.