Red Buffalo Coffee & Tea – The business of coffee in Silverthorne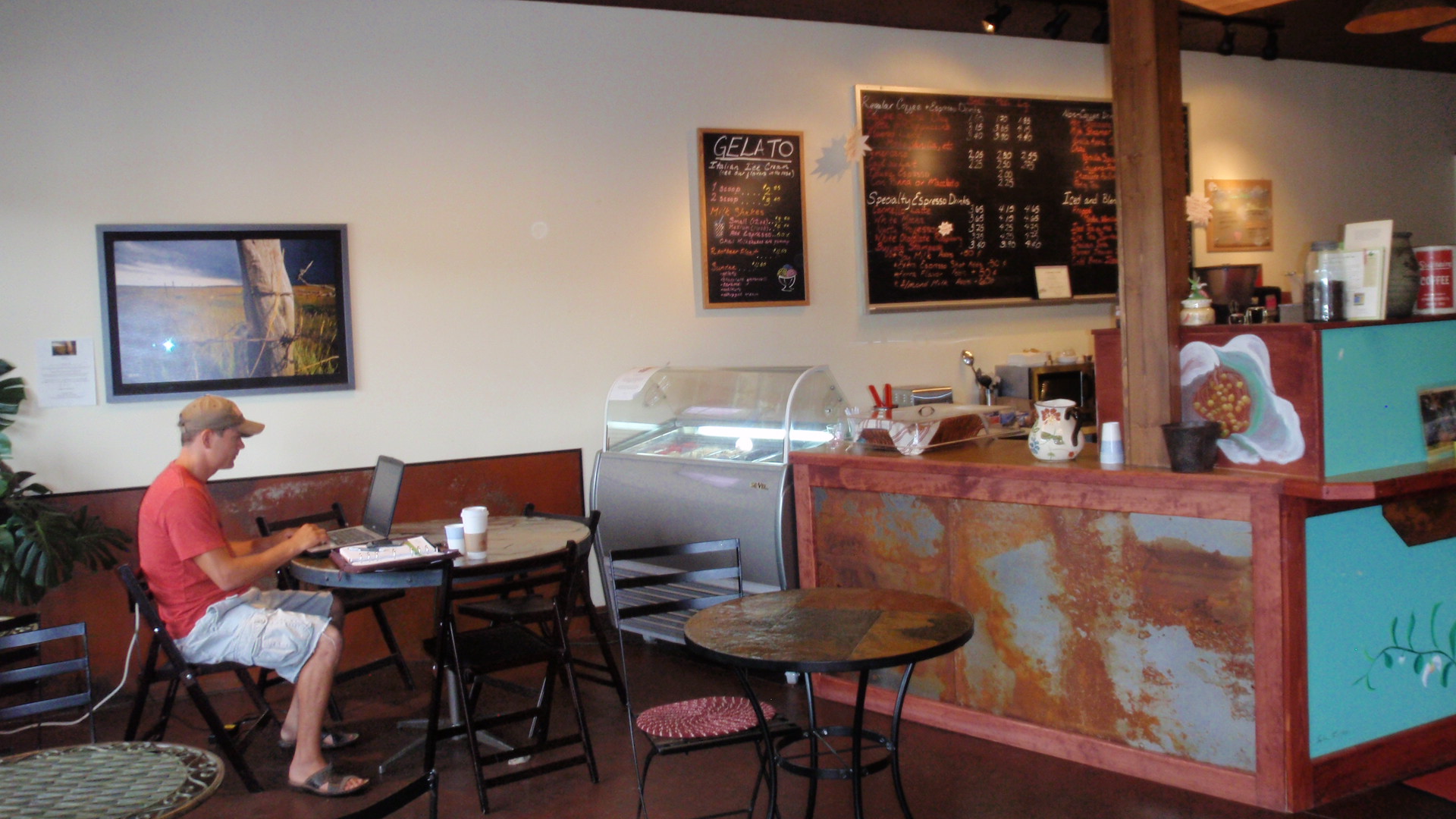 Taking their name from the view out their front door of both Buffalo and Red Mountain, Red Buffalo Cafe is a relatively new and sorely needed respite in the heart of Silverthorne, CO.  RED BUFFALO COFFEE AND TEA opened in June 2009 as Cup in the Corner and was located at the Alpine Earth Center (a really neat location).  After a successful first year, the opportunity to move to a bigger, better location that was "closer to town" became available to the delight of many.
Outstanding coffee from select regions around the world, roasted by Silver Canyon Coffee out of Boulder Colorado are served by well trained barista's. Interesting too is the farms that these coffees are from.
Costa Rica:  Coope Palmares
This is an excellent and highly progressive farm with about 1200 members. A couple of things that really stood out: the incredible efficiency of the farm – they are basically zero waste, recycling everything and using every piece of the coffee cherries they harvest – and the social benefits available to the farmers and their families. The premium prices they get (based on the quality of the coffee) pays for excellent medical/dental care for several thousand people, pays for schools for the farmers children, etc;
Café de Guatemala: San Jose La Laguna
This organic estate farm cannot garner the name "fair trade" since it is grown from a single estate.  However, their farm, which as been in establishment since 1864 has been environmentally and socially conscious for decades.  As part of their social responsibility they provide their workers with proper housing with free electricity and water as well as recreational areas which are used during non-working hours.  For more information you can visit
www.organicestatecoffee.com
.
Ethiopia: Natural Process Bench Maji from the Gesha Estate
Brazil: Fazenda Aurea
Sumatra: Permata Gavo Cooperative
Loose Teas are brought in direct from their wholesale importers and are steeped to your liking. A small selection of pastries and bagels from Blue Point Bakery as well as burritos from the awesome Evol Burrito Company in Boulder can be purchased to compliment your beverage. Brought the kids? Well, their Gelato is one of the best. Produced by Glacier Ice, this Ice Cream is a 5280 BEST Ice Cream Winner and a winner in my book too.
For many of us a coffee shop is a retreat from our home office or an office on the road. Their wifi, printing capablities, faxing, copying and scanning is a perfect office away from the office. Check them out! Conveniently located off of I-70 make this a stop for a moment of relaxation, by sitting along the Blue River, or to catch up on some work! Check them out: 358 Blue River Pkwy,Silverthorne, CO 80498 970-468-4959

~MTN Town Magazine
© 2011, MTN Town Magazine. All rights reserved. Republication in part or entirety requires permission of MTN Town Magazine.