EV Friendly Byways in Colorado's Mountain Towns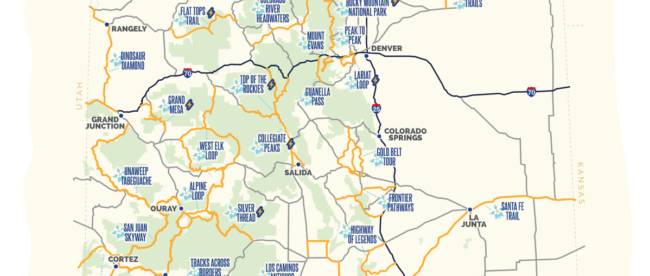 EV Friendly Byways in Colorado's Mountain Towns allow you to stay charged up for For Epic Trips in the Mountains and Beyond.
It is exciting to know that an Electric Vehicle road trip is becoming a reality. Acknowledging that you will be driving sans tailpipe emissions makes the validity of a getaway feel extra relaxing. After seeing all the smoke and experiencing a significant reduction in air quality this past summer, we are all about it. Road trips in an electric vehicle are pretty similar to those in a gas-powered car, but there are a few considerations to prepare for before starting your road trip. 
First, Some Education
There are three basic types of EVs: hybrids (HEV), plug-in hybrids (PHEV), and battery-electric vehicles (BEV). BEVs are also known as all-electric vehicles (AEV).
A hybrid electric vehicle (HEV) combines an electric motor and a traditional internal combustion engine but does not plug into an electric outlet. The primary source of power is gasoline, with the electric motor supplementing to add fuel efficiency.
A plug-in hybrid electric vehicle (PHEV) combines an electric motor and a traditional internal combustion engine, and the electric motor is the primary source of power. If the battery range is depleted, the ICE will kick in, so you can get to your destination to charge your battery for your next trip. Some people prefer PHEVs because of this "backup" option that effectively negates range anxiety. PHEVs plug into an electric outlet to charge.
     A battery electric vehicle (BEV) runs on electric motors that obtain power from a large battery charged by plugging the car into a power source like a wall outlet in your garage or a public charger. BEVs do not use an internal combustion engine at all.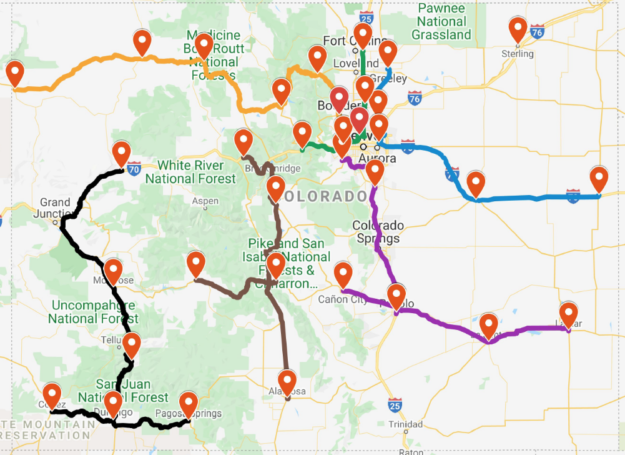 Road Trip Considerations
As you prepare a trip to your favorite ski area or escape to some warm single track in a BEV there are three things to help you avoid the latest term in technology, Range Anxiety. Range Anxiety is a fear that a vehicle may have insufficient energy storage to cover the road distance needed to reach its destination or a charging station.
Range:
It is essential to know how far your car can go on a single charge. How far will you be driving, and how often do you want to stop? These are crucial factors in planning your trip.
Route Planning:
Depending on your car's range and your trip length, you will need to plan out your charging stops ahead of time. Charging stations are increasing in numbers and are now conveniently located in areas with shopping centers, restaurants, and bathrooms, making it easy to take a driving break or stop for lunch while your car is charging. You can choose to stop at a Level 2 charger if you'll be taking a more extended break or can top off quickly at a DC Fast Charger. Many EVs come with built-in navigation that can find charging locations along your route, but there are other options like Google Maps, PlugShare, and A Better Route Planner that EV drivers also use.
Time:
It might take a little longer than you may be used to on your road trip due to charging times. However, some EV drivers find their travel time quite comparable, especially if you stop at scenic locations or quaint downtowns worth taking the time to explore.
In 2018, Colorado released its first electric vehicle (EV) plan setting forth goals, actions, and strategies to develop EV fast-charging corridors across the state and establishing a target of 940,000 EVs by 2030. In the past two years, the state has realized significant achievements in EV fast-charging corridor creation, allowing our visitors and residents to tour our mountain towns more conveniently.
Colorado is meeting their goals to electrify all of its Scenic & Historic Byways. Seven of the Byway itineraries: Lariat Loop, Grand Mesa, Silver Thread, Collegiate Peaks, Flat Tops Trail, Trail Ridge Road, and Top of the Rockies are online to keep EV's charged and road-trip-ready. www.colorado.com/colorados-scenic-historic-byways is the link to direct you to each of the above byways access to an EV Charging Station.
     The Colorado Energy Office now has designated fast-charging electric vehicle corridors. These EV Friendly Byways in Colorado comprise high-speed charging stations with 34 locations across Colorado state. 
I am excited for the day I can forgo oil changes and know my car's emissions are helping to clear the air while traveling to my favorite ski slope. Having the opportunity to experience a tour in an electric vehicle this past summer during a Drive Electric Colorado event, I can see the light at the end of that smoggy tunnel.
Maps and Further Information can be found at these links:
www.colorado.com/colorados-scenic-historic-byways
by Holly GoSpritely
Stay in touch with Colorado's Mountain Town Events:
www.mtntownmagazine.com/events-calendar
*****
MTN Town Media Productions | Celebrating the Colorado mountain lifestyle
Copyright 2021 MTN Town Media Productions all rights reserved.
Post Sponsored by