Eloise'ing in Aspen? Little Nell Hotel a Lovely Retreat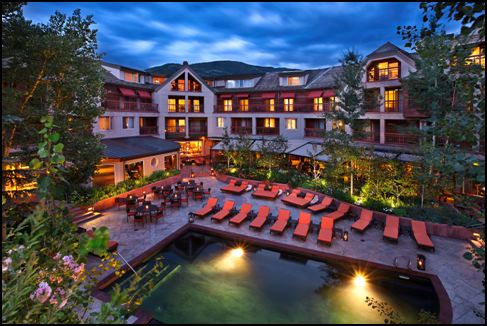 The Little Nell Hotel personifies my belief that Aspen should be known not for it's glitz and glamour but for it's elegant and sporty. Not that the glitz and glamour doesn't exist, it just doesn't prevail.
One only has to enjoy a stay at Aspen's top, five star, ski-in, ski-out hotel, as I did with my family this past winter during Winterskol, to catch a glimpse of what I'm talking about.
I had it all mapped out. I was going to take advantage of an early check-in and write, alone, by the heated outdoor pool, wearing my bikini, a plush bathrobe and drinking a chilled glass of white wine. Then I would stroll down to the school bus and pick up my excited boys and we would dive in.
(Photo Courtesy of The Little Nell)
Am I in denial about the realities of my life? I spent the day working and arrived at the hotel at 6:00pm with the van packed to the brim with kids, skis and bags.
We spilled out and whizzed by the friendly "dedication to service" staff and through the sea of beautiful people, and their dogs. The energy was buzzing as the guests enjoyed après-ski in the casually sophisticated hotel lounge and the adjacent Terrace Lounge. If Aspen is suffering from a poor economy, it was not obvious.
(Photo Courtesy of The Little Nell)
With little time to spare we did what we always do, raced upstairs to check out our digs. I personally was curious to see the $18 million room renovation designed by Holly Hunt.
The rooms, described as having a "modern Aspen Aesthetic," were warm and inviting with exclusive Studio H furnishings, Belgian wool carpeting, closet "barn" doors, comfortable wide leather lounge chairs set in front of the stone-clad gas-burning fireplace and, just in case you are one of those who doesn't like to get too snuggly with your roommate, there are two sinks set in marble finished vanities.
(Photos courtesy of The Little Nell)
The boys immediately found the three delectable snowmen cupcakes waiting for them but were only allowed to lick the heads made out of whipped cream and sprinkled in sugar, so as not to ruin their appetites. Tucker wanted to slip into his little bed made just for him, but dinner was awaiting and we hustled him out the door.
We walked up to the Ajax Tavern to enjoy a bistro menu. The Tavern, located at the foot of Aspen Mountain, focuses on using locally grown seasonal produce and is popular for its great out door dining and après ski.
(Ajax Tavern. Photo courtesy of The Little Nell)
Wade and I shared oysters on the half shell and I had the lamb meatballs along with the Farro and Apple Salad with quinoa, kale and roasted squash. Wade enjoyed the Steak Frites as the boys devoured the mac and cheese with melted gruyere. We all shared the chocolate fondue for dessert with home made marshmallows.
After dinner, Brevitt was dismayed to find that we missed the dancing but we still had a walk around town amongst the twinkly lit trees. When we returned back to the hotel Axel quietly asked me run him a warm bubble bath, hoping for his own spa. But soon he was crowded in with his two naked brothers, and like baby birds with their mouths opened for their mama to insert food, they extended their limbs and feet out to me to scrub with the provided loofah sponge and animal bath mitts.
Wade studied the high-end bar, as I bathed the boys, and was tempted to open the  official Bourbon of the Kentucky Derby, Woodford Reserve. Instead, we put the boys to bed and slipped into the soft Italian Sferra sheets and discussed our chaotic weekend that lay ahead, packed with freestyle competitions and travel to Steamboat Springs.
As we drifted off to sleep I thought of Kay Thompson's book, Eloise, and tried to do the math to see if living in the hotel would be cheaper than our mortgage. Question being, would The Little Nell have us?
For information on how The Little Nell takes their commitment to the environment seriously, click here.