Deep Powder – A Blessing with a Lesson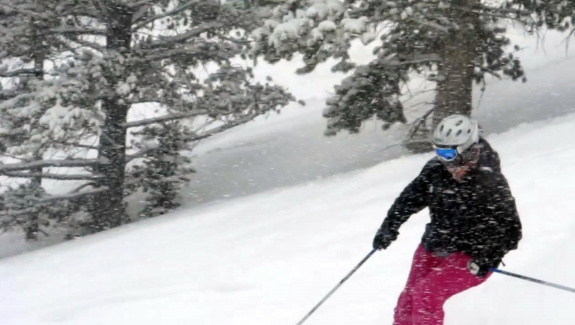 I've taken a variety of ski classes, and I've found they've helped my skiing quite a bit.  Considering I didn't know the difference between an alpine and a tele ski when I started, would be an understatement.   As you may have guessed, I did not grow up skiing, and I've learned to ski as an adult.  And my nemesis has been that what "real" skiers love….powder.
Powder.  My "real skier" friends call it "champagne", "magic" or just pure "fantastic".  Yet those words have never been my reaction.  My reaction has been more like "ugh", "double-ugh" and "oh, c%@p".  So when I had the opportunity to have a private ski lesson recently, I hoped for a sunny, blue-bird day.  I envisioned skiing some of the more challenging terrain on the mountain, with a private instructor to help me.  I couldn't wait.
So you can imagine my dismay when the forecast (in April, mind you) was snow, and lots of it.  It was perhaps the best thing that could have happened to me.  I just didn't know it yet.
My instructor had the patience of a saint, which was a good thing, since I have the courage of a snail.  So we started small.  All those classes had definitely helped give me a good foundation, so it wasn't like I was starting from scratch (or at least I want to believe that).  And all of a sudden, with very individualized assistance and feedback, it started to click.
Turns out, I had a few things I was confused about relative to skiing powder.  For those of you that might not be expert skiers either, here are the 3 things that really helped me learn to fly through the powder:
1.     Keep going down the hill.  Your turn shape should be longer and elongated, versus a super round turn.  Powder slows you down, so there is no need to turn up the hill to control your speed.    Think of the transition between your turns as being almost slightly diagonal, so you are finishing one turn and starting into the next turn, always moving down the hill, not across the mountain.
2.     Wedge Christies are your friend – now before you gasp in horror at the thought of not doing a perfect parallel turn, remember, someone who knows a lot more about skiing than you or I said  "It's okay to do a Wedge Christie".  So what's a Wedge Christie anyway?  Simple, flex the ankle of your downhill foot while releasing the edge, so the ski starts to slide into the turn, while at the same time, allowing your other ski to come around the turn into a partial wedge.  The result is a smooth turn with a solid base that goes through even heavy, cruddy powder without a problem.
3.     Speed.  A little more speed through the powder keeps you moving, so you don't get hung up in the deeper places.  Go on, give it a try!
So there I was in April, skiing 13 inches of fresh powder with more coming down.  If ever there was an incredible ski season at Breckenridge Ski Resort, this has been it.  With more snow predicted, it's never too late to learn to ski better.  Let the staff at their Ski & Ride School help you take it up a level and let the powder fly!