Crested Butte Mountain Guides – Chased the Race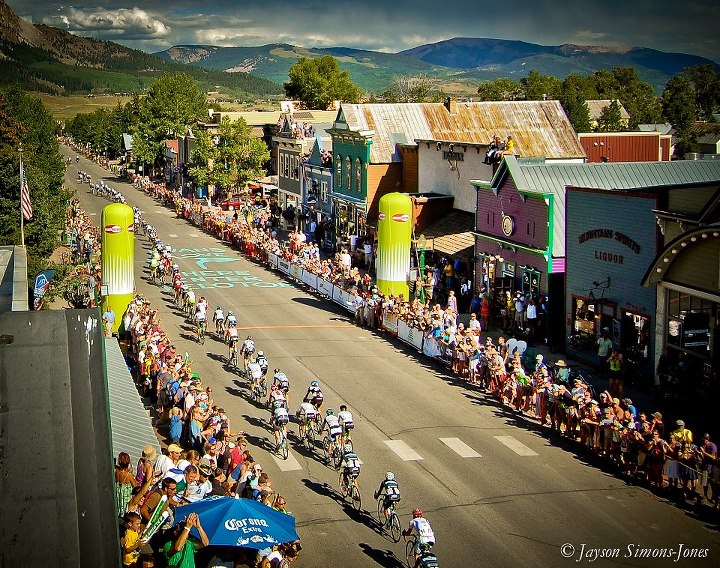 Jay, Gene and I were sitting at 12,705ft eating our snacks and watching the clouds rolling across the 14,000 foot peaks of the Elk Mountain range as Stage 3 of the USA Pro Cycling Challenge was getting underway.  We were living the good life with the journey we had ahead of us.  Lloyd, of the movie Dumb and Dumber, described our destination best when he said, "A place where the beer flows like wine. Where beautiful women instinctively flock like the salmon of Capistrano. I'm talking about a little place called Aspen."  With our belly's full of goodies we hopped back on our mountain bikes for the 18 miles/4,800ft of descent into Aspen with the goal of watching the finish of Stage 3 live!
Jay flying down Pearl Pass towards Aspen.
The day prior to our big ride, Aug 22, we had enjoyed the festivities and watched in-person as the pro racers battled for the uphill finish of Stage 2 at Mt Crested Butte.  Then we prepared to Chase the Race.  The next day, Aug 23,  we grabbed our mountain bikes and peddled our way from Crested Butte, over historic Pearl Pass and down to that little place called Aspen in an effort to Chase the Race!   Once we arrived in Aspen where with met up with CBMG guide, Patrick Erley, who had driven our shuttle vehicle over from Crested Butte to meet us, complete with our clean clothes and flip-flops.  We spent the next couple hours being entertained by the USA Pro Challenge  festivities as we waited for the pro cyclists to come flying into the finish line.  After the exciment of the finish was over we jumped into our CBMG shuttle vehicle and headed back to Crested Butte to seek out our comfy beds that were waiting for us.
Stage 2 finish the day before at Mt. Crested Butte.  An exciting head-to-head finish between Tejay Van Garderen (red) and Christian Vanderveld (blue). (Photo by CBMG Guide, Kyle Mattingly)

Tom Danielson, taking the Stage 3 win in Aspen. (Photo by Doug Pensinger/Getty Images)
Our day ended up being awesome and makes me wonder why anyone would choose to simply be a spectator of the race when they could get out on their own bikes and actually chase it!  Check out some of our images below and get exited to join us for another Chase the Race adventure in 2013!
Jay turns onto Pearl Pass Road and starts climbing.
Jay and Gene stop for some veiws of Teocalli Peak (13.208ft).
Veiw of Castle Peak (14,278ft) during our acsent of Pearl Pass.
Another example of the stunning landscape along the ride. 
Jay way above Crested Butte in the distance.
Looking to the summit of Pearl Pass from the Crested Butte side. 
Jay nearing the summit of Pearl Pass with Star Peak (13,521) in the background on the left. 
Pearl Pass summit (12,705ft).
Checking out the summit markers of Pearl Pass. 
Jay and Gene posing in front of Castle Peak (14,278ft). 
Thanks to Jay and Gene for an incredible day of riding!  The 2012 USA Pro Cycling Challenge will wrap up with Stage 7 in Denver, CO on Sunday, Aug 26th.   If you missed out on any of the action this year we encourage you to mark your calendars now for the 2013 USA Pro Cycling Challenge  (dates are still TBD) and if taking it a step beyond just spectating sounds exciting consider this your invitation to to join us for the CBMG's Chase the Race  (stay tuned for dates) in 2013!
PHOTO CREDITS: Crested Butte Mountain Guides
MtnTownViews.com is MTN Town Magazine's daily journal blogging about Colorado's mountain towns. Like them on Facebook and Follow on Twitter.
© 2012, MTN Town Magazine. All rights reserved. Republication, in part or entirety, requires permission.