Copper Mountain turns a Black Day White – Braveskimom.com Reports!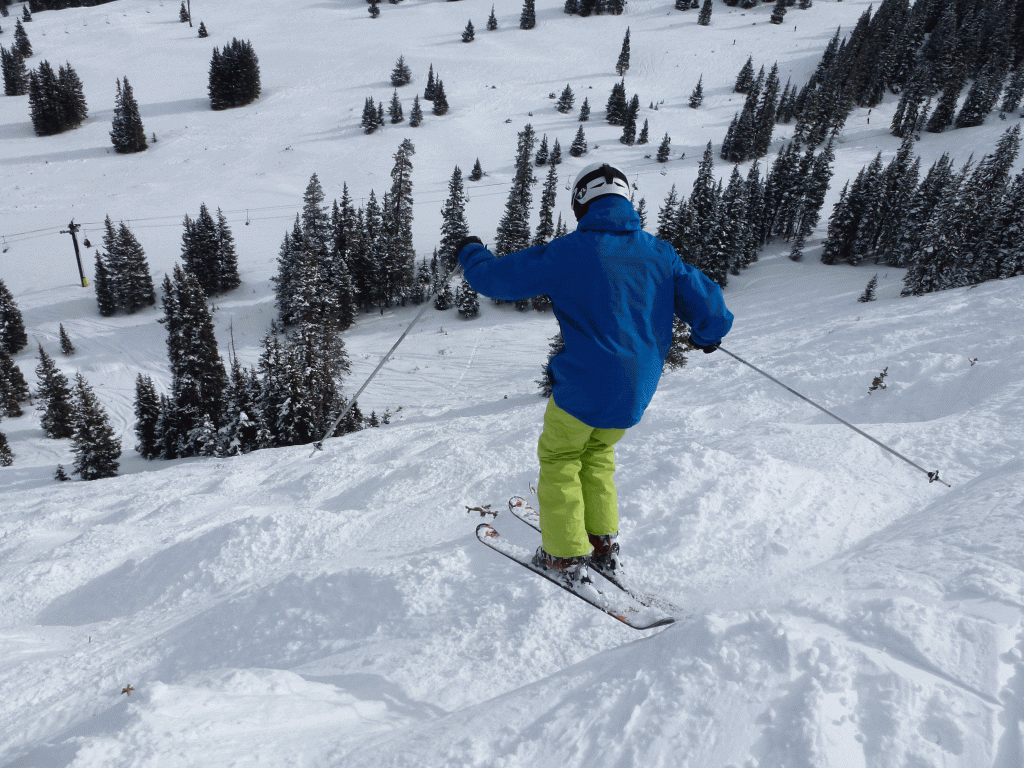 Last weekend, we traveled to Summit County, Colorado to ski one of our favorite resorts: Copper Mountain. We hadn't driven 25 miles from our garage when our bad luck started.
Black Mark #1: The "check engine" light comes on in our three-year-old car, disabling the stability control as we head into a snowstorm. We call the dealership only to find out that the car has to come in for service immediately. The good news: we're already driving east, toward the dealership. The bad news: "immediately" means one of the adults won't get to ski. It's a pow day.
Black Mark #2: Our younger son bruises his shin and decides he "can't" ski. My husband, the gentleman that he is, has already dropped us off at Copper to take the car into Denver. That means I get to ski. It also means that before we've skied one run, one of my two boys is upset because his leg hurts. We sit with him in the lodge until he decides he can sit alone. It's now 11:00 a.m. It's a pow day.
Black Mark #3: With one son out of commission, my older son and I head out to find out what's left of 5 inches of fresh snow. It's all been chopped up, but the snow is fresh and the moguls are soft. On just our second run, my son plants his pole and it snaps in half. A clean break. With only one pole, we decide to "stop" for lunch (not that we've ever gotten started). It's now 11:25. It's a pow day.
Enough Black. Here's the White.
While black marks aren't usually negated by "white marks," it was the white stuff atCopper Mountain that saved the day. That, and the ever-chill Copper Vibe. Maybe its the super-cool '70s marketing concept, but even my kids notice it. The lifties are smiling, and sometimes dancing, the guy selling coffee has a sense of humor, a Copper employee loans us some poles, and while the Ski Patrol inexplicably could not find a plastic bag to fill with snow (the better to ice my son's leg), they quite helpfully offered to download him on the lift (no thanks!).
By 12:45 we were skiing again — all three of us. Having discovered that chilling in the lodge is not very chill, son the younger decided to ski. By 2:30, my husband had returned and the family ski day still had an hour and a half to go. While we missed the morning powder, it snowed most of the afternoon. Skiing off of the Sierra chair, we had some of the best snow on the mountain virtually to ourselves. Jumps with soft landings, some of the best moguls, with the best coverage, we've seen this season and absolutely no lift lines.
Day Two: Oh, To Ski On Tucker Mountain
I am happy to report that Sunday was one of the best days we've had all season. No new snow overnight, but somehow we timed everything perfectly, scoring front row parking and four seats on the first Tucker Mountain snowcat. If you're an expert skier and you haven't experienced Copper Mountain's free snowcat skiing, put it on your list. The ski patrol runs the snowcat on weekends from 10:00 a.m. to 1:30 p.m. Cats load 12 at a time, and if the line is long, the wait can be tedious. It takes a cat at least 20 minutes to make a round trip up and back to the loading area. If you've got the patience to wait, it's worth it. Even with the low snow this year, ski patrol led us to a beautiful southeast facing slope.
After unloading the cat, everyone took in the view from the top of the world. I've always loved the views from Copper Mountain. Yes, you can see I-70 snaking through the valley at the resort's base, but you can't hear it and it's not intrusive. And from the top, there are views of the S-K-Y chutes to the east and the high Rockies near Leadville to the south. We were well above tree line, looking out at an immaculate white world. No black marks on this day.
When the cameras were all put away (or in the case of Go Pros, turned on for the descent — "Can you tell me if the red light's on? Is the red light on?") we hiked single file to the day's chosen slope. The hike was surprisingly rocky, and a ski patroller stationed part way down kept us out of more rocks. Guests ski one at a time. If you're nervous, or get performance anxiety, it's not easy. But it's also delightful to ski without anyone next to you trying to snake your line and poach your pow.
When we got to the bottom, we immediately jumped back into line. By now, we were two cats back, meaning a minimum 40 minute wait. The sun was breaking through the clouds for the first time all weekend, so after some discussion, we bailed and went back to the resort's front side. Why mess with a perfect morning?
When You Go….
As I mentioned above the Tucker Mountain snowcats run… to read more click here!
© 2012, The Brave Ski Mom. All rights reserved. Republication, in part or entirety, requires a link back to this original post.