Colorado Spirits Trail – The Mountain Town Path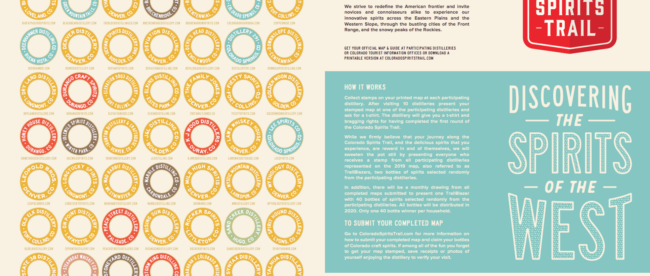 Kentucky has their Bourbon Trail but have you heard about Colorado's – The Colorado Spirits Trail?
Colorado boasts one of the most vibrant and largest distilling communities in the country. 62 Colorado craft distilleries have joined together to create the Colorado Spirits Trail. To inspire the discovery of spirits pioneered by some of the most creative makers in the industry this group of passionate distillers invite novices and connoisseurs alike to experience their delicious spirited creations across the Eastern Plains, Rocky Mountains, and the Western Slope.
With Autumn on its way, you may want to consider a tasting tour to discover the vibrant colors and fantastic flavors of our local Mountain Town Distilleries and the hamlets they occupy. Make it a fun expedition and get your Official Map & Guide at participating distilleries, Colorado tourist information office or download a printable version from the Colorado Spirits Trail website. 
You can collect stamps on your printed map at each participating distillery. After visiting 10 distilleries, present your stamped map to one of the participating distilleries and ask for a t-shirt. The distillery will give you a t-shirt and bragging rights for having completed the first round of the Colorado Spirits Trail.
Even better, become a 'TrailBlazer'. Once you're done with your tour around the mountains head to the front range to all the participating distilleries represented on the 2021 map and get two bottles of spirits selected randomly from the participating distilleries. If you really want to taste the distilleries but might not have the time to drive about then we suggest the upcoming Breckenridge Craft Spirits Festival Still on the Hill Grand Tasting being held October 2022. For more information on the Colorado Spirits Trail, head to their website:  
by Holly GoSpritely
Learn more about Colorado's mountain towns & communities here:
MTN Town Media Productions | Celebrating Colorado's mountain culture and lifestyle
Copyright ©2021 Mountain Town Magazine all rights reserved.
Post Sponsored by