Bringing Colorado Sustainability to the World – Pidola.org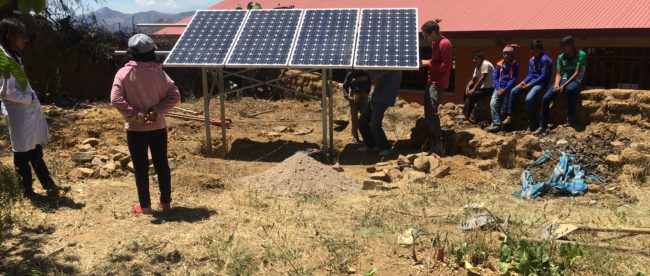 With a passion for providing clean, reliable energy to customers throughout the West, Michelle Zimmerman expanded from a focus on nonprofit management to a career in responsible solar development. She began her path in residential and off-grid projects in 2008, became vice president of Innovative Energy, a solar installer in Summit County, CO and helped grow the company to include design-build-services for commercial solar projects. Across the state, Coloradoans have invested over $2.5 billion into solar and more than 200,000 homes are currently powered by solar. This has created over 1,000 megawatts of capacity in solar energy in Colorado, producing enough energy to eliminate over 6,500 railcars of coal.

From home installations of solar panels to community solar farms and large-scale solar generators, Michelle has worked in various segments of the solar industry over the last decade. She met the co-founders of her non-profit, Nick Killen and Lou Fabian, through the MBA program at the University of Denver. The three of them have been working in renewable energy in Colorado for the last 12 years.

They are proud that Colorado has become a leader in renewable energy. Both public and private entities have invested in wind, hydropower and solar to provide sustainable benefits for Colorado. In a state that values a pristine environment and reaps economic benefits from the ample tourists that visit, it makes sense that Colorado strives to be a leader and example in the renewable energy movement.

Recently, her group decided to bring their expertise to less developed areas. Across the globe, there are 1.2 billion people that don't have access to electricity. People are using fossil fuels to generate electricity, or simply do not have access to consistent power – neither are sustainable. Additionally, many remote communities don't have the Internet, which limits their access to information, educational tools, healthcare, and more.

They believe that power and access to information are two essential tools that children should have to empower them and their future. Thus, they created Pidola. Pidola, which means leapfrog in Spanish, is committed to bringing solar electricity and satellite internet to South and Central American schools. After two years of initial site visits, they installed pilot projects in Pampa Jasi and Torotoro, two remote villages in Bolivia. These projects were facilitated thanks to the original connections with existing nonprofits that were working locally to build schools, community gardens, and teach citizens about clean water and basic healthcare. They are added electricity and internet to a school and gathering area that will provide numerous benefits to community members, including improved studying, cooking, refrigeration, and water filtration.
"It is amazing to see people communicate across the greater region with the use of the internet and leapfrog into new opportunities. The ability to leverage that original schoolhouse and amplify the learning is exponential," says Michelle.
Previously, some of these Bolivians had to walk 1 to 2 days to access power and communications and many were leaving their villages for work and school – resulting in a diminishing economy for these already underproducing communities.

"Electricity and internet give life to the learning process. Imagine our schools without light or electricity; imagine our students without internet. Pidola is changing the course of education for children in rural villages who are very eager to learn. We are providing these Bolivian kids the "miracles" of electricity and internet that most students in America take for granted."
Thanks to the donations from their initial supporters, in 2017 during their two pilot programs they made solar electricity and satellite internet a new reality for 84 rural Bolivian schoolchildren! Success was quickly acknowledged by local officials, and now the Ministry of Education, Bolivian Space Agency, and local nonprofits are working with Pidola to identify recipients for dozens more projects and contribute to their success as much as possible. They have a short-term goal of three village installations by June 2019, consisting of building a solar electricity system (panels, batteries, charge controller, inverter) for the school that will power the satellite internet antenna and components as well as covering the monthly internet costs. Looking to the future, Michelle would like to demonstrate the value of these projects to local officials and donors in order to duplicate the impact at a larger scale.
"Our current and primary focus is on providing improved and exciting opportunities for children to learn and communities to thrive!"
For more information on Pidola please visit Pidola.org

Mountain Town Magazine | We are Colorado's Mountain Town Magazine
Copyright © 2019 MTN Town Magazine all rights reserved.