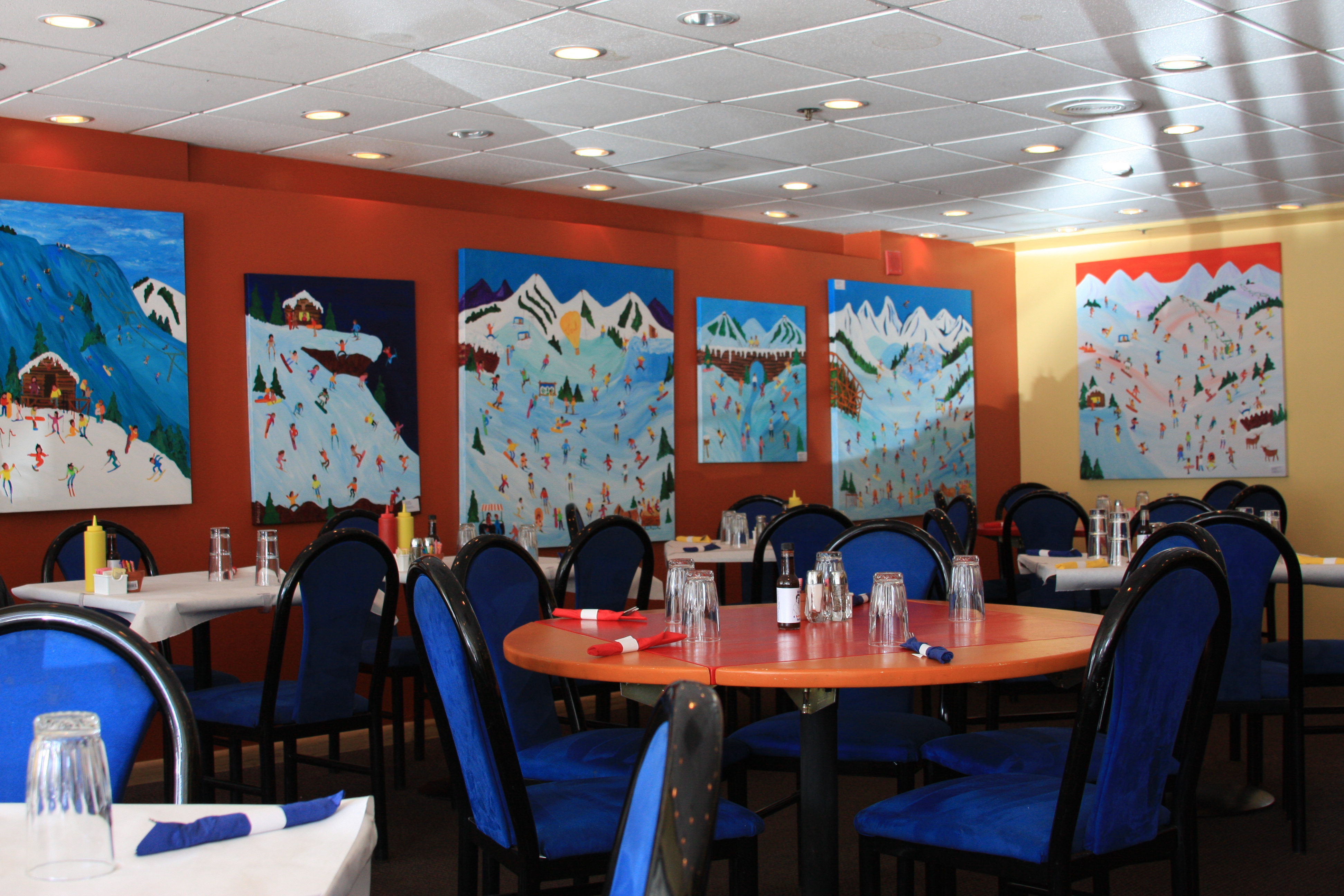 Heading to Avon for the USA Pro Cycling Challenge? After whooping it up I bet you will be a little bit hungry. There will be plenty of vendors but I am sure some of you would love to sit down and enjoy a meal. A favorite with Vail and Beaver Creek locals and visitors is the award-winning Blue Plate Bistro. 
This colorful little bistro serves a contemporary American menu with a European twist. Brilliant and colorful, acrylic paintings adorn the walls and electrifies the atmosphere. The cuisine is just as creative and done from the heart with fresh ingredients used in perfectly prepared menu items.
Lunch offers appetizers such as Damascus Hummus made in-house accompanied by warm pits bread for dipping. Large salads such as  Colorado Goat Cheese Salad with mesculan greens, tomatoes, cucumber and carrots tossed in pomegranate balsamic vinaigrette and served with pumpkin seed crusted goat cheese is a pick you cannot miss. I however have to say any of their sandwiches such as the Tomato & Mozzarella Sandwich, pictured, with thick slices of Buffalo Mozzarella, tomatoes, fresh basil, Arugula and drizzled with aged red wine dressing  will delight your appetite. I especially love their fries. Beautiful matchstick potatoes deep-fried and salted.
Dinner try the Grilled Haloumi Cheese with warm Cyprus Sheep's milk cheese served with arugula, piquillo peppers and green olive vinaigrette or the Stuffed Grape Leaves Syrian style with (5) vine leaves stuffed with Rice & Spices served with a mint yogurt sauce to start. Pair that with an entrée. Crispy Duck with half a duck slow-roasted with lingonberry glaze, Jasmine rice, brown sugar glazed carrots and peas or 'Blue Plate' Meatloaf Chef Adam's rendition of a classic. USDA Beef, Italian sausage with a touch of pomegranate molasses is baked and served with mashed potatoes, wild mushroom gravy and baby peas. Save room for a dessert as their offerings are unique and often there is a nightly special.
Chef Adam and Elli Roustom, proprietors of the Blue Plate Bistro will not disappoint you. Settle in at their restaurant located at :
47 E. Beaver Creek Blvd. Avon, Colorado 970.845.2252 http://www.blueplateavon.com/
~MTN Town Magazine
© 2011,
MTN Town Magazine
. All rights reserved. Republication in part or entirety, requires permission of Summit Sojourner, LLC.