The Blue Plate Avon CO – Delicious Americana Cuisine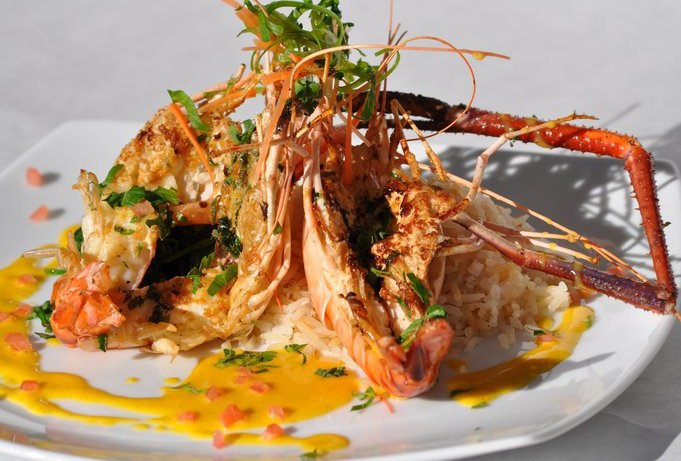 Like all Americans, the cuisine at the Blue Plate, Avon CO has ancestors from around the globe, thanks to Adam Roustom, chef and owner of the popular eatery in Avon. With an American mother, a Syrian father, and childhoods in Damascus and New England, Roustom, together with his wife and business partner Elli, has created a restaurant to please every palate. They call their world-inspired food "Americana cuisine."
"I recreate flavors I grew up with," said Roustom, who started early in life with Middle Eastern infused American food. For example, his childhood peanut butter sandwich came on pita bread with homemade Syrian apricot jam. After his family moved to the U.S., he started cooking at age 12 on Cape Cod, which led him to schooling in culinary arts. The fusion stuck with him.
Diners at Blue Plate reap the benefits of Roustom's international culinary upbringing. He braises Colorado lamb with roasted tomatoes and pickled lemons, a Moroccan mainstay. Lamp shoulder is ground up and combined with cracked wheat, preserved lemons and spices to make Kafta, a middle eastern meatball dish. He combines beef with Italian sausage and laces it with pomegranate molasses for his twist on a classic meatloaf. From his New England days comes Fish n' Chips—fresh scrod lightly breaded in cornmeal flour served with homemade tartar sauce and skinny fries. Mussels swim in a heavenly sauce of North African spices that call for more bread for dipping. Roustoms' Friday night whole pig and lamb roasts have become legendary, and their steaks and burgers from grain- and corn-fed Colorado cows earn bragging rights.
The best-selling entree is mouthwatering schnitzel—a thinly sliced pork, veal or chicken cutlet coated in bread crumbs and floated in butter until the coating creates a soufflé that "gives it a hug." The famous Blue Plate schnitzels are a big hit with the Austrians in the Vail Valley and give a nod to Austrian-born Elli, who takes care of the front of the house and other managing details.
Also from Europe is traditional… Continue Reading
~Claudia Carbone
Photo Credits: Eli Roustom

MtnTownViews.com is MTN Town Magazine's daily journal blogging about Colorado's mountain towns and resorts. Like them on Facebook and Follow on Twitter. Click the cover to read the Winter 2012-13 Issue.
© 2013 MTN Town Magazine. All rights reserved. Republication, in part or entirety, requires permission.